Look at the Birdie! Look at the Birdie! Oh, ok, watch the iPhone, watch the iPhone!
Tis the season to take pictures of the family and remember what precious faces and fun the little ones can be.
Getting their attention is Soooooo easy. Especially after all of the excitement, and sugar, and lights, and candy canes, and relatives, and gingerbread man.
Yep, it's a bit of sensory overload, smoothed over with sugary goodness.
Photographers used to hold/shake a little stuffed animal above the lens or next to the lens, to get a varied eyeline. Or to get the baby to stop crying.
One handed photography or tripod based shooting was the norm. But with little ones scrambling around like crazy, tripods are tough and one handed shooting is, well, dubious at best.
Enter 2 products we saw at PhotoPlus Expo.
One, The Daisy Grip, is a nice compact solution, with a modular feel, you can have the unit hold a stuffed animal for you. Or an iPhone with their favorite movie, or reverse the iPhone camera so they can see themselves.
Daisy Details: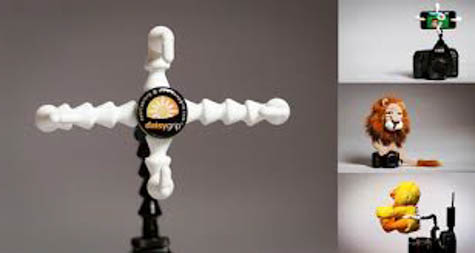 *an ultra-flexible hand utilizing 4 fingers that are easily bent, yet firmly maintain their grip
*holds a wide variety of toys, stuffed animals, finger & hand puppets
*holds iPhones®, iPods®, and other smartphones with or without a proective case
*hand measures 6″ wide x 4″ tall and rotates 360˚
*positioned on a 5.5″ articulating arm with a standard hot shoe adapter at the base
*holds objects up to 12 oz when stretched horizontally over a lens, or objects up to 2 lbs when *positioned vertically above a camera body
*attaches to an SLR's hot shoe, to the side of an SLR when used with a DaisyGrip™ Bracket (sold separately), or to a tripod.
The DaisyGrip
sells for about $59.00
For what it's worth, it's made in the USA and by some very nice folks. And if you need a custom rig, they will be there for ya.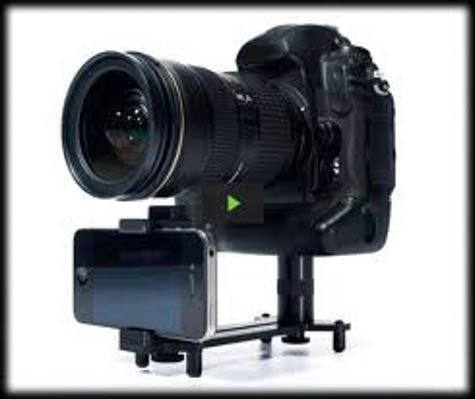 Next up is ICandy

, a more rigid mount system, using a 1/4″-20 tripod screw mount for your camera, and placing the iPhone in front, and below the lens.
You can adjust the proximity of the camera body to the smartphone, and there are 2 mounts included depending on the height of the camera body.
Once again, load the smartphone with content, or just reveres the smartphones camera so people can see themselves.
Some folks think it can be used as a teleprompter, but the eyeline is off.
Perhaps if you need to refer to the script.
You can shoot video as you shoot, but don't count on the audio. Every click will be recorded.
Both of these tools solve a problem, and do it well. If you photograph children, this looks like the perfect distraction to get them at ease.
Seems like you can still get them both in time for Christmas!