AIPAD at the Armory : Classic imagery hung with respect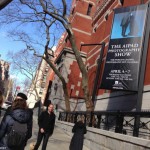 I'll be honest: been trying to get to this AIPAD show for years.
Knowing the general tone behind it is the collecting of the finest of vintage photography, it's an enriching experience to see almost 80 galleries display in an elegant setting such as the Armory. There was a sprinkling of new media and contemporary photography as well.
Most of the West coast shows are relegated to transformed convention centers. This regal architecture puts you in a proper mood.
At the preview, guests were treated to a bit of the bubbly to start the hopeful shopping tour.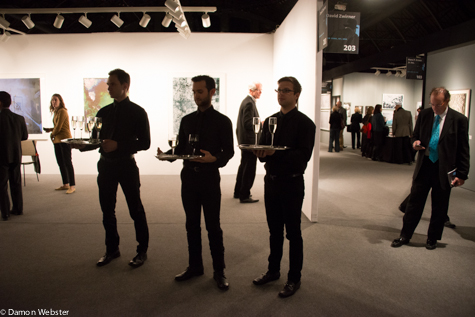 Highlights for us:
*The Halsted Gallery showed a brilliant cross section of some of the most iconic images in photography.( booth 106)
*Staley-Wise brings an au courant show for the seasoned and new collector with Bert Stern Marilyn Monroe, plus more form the Mad Men era (booth 210)
*Robert Klein Gallery had not only some new Julie Blackmon, but some painterly, beautiful, still lifes that stopped every one. (booth 310)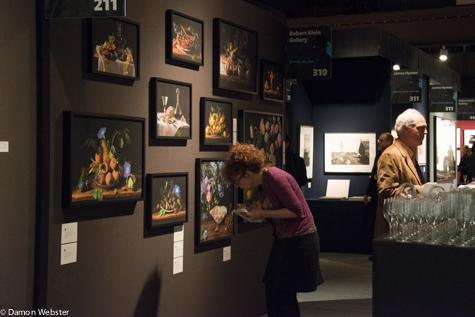 *Daniel Blau Gallery had a unique collection of iconic press photos, complete with printing notes or copy headlines from the pub on the images. Not great prints in the purest sense of the word, but true history as the original intent of the photographs is celebrated. (booth 400)
* PPOW Gallery – This work has 2 phases: one is a hand built snow globe scenario, the second phase is a photograph of the scene.
A must see part of AIPAD, have a look at the book at the booth as well.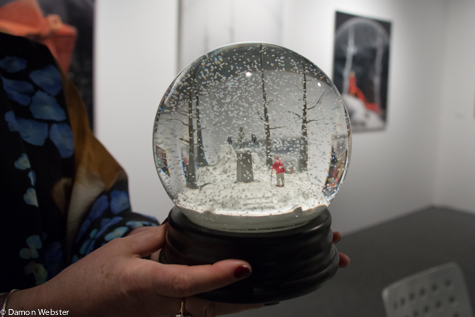 One of our favorite photographers, Elliott Erwitt was also in attendance, making his way through the booths, while saying hello to old friends.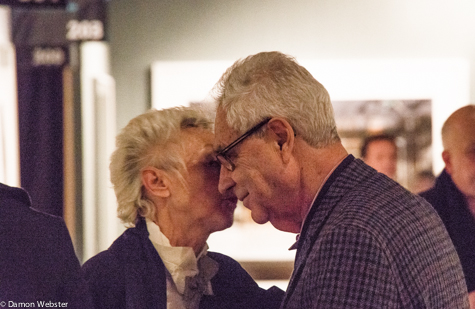 A little opening nosh for the opening night- tasty sliders with homemade chips.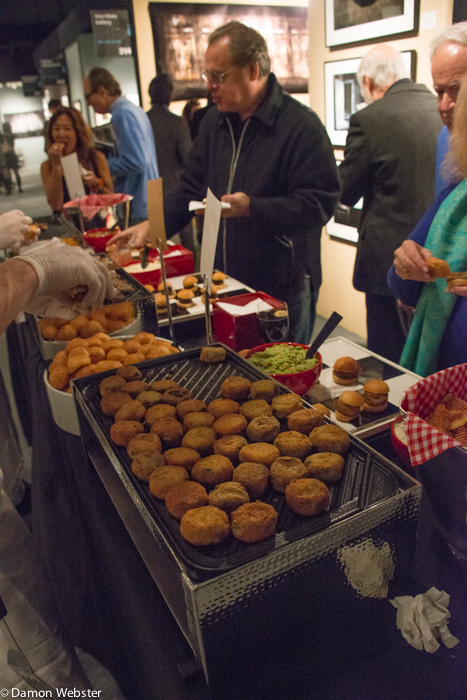 There is so much to see and yes, purchase (it is a art fair) that it'll take a few hours to make your round.
Do not forget the stacks at many of the dealer booths, because sometimes the gold is hidden there.
Some great talks on Saturday as well, so get your schedule set.
Wait, before we forget: DO NOT MISS- 798 Gallery with the latest photo from Yao Lu. We first saw his work at Paris-Photo a few years a go and his use of materials to create classic imagery is astounding. it says booth 216, but may have moved
The show is sponsored by AXA, the art insurance people, and the have set up a SPACE with an set of images from Ai WeiWei.
Plus some important info about protecting your photographic art investment. Super Storm Sandy decimated many works of art as well as collection values. Be sure you are insured!
AIPAD
Park Avenue Armory
Park Avenue at 67th ST.
April 4-7th, 2013