Round on the Ends, High in the middle: Sony takes another look at cameras
You love your smartphone because it's small, has apps, and is easy to share your life through it.
There are so many choices out there for adding lenses to improve the quality.
Olloclip uses 4 element snap-on lenses, and others use a case as a holder for lenses.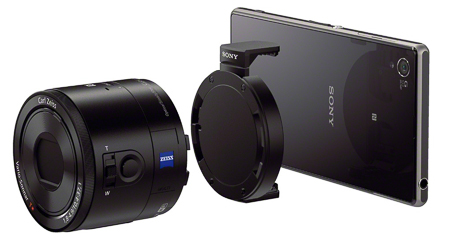 Sony is about to show the world a new design in cameras. And it's round.
Imagine your nice, flat, thin, rectangular phone, with high end operational lenses, that clip onto the main body.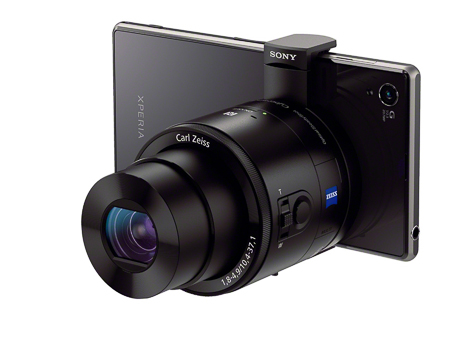 Check this video out, and watch the magic:

In a less expensive package: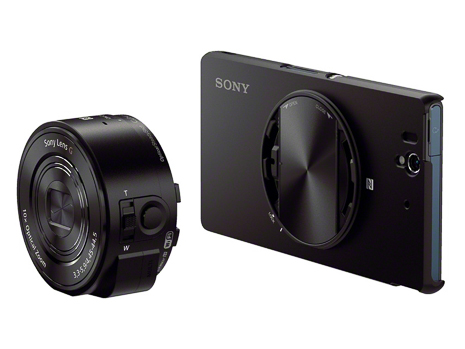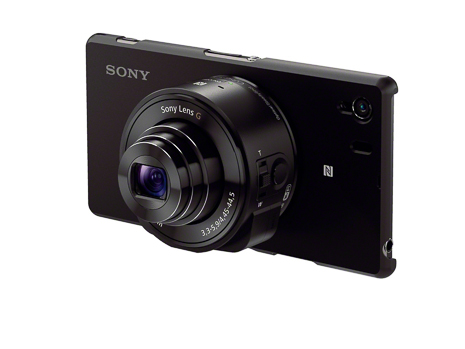 Yep, the lens IS the camera!
Sony DSC-QX100 Digital Camera 100mm $499 Available for Pre-order
Sony DSC-QX10 Digital Camera (Black) Lens-Style $249 Available for Pre-order

The Sony word:
New Concept Cameras Link Flawlessly to Smartphone, Offering High-Zoom, Stunning
Quality Images and HD Videos for Instant Sharing
NEW YORK, Sept. 4, 2013 –
Merging the creative power of a premium compact camera with the convenience and connectivity of today's smartphones, Sony today introduced two "lens-style" QX series cameras that bring new levels of fun and creativity to the mobile photography experience.
The innovative Cyber-shot® QX100 and QX10 models utilize Wi-Fi® connectivity to
instantly transform a connected smartphone into a versatile, powerful photographic tool,
allowing it to shoot high-quality images and HD videos to rival a premium compact camera.
It's an entirely new and different way for consumers to capture and share memories with
friends and family.
With a distinct lens-style shape, the new cameras utilize the latest version of Sony's
PlayMemories Mobile™ application (available for iOS™ and Android™ devices, version 3.1
or higher required) to connect wirelessly to a smartphone, converting the bright, large LCD
screen of the phone into a real-time viewfinder with the ability to release the shutter, start/stop
movie recordings, and adjust common photographic settings like shooting mode, zoom, Auto
Focus area and more.
For added convenience, the app can be activated using NFC one-touch with
compatible devices. Once pictures are taken, they are saved directly on both the phone and
the camera*, and can be shared instantly via social media or other common mobile
applications.
"With the new QX100 and QX10 cameras, we are making it easier for the ever-
growing population of 'mobile photographers' to capture far superior, higher-quality content
without sacrificing the convenience and accessibility of their existing mobile network or the
familiar 'phone-style' shooting experience that they've grown accustomed to," said Patrick
Huang, director of the Cyber-shot business at Sony. "We feel that these new products
represent not only an evolution for the digital camera business, but a revolution in terms of
redefining how cameras and smartphones can cooperatively flourish in today's market."
The new compact, ultra-portable cameras can be attached to a connected phone with a
supplied mechanically adjustable adapter, or can be held separately in hand or even mounted
to a tripod while still maintaining all functionality and connectivity with the smartphone.
They can also be operated as completely independent cameras if desired, as both the QX100
and QX10 cameras have a shutter release, memory card slot and come with a rechargeable
battery.
Premium, Large-Sensor QX100 Camera
The Cyber-shot QX100 camera features a premium, high-quality 1.0 inch, 20.2 MP
Exmor® RCMOS sensor. Identical to the sensor found in the acclaimed Cyber-shot RX100 II
camera, it allows for exceptionally detailed, ultra-low noise images in all types of lighting
conditions, including dimly lit indoor and night scenes.
The sensor is paired with a fast, wide-aperture Carl Zeiss® Vario-Sonnar T* lens with
3.6x optical zoom and a powerful BIONZ® image processor, ensuring beautifully natural,
detail-packed still images and HD videos. As an extra refinement, the QX100 sports a
dedicated control ring for camera-like adjustment of manual focus and zoom.
Several different shooting modes can be selected while using the QX100 including
Program Auto, Aperture Priority, Intelligent Auto and Superior Auto, which automatically
recognizes 44 different shooting conditions and adjusts camera settings to suit.
High-Zoom Cyber-shot QX10 model
Boasting a powerful 18.2 effective megapixel Exmor RCMOS sensor and versatile
10x optical zoom Sony G Lens, the Cyber-shot QX10 camera allows mobile photographers to
bring distant subjects closer without sacrificing image quality or resolution, a common
problem in smartphones. It's also extremely portable and lightweight – weighing less than 4
oz and measuring about 2.5"X2.5"x1.3", it's a great tool for travel photography.
Additionally, the camera has built-in Optical SteadyShot image stabilization to combat
camera shake, keeping handheld pictures and videos steady and blur-free. It has Program
Auto, Intelligent Auto and Superior Auto modes to choose from, and will be available in two
different colors – black and white.
Pricing and Availability
The new Cyber-shot QX100 and QX10 lens-style cameras will available later this
month for about $500 and $250, respectively.
The cameras and a range of compatible accessories including a soft carry case and
dedicated camera attachment for Sony Mobile phones like the Xperia™ Z can be purchased at
Sony retail stores
www.blog.sony.com for a full video preview of the new Sony Cyber-shot
QX Series cameras and follow #SonyCamera on Twitter for the latest cam
some more thoughts and gear
It's moving fast.
Microsoft just bought Nokia, not sure who can afford to buy Samsung.
Compact cameras are in the dumps, due to a sharing explosion, and every smartphone with a camera.
Things are good enough, and if not add an app filter to put some lipstick on that pig.
That's not a commentary on the photo subject, but the addition of some usually crappy color filter dragging your histogram into dimestore grotesquary.
OK, maybe I went too far.
So that's one of the new bits of tech from Sony.
How about a combo digital sound recorder, and a video camera all in one?
The new HDR-MV1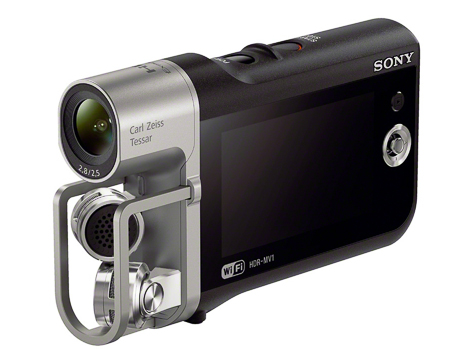 Sony HDR-MV1 Music Camcorder Available for Pre-order
Next up is a 4K video camera.
I won't go into it to heavily, though.
This is about as pro as I've ever seen a consumer vid camera go.
With 4K you better have a huge amount of storage, and a mega fast processor.
and a good distribution deal.
SONY ADDS MUCH-ANTICIPATED 4K CONSUMER CAMCORDER TO ITS HANDYCAM® PORTFOLIO
New 4K Video Camera Allows Creative Expression in Four Times the Resolution of Full HD
SAN DIEGO, Sept. 4, 2013 – Today Sony Electronics unveiled its first 4K consumer camcorder – the new FDR-AX1 4K Handycam. Now video enthusiasts can capture 4K content for expressive, powerful imaging with incomparable levels of clarity and exquisite color in every scene.
"Introducing a consumer level 4K camcorder offers budding filmmakers cutting-edge technology and imaging quality from Sony they haven't been able to experience until now," said Hidenori Toyoda, director of the camcorder business at Sony Electronics. "The FDR-AX1 camcorder is an exciting addition to our 4K ecosystem as we're bringing personal content creation to the masses, dramatically expanding Ultra HD viewing."

BRILLIANCE, TIMES FOUR
The FDR-AX1 camcorder records 4K and HD movies in the XAVC S format, which uses MPEG-4 AVC/H.264 Long GOP for video and Linear PCM for audio compression, while saving files in an MP4 wrapper. The XAVC S format allows longer recording times, storing almost two hours of 4K video on a 64GB XQD memory card, making 4K recording easier and more convenient. Switching to Full HD recording can store almost 3 hours of 1920×1080 60p footage on a single card.
Sony's FDR-AX1 camcorder features a 4K image sensor that is essential to the stunning image quality it can achieve. The 1/2.3-type Exmor R® CMOS sensor captures true 4K resolution (3840×2160) images, containing four times the picture detail of Full HD, and has the output speed required by the massive 4K 60 fps data stream. An extraordinary image processor, identical to those found in professional 4K camcorders, rapidly processes signals transmitted from the CMOS sensor and finalizes images in real time at 60p.
Pristine imagery is also assured by Sony's quality G Lens™ which redefines what an aspheric lens and special low-dispersion glass combination can reproduce. The G Lens is specially tuned to capture qualities of definition and color that put this ground-breaking Handycam® camcorder in a class of its own. In addition, the lens offers a broad zooming range from wide-angle to 20x optical (31.5-630mm 35mm equivalent) while Optical SteadyShot keeps footage crisp and stable, even at telephoto mode.

CREATIVE CONTROL & ERGONOMICS
The FDR-AX1 camcorder can achieve beautiful, film-like results with three ND filters for adjusting the amount of light entering the image sensor from the lens. Four filter settings – Off (Clear), ¼ filter, 1/16 filter and 1/64 filter – give users the ability to modify light conditions, while maintaining desired shutter angle and aperture even on bright sunny days. Five paint functions (white balance, gamma, detail, skin detail and matrix) can be combined and altered to create expressive movie styling and cinematic looks.
Matching its impressive 4K picture quality, the camcorder features two external pro-style XLR connectors to complement its high-performance internal microphone for premium sound. These XLR jacks allow the addition of stereo microphones to capture balanced audio synchronized to the video for clearer ambient sounds and dialogue, which can be mixed with recordings made using the internal mic.
For ease of use during filming, the FDR-AX1 camcorder was designed with two strategically placed start/stop buttons and a zoom lever on the handle for convenient access from low angles. While dedicated controls are also provided for auto/manual focus, seven custom buttons can be reassigned to a user's preferred function. Assigned functions for adjustments on the fly include Marker, Zebra, Peaking, Focus Magnifier, Auto Exposure Level, Steadyshot, Color Bars, and Rec Lamp.
AMPLE STORAGE
The FDR-AX1camcorder uses an XQD memory card for smooth, high-speed reading and writing of 4K video and features two XQD media slots. As seen on Sony professional camcorders, relay shooting seamlessly switches recording between two media cards so there's no need to worry about running out of storage mid-scene. Videomakers can even 'hot swap' cards, removing a full card from one of the camcorder's two slots and slipping in fresh storage while shooting continues uninterrupted.

ULTIMATE VIEWING EXPERIENCE
Playing back 4K content captured on the FDR-AX1 camcorder is simple – just connect the camcorder to a compatible 4K TV with the single HDMI cable. Sony BRAVIA® TVs especially bring out the full quality of 4K/60p recordings, with TRILUMINOS Display™ to deliver an even more vibrant palette of rich colors that are closer than ever to real life. For those without a 4K TV, the FDR-AX1 camcorder can output 1920×1080 images to a Full HD TV, by simply changing the output settings on the camcorder.
And a growing choice of 4K-capable editing software packages makes it easy to "trim" HD images from original footage with huge amounts of picture detail.
HDMI 2.0 INDUSTRY STANDARD
Sony is prepared to support the HDMI 2.0 specification on its 4K Handycam camcorder with an easy firmware update to be available over the Internet. Just released by the HDMI Forum, the HDMI 2.0 industry standard offers an option to transmit 4K/60p signal using a single HDMI cable.
With this HDMI 2.0 update, FDR-AX1 will be able to output 4K 60p images not only to 4K BRAVIA TVs, but to other HDMI 2.0 compatible TVs and devices.
AVAILABILITY
The Handycam FDR-AX1 will be available in October for a suggested retail price of $4,499.99. In order to ensure the 4K experience, VEGAS™ PRO 12 EDIT software and a 32GB XQD memory card will be included in the box as a free offer. The camcorder and its accessories will be sold at Sony retail stores (www.store.sony.com) as well as other authorized retailers throughout the Sony dealer network. For images and information, please visit www.sony.com/news. Find out more through http://blog.sony.com and make sure to catch what people are saying about #Sony4K online.
The new gear is coming fast. Stay with us for the latest.