ToiletPaper Magazine – When an artist creates without words
I spend a lot of time as an art rat.
Galleries, museums, sites, pop-up stores, small press runs. You never know what you may see. Many times it's a bit of the same struggle of vision.
Don't get me wrong: I love classic imagery. The masters have much to say, to show us, and help us develop our own languages.
When someone grabs you by your unique brain cells, and visually challenges you, I, for one, stand up and applaud.
Toilet Paper
magazine is just that.
"On the occasion of his sensational retrospective at the Guggenheim Museum in New York, Italian provocateur Maurizio Cattelan announced that he was retiring from art. In fact, his new career had already begun in 2010 with Toilet Paper magazine is just that. magazine-cum-artist's book containing no text, only full spreads of color photographs that appropriate the slick production values of commercial photography to deliver dreamlike (or nightmarish) images. Since the first issue, in June 2010, Toilet Paper has created a world that displays ambiguous narratives and a troubling imagination. It combines the vernacular of commercial photography with twisted narrative tableaux and surrealistic imagery. The result is a publication that is itself a work of art which, through its accessible form as a magazine, and through its wide distribution, challenges the limits of the contemporary art economy. " Amazon.com
The imagery isn't always easy to take, or appropriate for the office (the new rating system) but it is worth your $13.00 to have a look at an issue. Today, I was at the Museum of Modern Art store and was reminded of this artists work, as it was featured.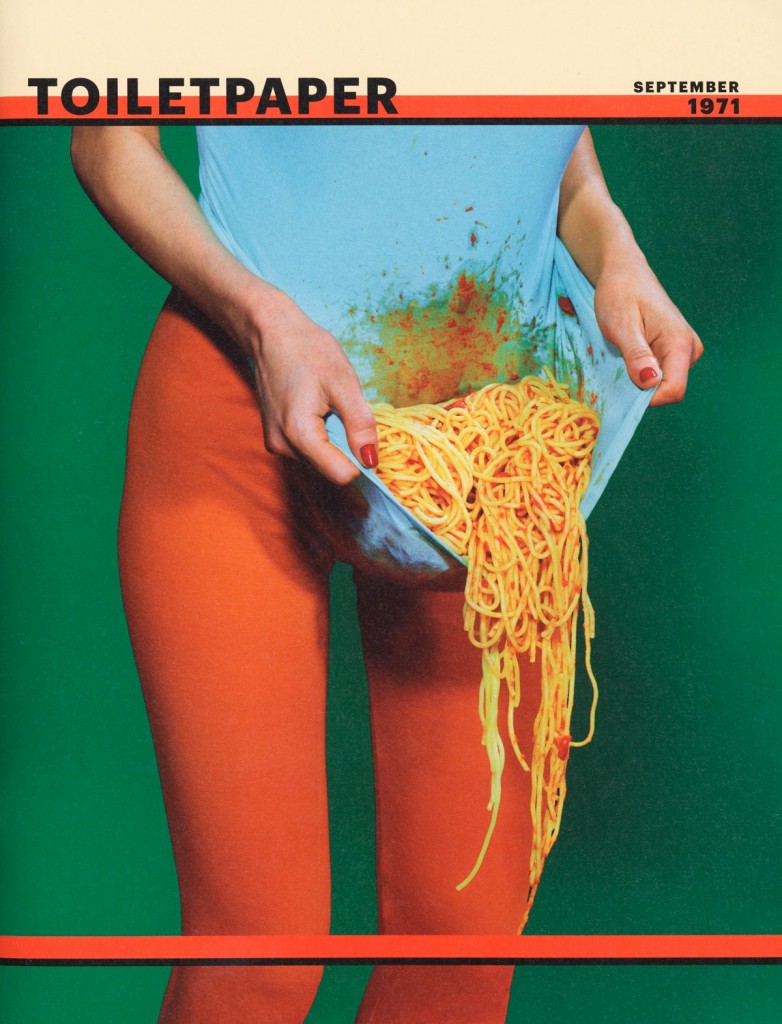 Controversial artists wake us up, question us, offend us, make us angry, make us explore.
I share this magazine info with you with that word of caution. It's not for everyone and be forewarned.
For adults only.