Sony takes a bestseller and makes more sense in 2nd gen
I like a good photo gadget as much as the next shooter, maybe even more. When Sony introduced the QX series of cameras meant to be attached to a smartphone, it was a huge seller. The ability to get better photos on your phone intrigued the masses. I was interested but was not ready for a purchase.
Here is the initial vid:

Right?taking the lens off for tight spaces, and using the phone as a monitor?
But phones have gotten better. In a lot of different ways.And Sony has stepped up the game.
The new series has a model to let you add different lenses. and shoot RAW. And a 20MP Exmor sensor.
Shutter speeds of 1/4000-39 secs. NFC is also on board, which should be on the new iPhone.
Video? you bet: 1920 x 1080 (29.97fps approx. 16Mbps)
Is this going to eat up all your memory, like my Hyperlapses are?
Nope,use a sweet Micro SD card.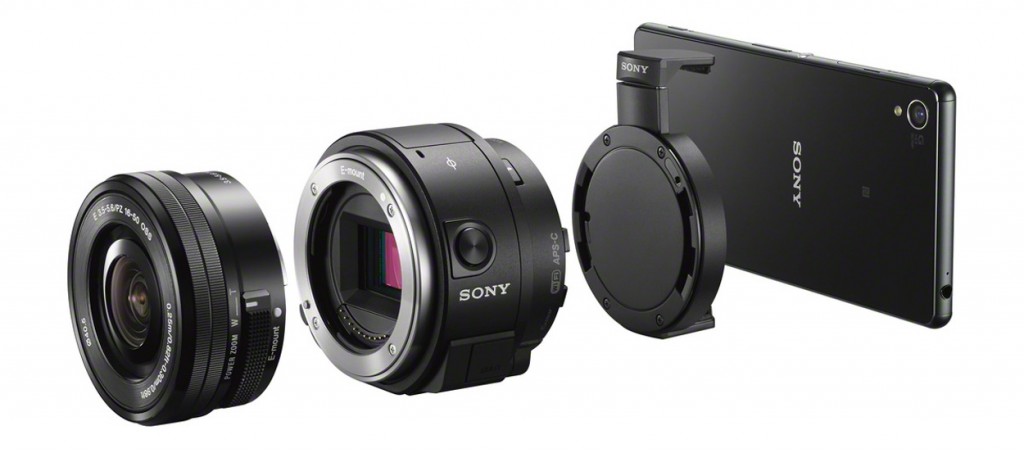 You do have to go through the Sony app to upload your images to, the upload from, so no direct access to Instagram, Facebook, and Twitter.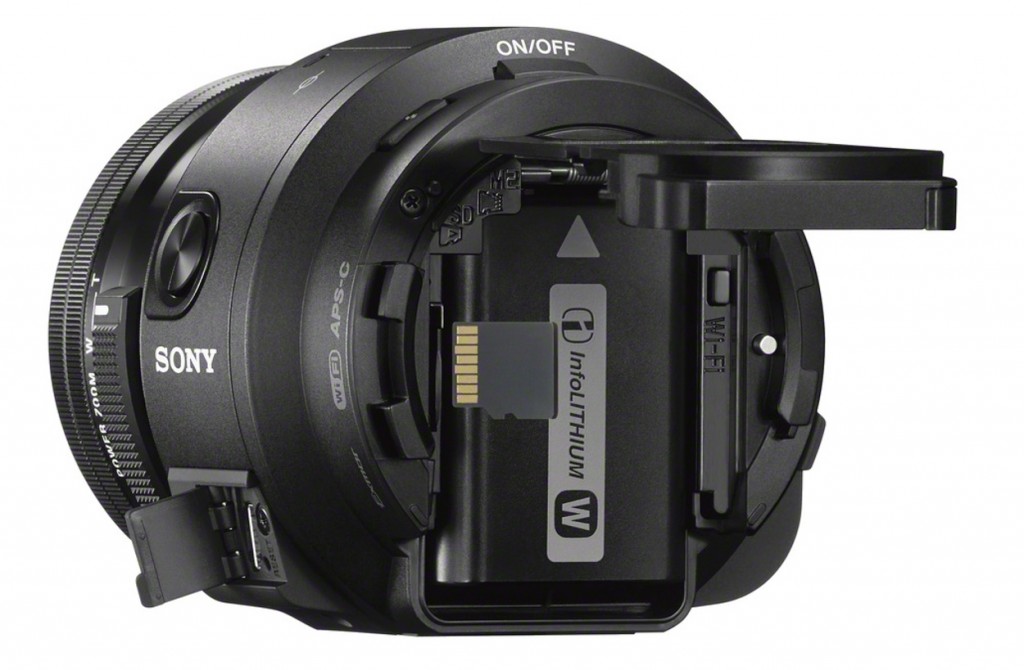 Yes batteries,and an APS-C sensor.
Do you want one? Come November you can pay $400 and get one. Not sure if it's quite the now classic NEX-6, but the feeling that they stripped away the body and left the essentials is strong.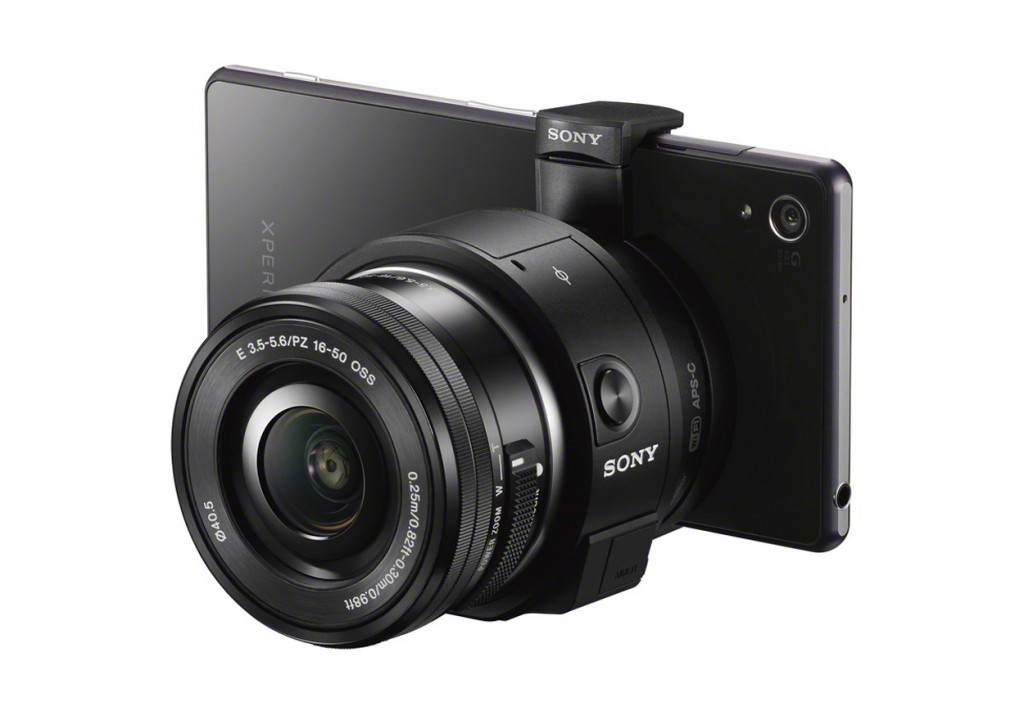 Sony is listening to the consumer who wants to share high quality images fast. wait, not fast: NOW!

And now the official word:

Building on its strong history of innovation in the digital imaging market, Sony Electronics has today announced two additions to their unique line of Lens-style Camera.
Designed for mobile photography enthusiasts, the new high-zoom DSC-QX30 and E-mount interchangeable-lens ILCE-QX1 models combine the power of a premium compact digital camera with the convenience and connectivity of today's smartphones, utilizing Wi-Fi® connectivity to instantly transform a connected phone into an extremely powerful photographic tool.
The new cameras utilize the latest version of Sony's PlayMemories Mobile™ application (version 5.0 for Android and iOS devices) to connect wirelessly to a smartphone quicker than ever, converting the bright, large LCD screen of the phone into a real-time viewfinder with the ability to frame shots, adjust zoom, release the camera shutter, start/stop video recordings and control other basic camera settings. The new app version 5.0 features an updated user-friendly interface that adds gridlines for easy image framing and a mirror mode ideal for self-portraits.
For added convenience, the app can be activated using NFC one-touch with compatible devices. Once pictures are taken, they are saved directly on both the phone and the camera, and can be shared instantly via social media or other common mobile applications.
New QX1 Interchangeable-lens Version
The new E-mount ILCE-QX1 lens-style camera gives photography enthusiasts a whole new way to take advantage of their α Mount System* lens collection.
Compatible with Sony's growing range of E-mount lens offerings including zoom, portrait, wide-angle, macro and more, the new QX1 camera features a built-in 20.1 megapixel APS-C size Exmor CMOS sensor that grabs huge amounts of detail for landscape shots and beautiful 'bokeh' background defocus. It's teamed with Sony's advanced BIONZ® X processor that now features improved area-specific noise reduction for stunning low-light images.
The unique new QX1 camera features a wealth of other premium features, including Superior Auto, RAW image shooting and a pop-up flash to brighten up portraits in backlight situation, gloomy interiors and night scenes.
New DSC-QX30 30x optical zoom Model
The new compact sized DSC-QX30 camera brings the power and versatility of a 30x optical zoom lens to mobile photographers, eliminating the frustration and poor quality commonly experienced when zooming-in using a smartphone camera. Additionally, the extensive 30x zoom is aided by Optical SteadyShot™ image stabilization to minimize camera shake throughout the zoom range. Clear Image Zoom is also available, utilizing advanced color and pattern matching technologies to allow the QX30 to reach an impressive 60x magnification digitally without sacrificing pixel count.
Awesome zoom power is matched by lock-on AF and speedy continuous shooting at up to 10fps, letting photographers capture fast-moving action with an accurately focused burst of split-second images. For video enthusiasts, the QX30 model can also shoot Full HD video at a smooth 60p frame rate at the touch of a button.
Pricing and Availability
The new QX30 and QX1 lens-style cameras will be sold for about $350 and $400, respectively. The QX30 will be available this September, and the QX1 will be available this November at Sony retail stores (www.store.sony.com) and other authorized dealers nationwide.
* Requires Mount Adaptor when attached with A-mount lens