And The Dynasty Continues……….
In the world of photography, we really don't have a lot of familial passing of the art.
However, the Weston family has shown that their 3 generations of photographers have maintained the dedication and fine artistry of the patriarchal master himself, Edward Weston.
In this first time exhibition at the Duncan Miller Gallery, Kim Weston, son of Cole, has taken his platinum prints and explored adding the colorful element of paint to create a new image.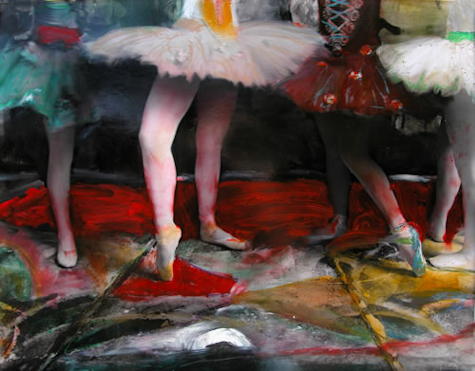 © Kim Weston
His wife Gina explained it to us this way:
"While Kim was learning how to print in Platinum he ended up with many images that he felt were not the perfect print. Growing up in the world of the "perfect print", he started going into his studio in the evenings and applying colors to his prints. Feeling a freedom of sorts to color, scratch and apply paints to the surface of the print. The end result exemplifies Kim's inherent nature of seeing and working in color."

"My painted photographs have given me a release from surface importance and visual certainty. I can take my image and tweak it to another dimension which if I think about it was my original direction and interpretation of the subject to begin with."
KIM WESTON
When we heard they were painted photographs, we not quite sure what to expect.
However, the results were beautiful and haunting, as the color paint played with the shadows, and forms.
Weston has added the paint to the prints in a truly brilliant manner. Enhancing the depth and using vibrance only when called for, he keeps the saturation at bay until called for.
The delicate shading of his mostly nude subjects, brings the image to a somehow more upbeat place. In the image above, the dancers legs almost appear to play in the pool of colors, while the colors in other works can redefine the subjects space.
Gina also shared a very cool bit of information: for the past 20 years they have lived in Edward Weston's little house in Carmel, and if you are familiar with his work, you will have seen this humble abode many times. It was also featured in the DVD documentary we have given away here on the site.
Don't worry, we'll do it again.
And the prices on the works was very reasonable, in addition to be one of a kind pieces, beautiful silver gelatin prints with painting on top.
(Please note: we just received this from Gina and Kim Weston -" the prints at the Duncan Miller Gallery are silver gelatin painted photographs. He started painting on platinum prints but soon after starting painting on his silver prints." Full disclosure)
At the same time , the gallery has a collection of work from Group F.64, an association organized in 1932 by a group of eleven photographers: Ansel Adams, Imogen Cunningham, Edward Weston, John Paul Edwards, Sonya Noskowiak, Henry Swift, Willard Van Dyke, Consuelo Kanaga, Alma Lavenson, Preston Holder and Brett Weston.
If you would like to see an original print, though not vintage, of the Weston Pepper #30, it's there.
Plus one of Imogen Cunningham, most iconic photographs,
Yes, this little gallery hidden by bougenvilla in Los Angeles on Venice Boulevard, should be discovered if you live here or are just visiting.
The Duncan Miller Gallery
10959 Venice Blvd.,
Los Angeles, CA
90034
Tel: 310 838 2440