iRig Mic HD – Citizen Journalism On A Budget
The folks at iK Multimedia make some great products for the musician: mics, stands, pre-amps and apps, at a very affordable price for high quality recording tools.
Sure, if you are the next Bob Dylan, this is great news.
I'm not.
I'm a curious tourist who like to capture life around me, either in stills or video.
Truly the iPhone 6 is a brilliant device, and capturing and sharing video and photos couldn't be easier.
But the built-in microphone is not very discerning.
While on the hunt for a directional, quality mic, that, yes, would plug into my iPhone or iPad, I came across the iRig Mic HD.
With specs like any pro mic, this handheld unit will plug directly into your device, and let you monitor via the headphone jack.
Plus my mic flag fits perfectly.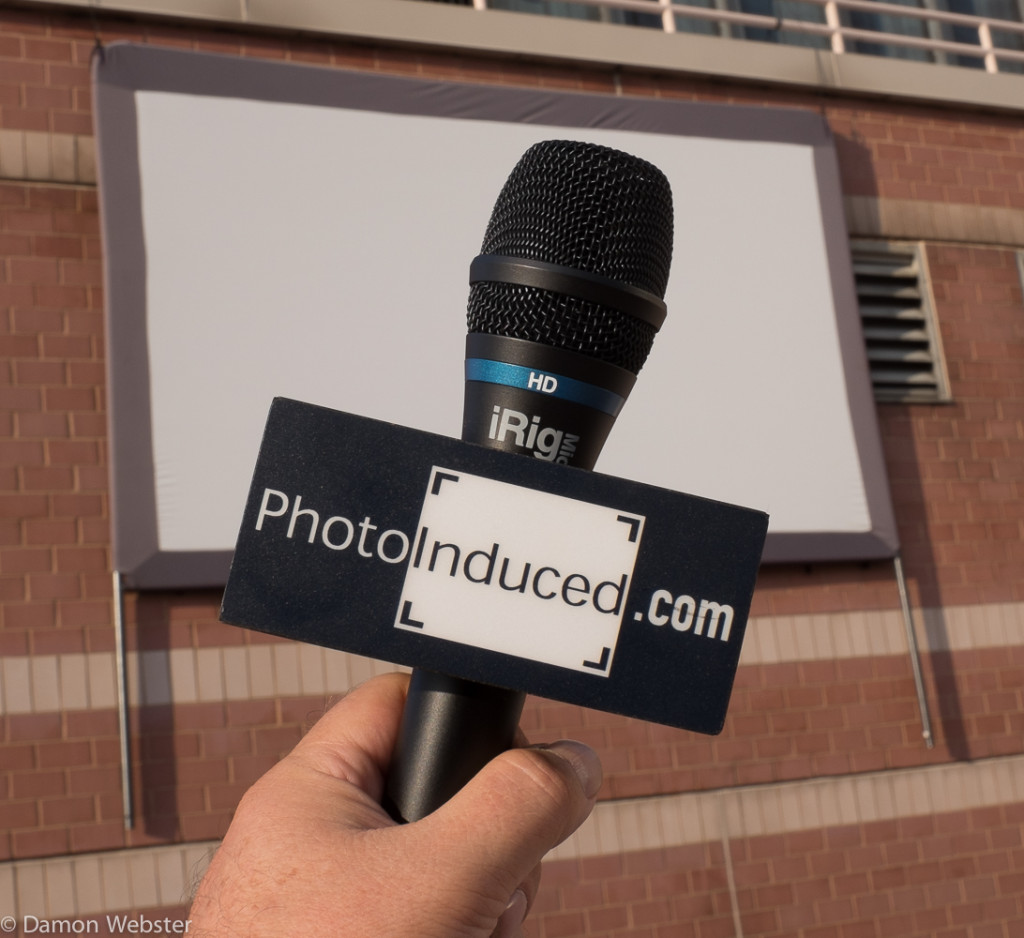 Now, on the fly, it is a 2 handed deal, yet totally manageable.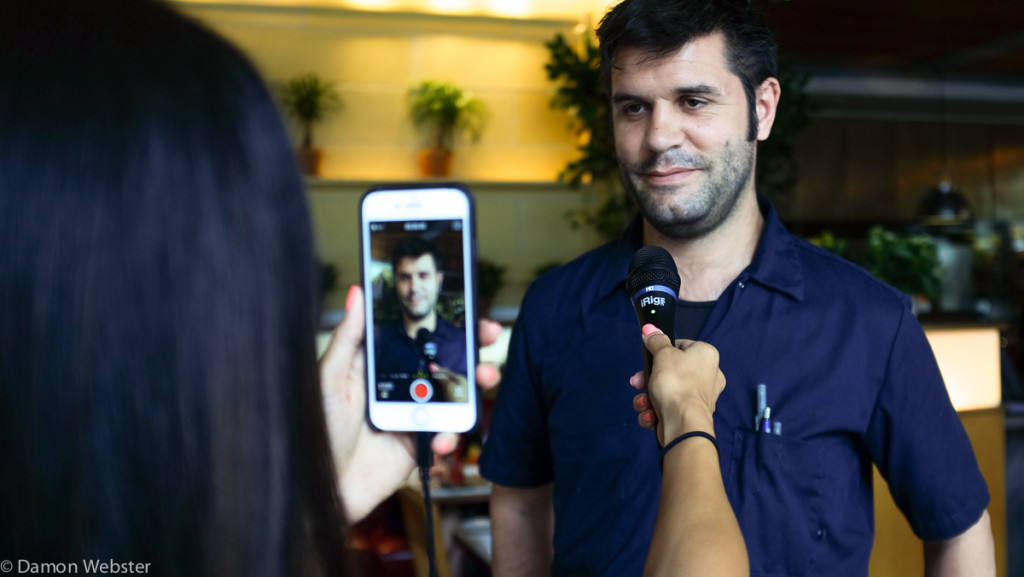 Or, in a sit down interview, use a phone stand to keep the video framed and keep the mic in play.
As a directional mic, it will record what's in front of it: not on the side, or behind it. Put the viewers attention where you want it.
Now you can use this in a 2 person crew situation, where one person handles the camera, and the interviewer or commentator handles the mic.
You see, if you use a mic attached to the phone/tablet directly by the jack, without a cable, you'll have to move the unit to get closer with the mic. Not great for the camera work.And if you hold the iPhone in one place, the audio won't be as specific.
It comes with all you see here: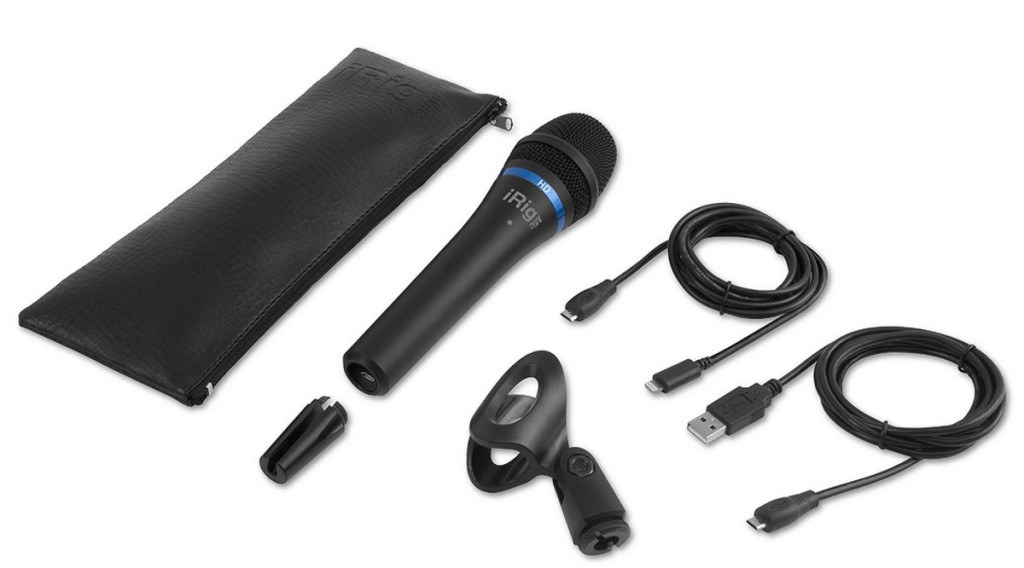 Mic, Pouch, Mic Stand adapter, Thunderbolt cable for your iPhone and iPad, and a USB cable to go directly into your computer for podcasts.
It does have a gain control which will light up red of you are too loud, and in danger of distortion.
Due to my use of a flag, it does block the knob, but I have an idea of volume so I set it and forget it.
The big awesome kicker are the available apps. If you want a robust digital recording studio on your smartphone, this is $10 well spent.
And you don't need to get the full deal.
You can still use the free iRig VocaLive app, or the iRig Recorder, and do some pretty cool stuff.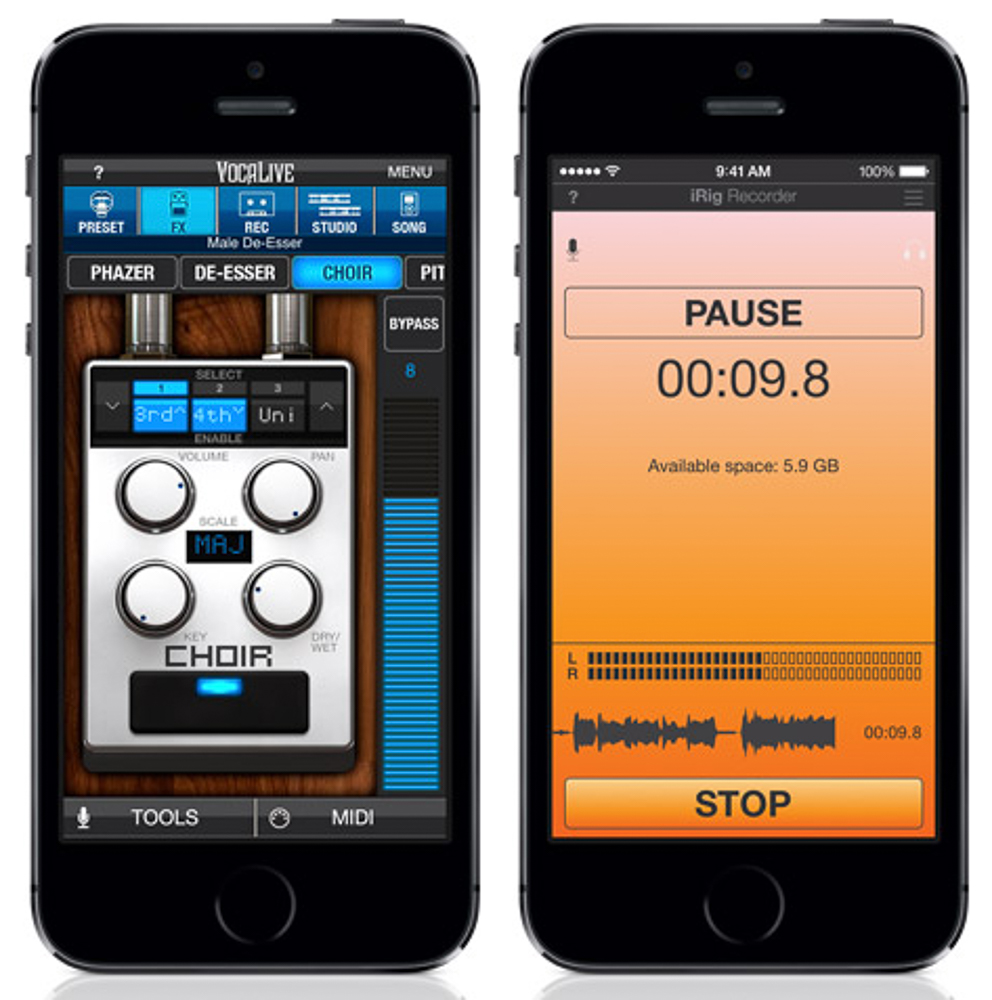 Features
•Affordable handheld digital condenser microphone for capturing audio on the go
•Plugs directly into the digital input on iPhone, iPad, iPod touch and Mac/PC via its included 1.5m (59") Lightning and USB cables
•High-quality 24-bit, audiophile-grade A/D converter
•44.1 – 48 kHz sampling rate
•Gain control with multicolor LED indicator (green-good, red – overmodulated)
•Handheld design — also compatible with standard mic stands
•App/software bundle*, mic clip and carry bag included
•iRig Recorder, VocaLive and AmpliTube (iOS & Mac/PC versions) included
•Available in black or silver version
•30-pin cable available separately. Maybe you have a older iPad or iPhone you want to dedicate to this.
So if your a roving reporter, citizen journalist who wants to be ready, or the next Justin Beiber (save us) who needs to post your vocal stylings, this is a well priced, high quality mic for your tool kit. Pick it up at Amazon for about $100.