Lexar + GoPro : Video Studio In Your Hand
Packs small, plays big.
How would you like to be able to shoot, edit, and BACKUP your GoPro or drone videos with only a pocketful of tech?
Take a look at this set-up:


I take a real world imaging problem, and try to find the right tech solutions.
In this case, it's a matter of walking around in NYC, with a messenger bag containing some GoPro video gear, and being able to sit anywhere, like a bench, and editing, saving and backing up the raw files.
The goal was to keep it as small and lightweight as possible.
And whether you're going to the skate park, or a mountain hike, compact gear is a huge advantage.
One of the issues, was the amount of space on the iPhone, after all of my apps and content already on there. And unless you subscribe to a music service, you need your tunes on the device.
With microSD cards being 32-64gb in the sweet spot, especially with higher quality capture modes, space is critical.
Finally a full workflow solution!
With an iPhone, the new Lexar lighting connector microSD reader, and the C20i 3-in-1 flash drive, I get a direct media card into my phone, AND a lighting connector flash drive to back it all up.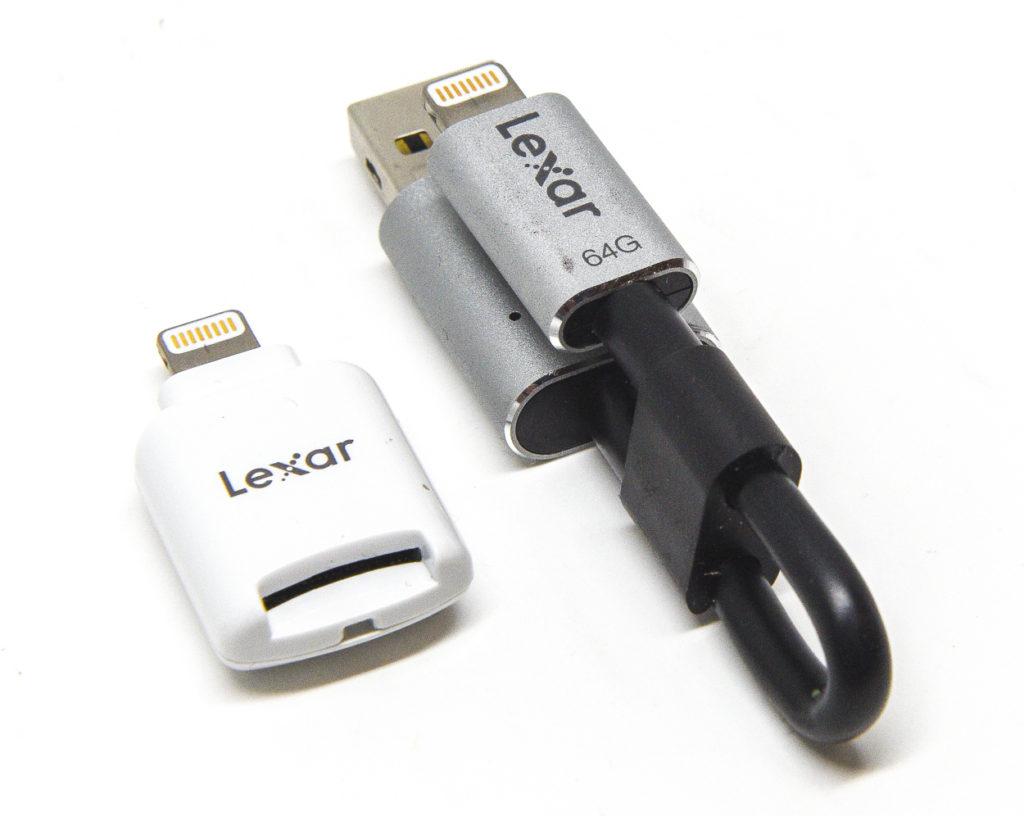 C'mon, you've gone through the painfully slow upload to your site/cloud/transfer with wi-fi.
Sure, it can happen, but it is so much faster with a file transfer to flash drive.
The app you use (free download) can also send your card files to dropbox, but I like a hard copy in my hands.
So it goes like this:
•Make sure you have enough storage space on your iPhone for your intended content.
(If not, back some of it up on the C20i flash drive – go for at least the 64GB)
•Shoot your content on a microSD card with GoPro, drone, or whatever using a microSD card.
•Load it into your iPhone, using the Lexar MicroSD card reader with Lighting connector
•Edit in your favorite editing app.
•Offload a copy to the flash drive, and depending on your wi-fi signal strength. upload to social media and/or Dropbox.
All with tech that fits in your pocket!
And when you get back to home base, plug the USB 3.0 end of the flash drive into your back-up system on your computer, hopefully RAID, and empty the contents of the flash drive . If you want to go old school, you can load the MicroSD card into your computer via the other Lexar card reader, with USB. It's a full set you should consider
Here are all 3 Lexar units: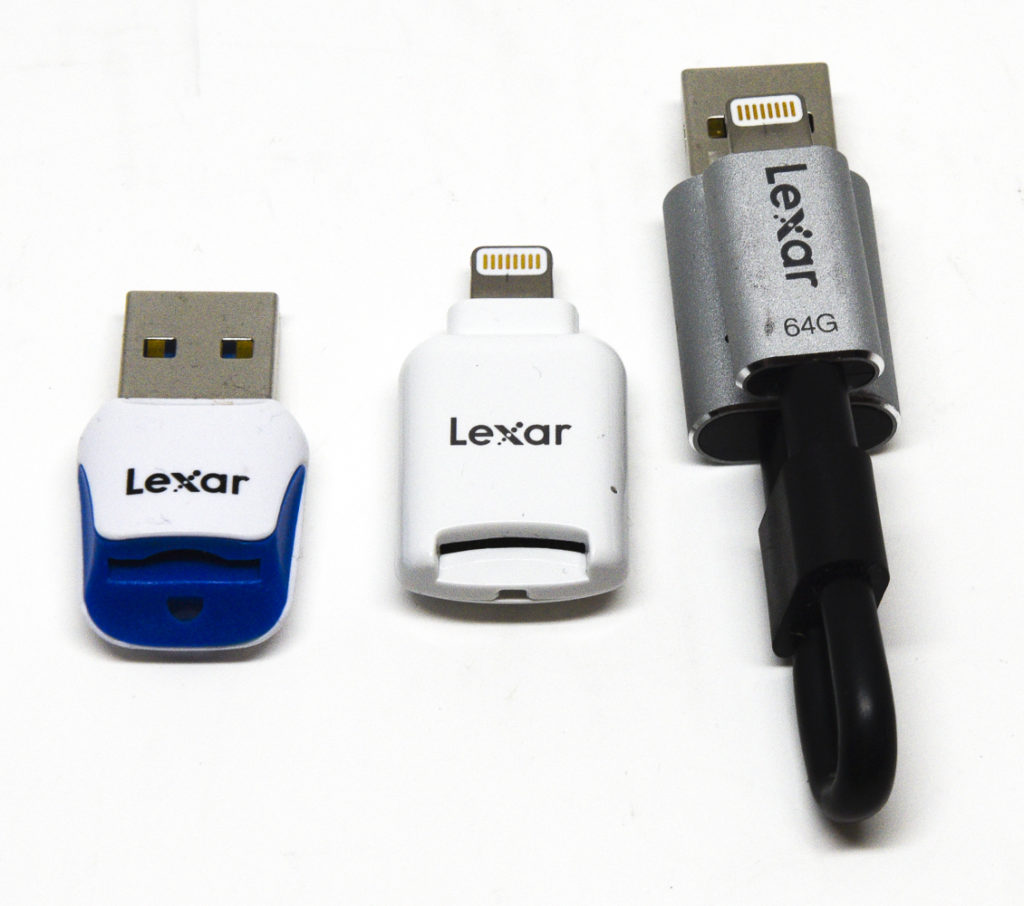 This first part was primarily about using these items in a walk around or lightweight situation.
Now, of course, the 2 Lexar pieces can be used for a ton other things: keep music/movies/photos (your portfolio?) on separate micro Sd cards. I can't always get wi-fi where I shoot. Having my music on MicroSD cards insures I always have my tunes.
I have been to concerts where I'm shooting the whole thing with my iPhone and Olloclips lenses (Iggy Pop and Nick Cave when I didn't get credentialed, and quickly run out of space. That's when the flash drive to carry your extra media comes in handy. Or if I have to look at videos emailed to me on my phone.
.
If you are going to be doing a lot of shooting, we'll need to talk about some power solutions.
We all know that you need a handful of batteries for a good day of shooting with a GoPro.
Here are 2 solutions: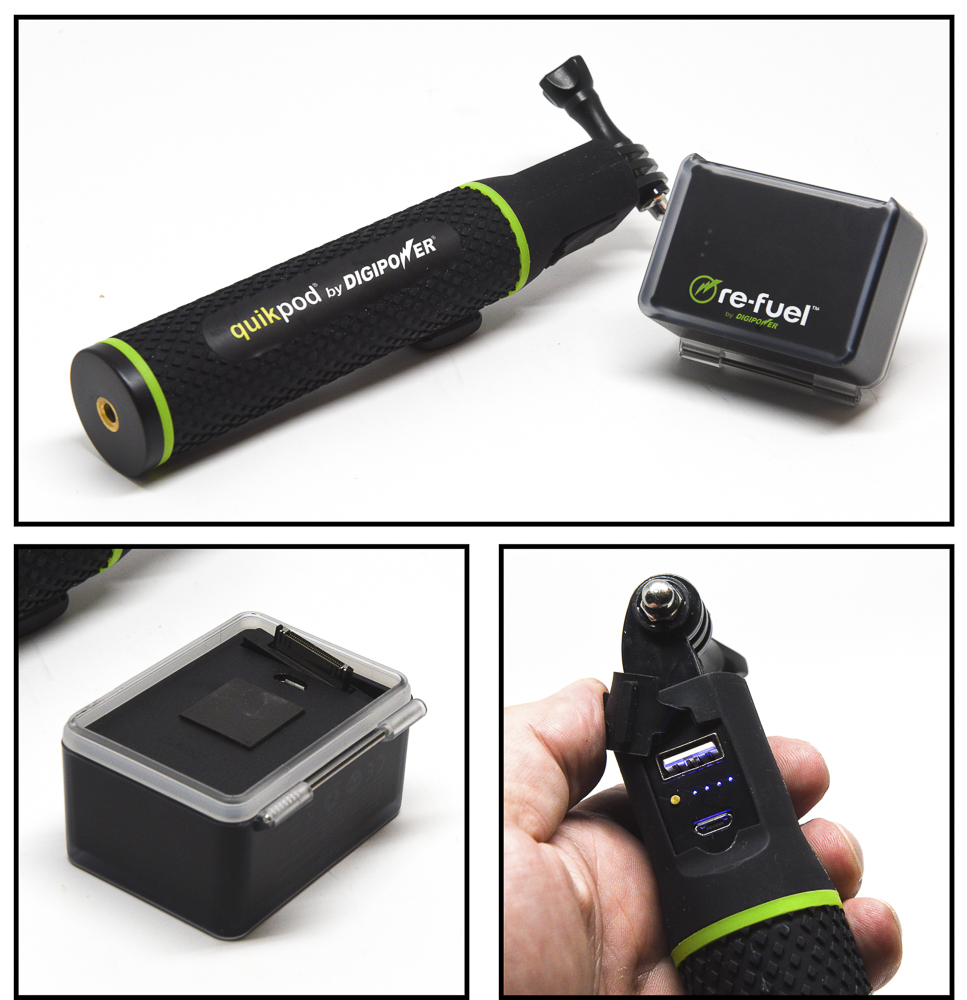 Digipower is a company that has made a series of batteries that plug into the back of a Hero 3+, and Hero 4, giving up to 12 hours of shooting, aptly called ReFuel. By adding this unit on the back of the GoPro, you've got a solid block of shooting.
The other smallish option is a battery filled, Quikpod, 7inches to the GoPro connector. If you use a GoPro, there is a good chance you have a 1/4-20 standard tripod adaptor, which can also be added to use the Quikpod for other cameras, lights or Lume Cube. It has a rubber-covered USB output, and a 4 light, power consumption scale. It has 5200mAh, so you can also use it to power anything else.
For the phone, I'm still a fan of the PNY battery for it has a visual percentage readout of the available juice, 2 USB plugs, and has just been working for 2 years, with no issues.


The new ones, have 3 USB plugs. Only about $18!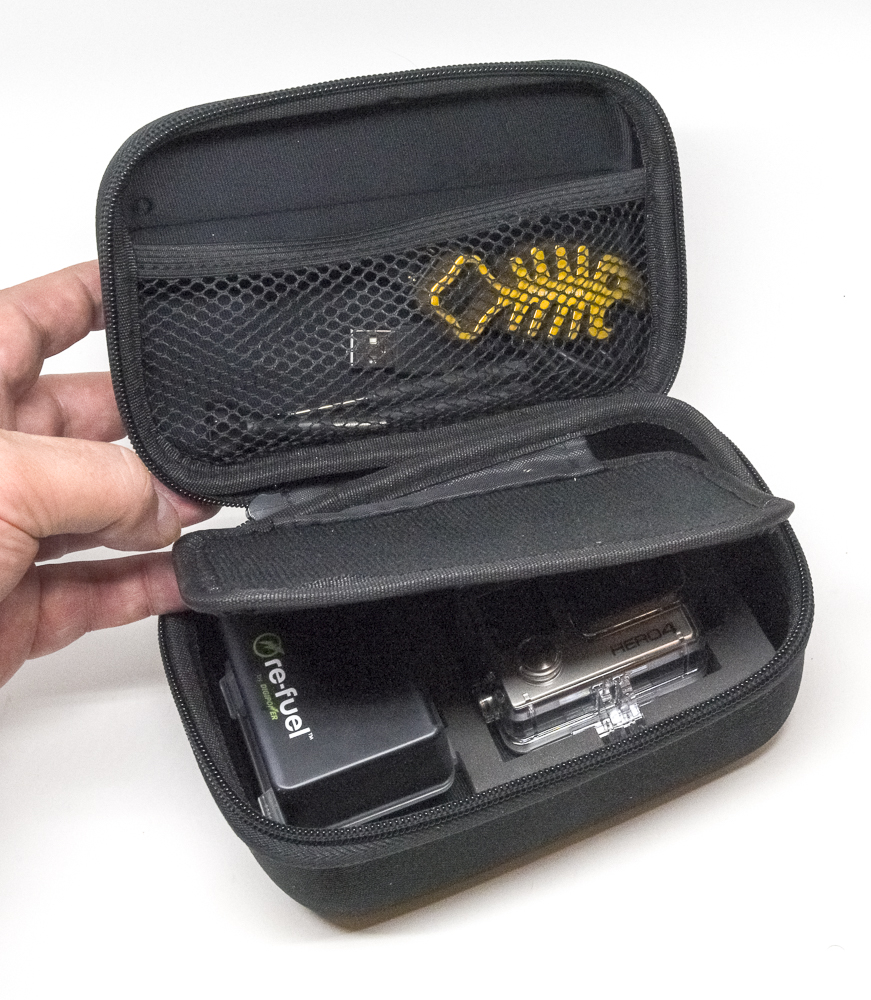 After looking at a bunch of cases, if that's what you like, for the GoPro plus batteries, accessories, and everything you saw above, I'm a fan of the Fotodiox line. Deep enough, pre-cut dense foam, a flap to separate came/batts, from other items, a net pouch for tools.
And check out the Fotodiox set of GoPro tools. You need them, and these are great. They come in colors so you can tell whats what pretty fast in a case.
Yep, only discussed the Micro SD solutions here. We do know that there are Lightning SD card readers by Apple available.
Perhaps you want to have a larger screen to edit, like an iPad.
Sure, all of that is true.
I like to travel light. Sometimes, isn't that the best way?