The Streets Belonged To Her – Helen Levitt: 1913 – 2009
Helen Levitt, one of the best street shooters we'll ever see, passed away a couple of weeks ago at the age of 95.
And it didn't seem like she ever stopped shooting in her long life.
You've no doubt seen some of her work.
Perhaps this shot of kids in their Halloween costumes. New York, c. 1942
Or actually, one of my favorites,
which will always be linked in my mind to another image by Henri Cartier-Bresson, both of which I wish were on our walls.
2 of our favorite photographers, telling us the stories of the streets. Both, unfortunately gone.
This woman had such a profound sense of the city streets and the people who lived there.
It was the high end, hidden folks, but the working class, the families, the 4th floor walk-ups, the fire hydrants being loosed in the summer kids. The real city.
Her view was a gritty view, unvarnished, yet, declaring a celebration of honestly and dignity, for her subjects.
It never seemed that the idea was to elevate, but be honest and revel in who they were and what their life meant.
Her chronicles of the human condition in NYC were, and are, unparalleled for the entrée she had and the compassion for her subjects. She was a part of them and spoke with her camera
And she was not only a black and white shooter, but spent a lot of time with color in 1959-through the 60's, thanks to 2 Guggenheim Grants.
The images appear properly muted and real, taking away that last layer of separation between the viewer and the streets she loved.
In 1944, she collaborated with James Agee and Janice Loeb to make a short film called "In The Street" which we just watched again.
This 14 min. film captures Helen Levitt's visual style and you can hear the influence of her collaborators. With a few paragraphs of preface, the jazzy sound track, gave you a view of 103rd ST in East Harlem in NYC.
In the preface, Agee uses a quote from Goethe :
"It is good to think, better to look and think, best to look without thinking."
I'll never forget the first time I saw this film at ICP in New York. They had a Sebastian Salgado exhibit with massive prints from his worker series, a perfect way to see them, Lauren Greenfield's Fast Forward show, then off in the darkened theater, was this short film by Helen Levitt.
B&W, evocative, with no dramatic story of heroes and heroines to tell you, but a rich experience to share and have wash over you.
Sitting alone in the little theater, this short film transported me through a time warp, very gently, to a different NY than what was just outside the ICP doors.
And 65 years later, the film is still incredible to see.
Stan Brakhage ranked it among the greatest films ever made. The 3 principals went onto make another film shortly after which was nominated for the Best Writing, Story and Screenplay and Best Documentary Feature Academy Award.
At this time we don't have a copy of this film to give you. It's been a tough one to locate. When, and if, we do, you know we'll give one away here. See, it happens with the videos as well as the books. You see, you want, you buy. Veni, Vidi Vici.
I think.
Her work is here for you, though, in many book forms, and no doubt a retrospective show will be forthcoming.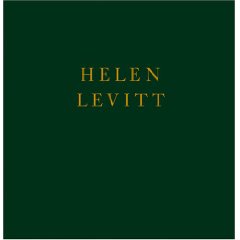 There was a book we wanted to share, called Crosstown, which was a great retrospective published in 2001. But gone.
Luck is on our side though and we have located a copy of the most recent book, published by Powerhouse last year. This one was made in conjucntion with a retrospective exhibit of her work in Germany, in 2008. Her iconic images plus some pf her more recent color work is included.
It will be our pleasure to gift a copy of this book to one of you.
Details will be in the NEWSLETTER, so sign up by Tuesday at midnight PST, to be eligible.
By the way, this weekend we gave away our first goodie via Twitter. The response was lighting fast, and we'll be doing more of those.
If you're into that sort of thing.
Don't worry, we won't send posts that let you know when we're eating toast…..with jelly, but on-the-spot events and reporting from gallery shows, trade shows and things photographic that we may not cover elsewhere.