Squeeze As Much As You Can Out Of The Experience
Actually , you should be doing that with every part of your life, but today lets just talk about the slightly sedate experience of visiting a museum.
Oh, sure, you walk around, maybe get a "gut hit" from a few pieces, or recognize work from advertising that promoted the show. A little snack, a visit to the museum shop for a catalog, or other related items, and off you go.
However for a very small fee, and sometimes for free, you can enhance the experience by taking the audio tour, usually offered up at the front of the museum.
And if you time it right, you may even get a tour by the curator of the exhibit.
This past week, we spent lunchtime at the Getty Museum, and had a tour by the man who spent 2 1/2 years of his life putting together the current Paul Outerbridge show.
Hmmm, do you think he had some insights? Maybe? Just a couple?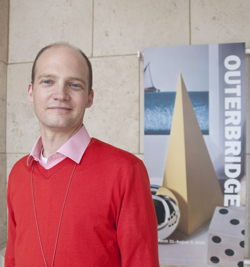 Paul Martineau, Assistant Curator, Dept. of Photographs, of the J. Paul Getty Musuem, (pictured at the right), gave a very manageable size group, a walk around an exhibit, we had seen just a week before, on our own.
This was way different.
In about 90 mins., he shared insights about the specific images, and the man who made them. With a more personal weaving of the storyline, we watched a mans career unfold, blossom and then begin to fade.
Mr. Martineau had discovered images never seen before, of the last works of Outerbridge. His move from the extremely precise, illustrated, tableaus to an attempt to capture life as it was happening belied a wondering artistic search. And a search for ways to make a living.
But it was this curators insight, and his intimacy with the work that brought the full story to life. He had traveled all over, looking at collections of Outerbridges work, to put together the best of the work, to tell that story.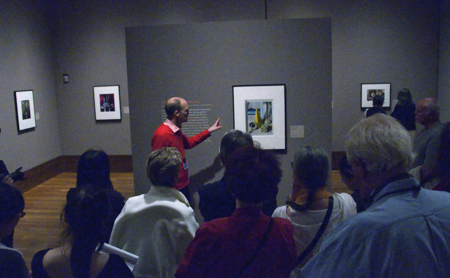 And remember, NO FLASH in these places. Permission is usually needed to take ANY photos
Having him lead a group of us around the exhibit, explaining nuances as we went, was gold.
That is just one way, to enhance the experience.
And by the way, the Getty published a new volume just for this exhibit, Paul Outerbridge: Command Performance, with photographs from the show and an essay by Mr. Martineau. Highly recommended.
But you can also do it in a much simpler way.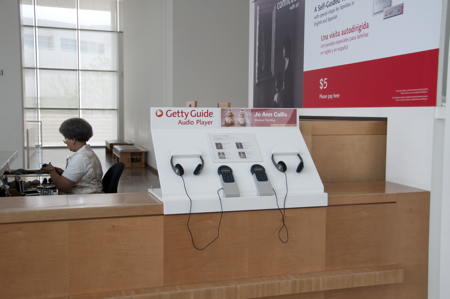 The audio tour.
Every museum offers this up; some for free, Like MOMA, and some for a nominal charge.
They are multi lingual units, that may look like TV remotes, or a cell phone, like at the Tate in London
Now these folks at the Tate, take this experience seriously.

"Tate Modern's Bafta-award winning
Multimedia Guide
is a unique way for visitors to find out more about the art on display. Holding a small computer as you walk through the galleries, you can see videos and still images that provide additional context for the art, take part in interactive games, listen to commentaries, and play art-related music. Tate was the first museum in the UK to trial such a system, back in 2002, and now becomes the first to introduce it as a fully-fledged tour.
Highlights of the Multimedia Guide:
•Interviews with artists such as Joseph Beuys, Richard Hamilton, Louise Bourgeois and Fiona Rae.
•Video footage of artists at work.
•Interactive games, such as 'Exquisite Bodies', which was invented by the Surrealists, and a quiz on Andy Warhol's famous aphorisms.
•A tour that's been specially designed for children.
The Guide covers all floors of the Collection displays and includes content on more than 50 artworks on display.
The Multimedia Tour is aimed at visitors who are looking for an accessible introduction to modern and contemporary art, and presumes no prior knowledge of art history. When the concept was first developed, we had visitors between the ages of 16 and 25 in mind, as confident users of new technology. However, since then, all kinds of people have tried out the tour, from families with younger children, to school groups, and individual adult visitors of all ages, and they have rated the content highly."
Museums all over the world, and we've checked, offer up this service. And why not? The people that put together these exhibits spent a bucket load of time, placing each image where it should be on the wall, time-lined an artists' life and work for a reason, learned bits of information in their research, that you may never find.
Mr. Martineau, told us that the descriptor panels on the wall, giving you an insight into the separate images, took at least a day apiece to write. He knows his audience and wants to make sure they have as much, easy to follow, info.
Get the most out of your visits. Rent the audio tour.
And if you can actually time it right to get the curators tour, well, that's some darn fine icing on the cake.