Weekly Giveaway – The Wonderful World of Color!
And we're talking about some rich color. Tri-Color, Pigment Printing. Known as Carbro prints, these vivid images were made popular by a very few photogs.
The expense for each print was a prohibitive $150. per. Of course, that was in the 1920's.
In my college days, studying the various print processes was part of the curriculum, and the carbro was that holy grail of color. That which all others are measured against.
Lofty, unattainable, folklore-ish, definitely not within a students grasp.
At the Getty Museum currently, there is an exhibition of one of the most famous practitioners of the Carbro print, Paul Outerbridge. ( we almost heard the choir singing in the background )
But included in the show is a very special room.
One that explains the Carbro print process like I've never seen, complete with the "one-shot", 3 neg camera, used to make the necessary images. A room dedicated to one photographer.
Richard C. Miller was a photographer in the late 30's, early 40's who was a heavy user of this process. On display, is an image from start to finish, with all negs, color tissues, bromide prints, and final carbro print. Plus some perfect examples of an era of color photography.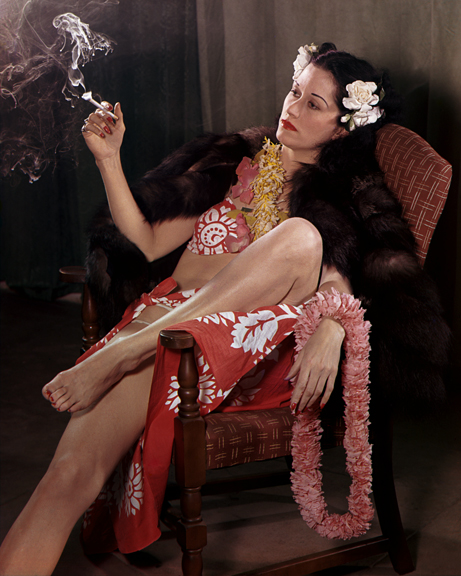 © 2009 Miller Family Trust A. All Rights Reserved.
Sure, what the heck am I talking about, you may say. Tissues, bromide prints, carbros.
This week we have an excellent book of Richard C. Miller's work, including one of the best written and visual descriptions of the process, we've seen.
And this book will make it all clear. Plus some incredible examples of Mr. Millers work from the 40's.
We know a lot of you won't be making it to the Getty for this show, but they had this book, which we figured you would dig. Only available from the publishers, the Getty, or Richard C. Miller's website.
Or right here. For free. Just for one of our subscribers to the NEWSLETTER. Details will be in the Weds. 9:00 AM PST edition.
We bought one for ourselves, too.
He also photographed Marilyn Monroe when she was still Norma Jean.
© 2009 Miller Family Trust A. All Rights Reserved.
His friendship with the Weston family of photographers is also the subject of a limited edition portfolio of prints.

© 2009 Miller Family Trust A. All Rights Reserved.
Have a look around his site and discover a photographer that gave a lot to his craft and art. At 95, it seems he still cares, too.
At the exhibits opening, he flew out from NY and signed books.
May we all be able to do that.
(Please be advised, this book has nudes. On the cover and some in the interior. Just letting you know.)
Yes, with this the 3rd mention of this exhibit, you can tell we like it.
Moving on, now.