Who's Next?
Every year I fly up to the Academy of Art to join a group of professionals in reviewing the photographic graduating class's portfolios. We sit in a room and it is a bit like speed dating: the director of the program puts each student with a different reviewer, and shortly thereafter, calls time and they move to another opinion. I mean, person.
Wow. How tough that has to be, especially on the graduates who just received their degrees the day before, and now all of these strangers are critiquing their work.
We all try to be honest, yet gentle in helping guide the new photographic stars entering the marketplace. In a 7 min. block.
The undergrads, who still have some time on the academic clock, get to join in, and here is where you get to track some growth.
This year was no exception.
Rosanna Anson has only been in the photography program, for 1½ years, but she is already a star.
Her fashion work had it all: attitude, brilliantly shot, defined style, and yes, showed off the garment, as is the raison d'etre.
But we also wanted to share some of her conceptual work.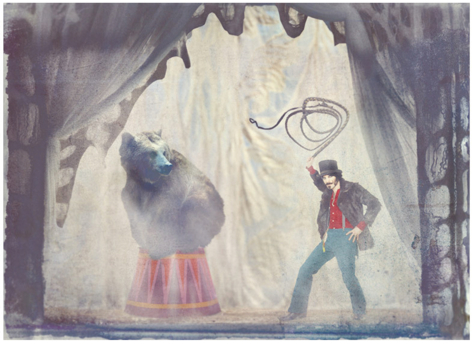 © Rus Anson Photography 2009
"My Circus" depicts a gauzy world populated with pastels, a mustachioed ringmaster, and an altered reality of a memory.
You can almost hear the calliope playing a strangely familiar, but oddly tweaked tune.
It's a gentle world though, even when the knife thrower, tips his next move. And it is a fresh fashion layout.
There was a unique take on suicide also, that I had never seen before. Not angst ridden dark moment but a graceful, Olympiad dive into space.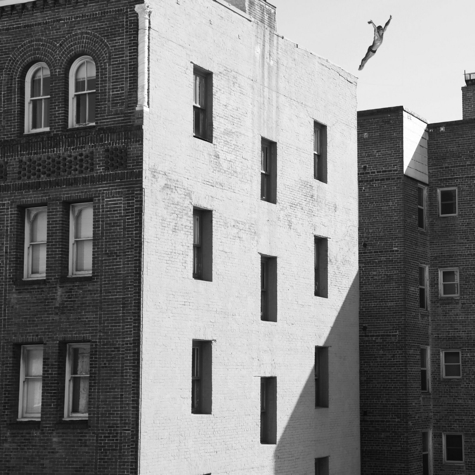 © Rus Anson Photography 2009
You have to check out the rest of her work and her blog. She will be here for a long time.
Time was called and another student took a seat.
He goes by Unni, a young photographer from India, only in SF for college.
In San Francisco there is an area called the Tenderloin, where the poor, the outcasts, and the questionable find a home.
This is where Unni met his subject. And now his friend. In a series called "She" he has presented the world of a 50 something transvestite, living in squalor and turning tricks. At the same time there is his implied sense of normalcy in his/her world, as depicted most poignantly to me, in this photograph: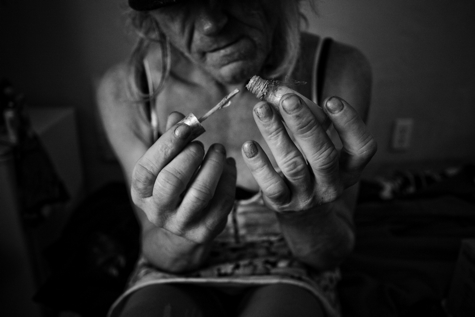 © Unni Photography 2009
By putting applying nail polish, onto chewed up hands, from a crusted over bottle, there is a strange modicum of attempted beauty.
Unni has spent a great deal of time befriended this person, and will deliver a solid body of work from that closeness. As any great documentary photographer knows, you must create a relationship, of some sort, with your subject to gain the trust to get the shots, that tell the story.
Here is a link to his site and his youtube channel.
There were many more very talented photographers I met, but one thing is for sure: the Academy of Art in San Francisco is bringing some incredibly talented photographers to the world in commercial, fashion, and documentary.
Can I go back to school?