Weekly Giveaway – A camera you can wear!
There has been an incredible amount of press lately on the resurgence of Polaroid film, specifically the SX-70 type, including the reintroduction of the camera.
A group called The Impossible Project, has been working diligently to re-introduce the famed film packs and systems.
After Polaroid decided to cease production, this group acquired the film making equipment from Polaroid, and are remaking a new instant analog film which should be released in 2010.
They have even hired the technicians who worked on the old SX-70's, to refurbish a select number of the cameras, which are now being sold through International Center of Photography and Urban Outfitters.
Pretty bold moves, right? Saving a film from extinction? Well, those of us SX-70 aficionados, are pretty darn happy about about.
And now, so is the Polaroid Corp. They have just announced that they will be making a new camera to use the film being made by The Impossible Project.
Hmmm…I wonder if they ever should have stopped in the first place?
This week we have a very cool T-shirt, from the folks at ICP, with a graphic of the classic SX-70 Polaroid camera silk screened on the front.
Show your support, or just wear it because it's a great image.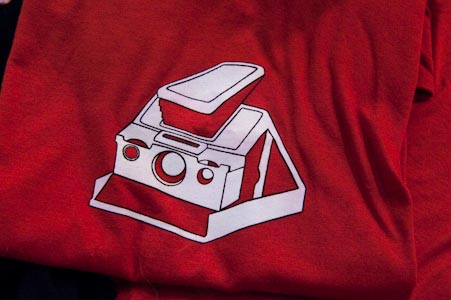 Make sure you are signed up for the NEWSLETTER, (sign-up info is at the top of this page), and check your email inbox on Weds. You'll get an email from us at 9:00 AM PST with all of the details on get this wearable camera, gratis.
And if you're looking to buy an SX-70 now, you can also check out Polapremium.
We're just happy that our favorite Polaroid camera will be back in action.