Weekly Giveaway – Many Are Called: Walker Evans
Can't help it.
Every time we go to NYC, the time spent in the subway brings this book, Many Are Called
, by Walker Evans, to mind.
In a strange way, nothing much seems to have changed, from when this was first photographer in the late 1930's
There are iPods and electronics to keep people in their own personal cone of silence now, but the crammed quarters of humanity still ride the underground with a skewed sense of non-contact while being jammed together.
photographed between 1938 and1941, Walker Evans used a hidden camera while traveling the city and captured his fellow commuters in these photos.
You can sit and examine these faces as you really can't while on the subway itself. It would be untoward and strangely confrontational.
But in this book you can see the faces that strive to avoid. People appear to be either shut down or so deep in thought that no one can touch them.
Til their stop comes and the doors open, allowing them to empty back into the world.
Every time we go to NYC, we use the 1 and the R and see these same faces from years ago.
So we want to share this classic book with you in our weekly giveaway.
First published in 1966, even though the images were made between 1938-1941, the brilliant writer James Agee wrote the introduction.
Yes, the same James Agee that collaborated with Helen Levitt.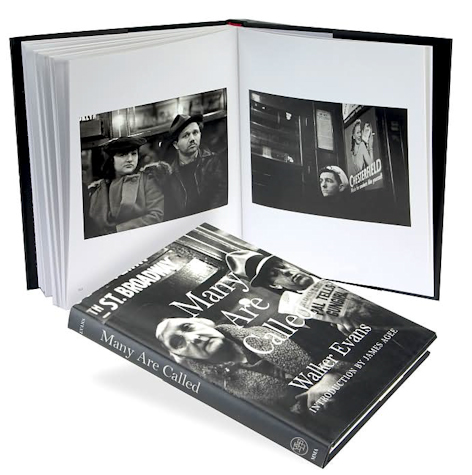 You see, we like to have a balance in our photographic life.
As much as we are concerned with the proper tools to achieve the desired image, we will always swing back to the images themselves.
And the masterful photographers that made them.
We hope that you can share in that balance.
If you'd like to be eligible for a gratis copy of this book, remember that you have to be signed up for the weekly NEWSLETTER.
The details will be in this weeks edition, coming to your inbox at 9:00AM, PST on Weds. so you may want to make sure you are signed up before then.
Don't forget, we will ship anywhere in the world!
And here is an article online from NPR with an audio track discussing the book. Not to be missed.
Plus here is a more modern photographer, known only as Johnny Stiletto, and a link to a BBC website who also spent some time shooting on the subways.
Lot's more videos are coming from our NYC trip and some special interviews with photographers on their way.