Weekly Giveaway – Lou Manna tips the tricks on food photography
You may have wondered how all of the food on ads, recipes, menus and product labels look so good.
Well, we'd like to say there's an app for that.
But there isn't.
It takes a knowledge of photography, coupled with the tips of the pros.
We're talking about the pros that shoot food for a living.
Like Lou Manna.
Shooting restaurant reviews for the NY Times, as one part of his 30 year career as a pro, have given him, what we like to call, a pretty big playbook of all of the ways to make your subject, the food, look as good and as appetizing, as it can.
This first book, Digital Food Photography
, in what is becoming a series, lays it all out in very direct, easy to grasp terms, complete with the secrets of the trade.
Need that corn flake to stay on that spoon just where you need it to?
And have something that may look like milk, be it's pillow?
Maybe the seeds on the bun need to be spaced better than they came out of the bag.
Ok, he tells you a LOT more than that, in this book.
Food styling, lighting, composition, shooting for your audience, post production, and getting into the business of food photography.
All geared to the digital photographer.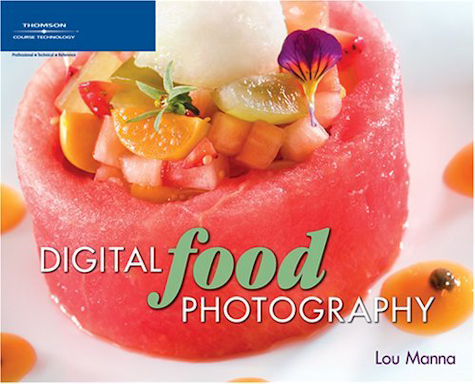 We went to a meal with Lou, and he shot his plate using point & shoot and softening the flash with a paper napkin. And then he shot it without, to show the difference.
This is one dedicated photographer.
We are very happy to have him as a judge in the Let's Do Lunch! contest, as we know he understands food imagery and is also open to all levels of expertise.
You see, not only does he have these books, but there is a webinar he teaches on the subject, as well as live teaching.
He'll take a group of students to a restaurant, get them in the kitchen to see the ingredients and shoot, then teach them how to photograph their own meals.
A shooter after our own heart.
We have one of these books to giveaway this week, so you can start shooting your holiday meals. This time of year, it all ramps up so take a read and learn how to do the way you want to.
Thanks to all of our new NEWSLETTER subscribers! The more we have, the better selection of giveaways we can offer.
All free, all the time, and we ship ANYWHERE IN THE WORLD!
There are some of you that have signed up and seem to have not received the emails, due to a spam filter at your work, perhaps.
We'll be sending out an email to you with ways to make sure you get the email.
You see, that is the only way to get the giveaways. Detail arrive each week on Weds., 9:00 AM, PST, to your email inbox.
To sign up, click here, or go to the top of this page.
Wait till you see what we have for you in Dec.! Big stuff coming.