Real World Review : Nikon 1000PJ – Part 1
What is one of the most important reasons to have a point and shoot camera is to conveniently be able to capture the random moments in your life, as well as notable events, parties, etc.
The next part is to share the image, by either "chimping" ( the term used when everyone ohhhs, and ahhs when looking at the LCD screen at playback); posting to a social network like Facebook, or actually making prints at a later date.
Nikon has added a new way to share one: with a the camera that has a built in projector, the 1000pj.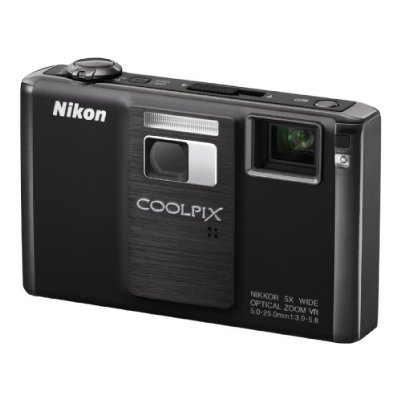 When we first saw this as a prototype last summer, it seemed promising, and had huge potential as a breakthrough product.
Now we have one in our hands and have been taking it to all of the holiday parties.
WOW!
First of all, it draws a crowd. And if you are looking to share some photos, there is no better immediate way.
We are convinced.
Yes, there are some folks that say that for $100. more you can get a much better, bright projector.
True, but you can't put it in your pocket.
Now after doing a run of 3 parties in one night (yep, busy time if year) the crowds dug it.
The batteries did wear down eventually, but not until the middle of the last party. It is only rated at about an hour, so get an extra battery, otherwise you'll be carrying some cords.
We started to become very judicious in the projector usage, by party 2, and saved the power for actual picture taking.
Nikon has improved some key features that just speak to the feel of the unit: the battery/SD card door now has a solid feel and adds to the strength and handling of the unit. Sorry, it has always been an issue with us, now solved.
You get a remote control also, which can control the projector functions. We suppose you could set it up with the little camera stand, and do a slide show, but seriously, just pulling it out of your pocket and projecting the pix is the way.
Impromptu fun.
And yes, it shoots video (SD) and will project that too.
You can zoom in on the stills while projecting them also.
Ok, we've been going on and on about the projector.
How is it as a straight up camera?
With some of the basic Nikon features like Face detection, VR reduction, Smile detection, focus tracking (great for kids and pets) a good 28mm wide angle to start, ISO 80-6400.
It has 12.1 MP, 5x Optical zoom, a great wide angle lens to make sure you get all of your buddies at the dinner table without backing up to the parking lot.
There 16 scenes you can select, and one of our favorites, Food , with a simple color correction slider on the large 2.7 inch LCD screen. It's lets you get up to 3cm close and the color correction makes it look that much more appetizing.
Here was a thought from a painter, who found a whole other use for the camera:
"As an artist, I will use this camera to shoot new subjects, then project them onto a canvas so I can transfer the compositions into a painting. "
We'll be adding some of our own images this week to this article, but since we've been getting some emails asking about it, we felt it was best to get some initial thoughts on it out fast.
This is perfect for the holiday season and all of the gatherings, so highly recommended.