CES 2010: Introducing a new Creative director at Polaroid – Lady Gaga!
From a company that has been on the brink of disaster, with scandal rocking it to its' core, thanks to the shenanigans of Tom Petters, to a decision to stop making it's most popular product, instant film, Polaroid appears to have a made a Hail Mary play hiring Lady Gaga to become a creative director.
© Damon Webster
Her exact tasks have not been released other than she will be adding her own special Gaga touch to the design of new cameras.
She was very clear in the press conference to let everyone know that this as not an endorsement of the products, but letting everyone one know she was being hired for her design sense.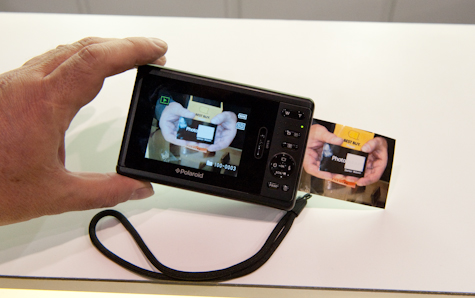 © Damon Webster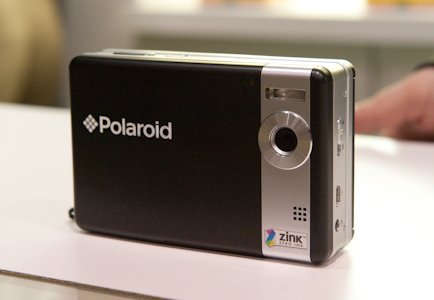 © Damon Webster
At CES in Las Vegas, they showed off the working model of the POGO using ZINK technology to shoot digital photos as well as the ability to print 2×3 in. on the spot.
Coming up will be the POGO on steroids, with the ability to print 3×4 prints immediately.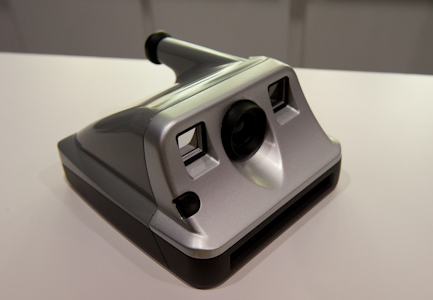 © Damon Webster
And they have this revamped One-Shot coming in the Fall of 2010.

We know what you're saying: Didn't the Impossible Project announce they were making Polaroid film and selling refurbished SX-70 cameras? This was before any announcement from Polaroid Corp.
Then late last year Polaroid announced they were coming out with cameras and film. Again.
hmmmmmmm….
Was the interest generated by the Impossible Project the impetus for the change of heart ? We think so.
Then there is Fuji. Didn't they fill that instant print gap left by Polaroid? Aren't the Instax and it's 3 versions hella cool? Plus they came out with pack film for pros.
Those that may still use it. Honestly we love our converted 110B and the pack film it uses.
Now we do have to give it to Polaroid for the brilliant marketing move of putting Lady Gaga at the forefront, which generated possibly the biggest press news of CES.
At least the nightly news channels thought so.
Even Saturday Night Live covered it in the Weekend Update segment this past week.
We were just getting used to the new deal instant films. Our appetites had been stated.
It's kinda like our old girlfriend moved away, we started dating someone else with similar attributes, then the first love came back with the comfortable ways we knew, and is adding some new glitz.
Will the spark re-ignite?
Can Polaroid retain the audience and fan base they once held? Has the unique format void been filled by others? Is Lady Gaga the saving grace of a company we thought was history?
Who knows. But we'll be watching it and testing all of the cameras that we can.
Someone did suggest in the crowd that perhaps Andre 3000 may have been a more appropriate choice to represent. Then someone else said" Who?"
Touche.