CES 2010 – You're a photographer: What the heck does a tech trade show mean to you?
It is known as the world largest electronic showcase in the world. The word is that 110,000 attendees made it this year with over 330 new exhibitors.
It's a trade show where manufacturers preview new technology soon to be available in the marketplace, or prototypical items coming down the road.
Perhaps way down the road.
Essentially it was about 3D TV, E-Readers, Apps and tying together your digital life.
We are HUGE 3D fans in both stills and video, so we did hit a bunch of those presentations. No standard of course, and expensive active shutter glasses needed to view them for the most part, plus not much content available. We've had a 3D system in the office using active shutter glasses for years using a CRT monitor. As soon as the LCD's came in the frequency killed that. Even though ESPN is launching a 3D network in the spring, let's see how many early adopters get convinced to pay the premium, so the rest of us will get standardized system down the road.
If you have the dough and want to shift out your brand new HD TV and Blue-Ray player. ( didn't you just upgrade?)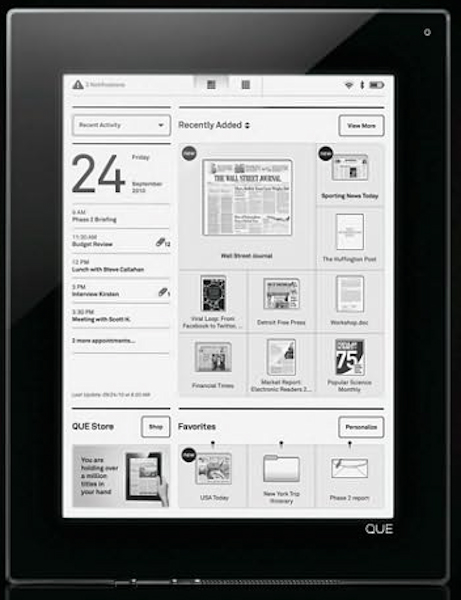 The E-reader wars will be further determined by game changer Apple with their tablet expected to be announce at the end of this month.
This one, by QUE, is 81/2 by 11, and 1/3″ thick. Only $800.
Gee, everyone seems to now get the Apps concept. Samsung announced the opening of their App store, with 3 billion apps now having been sold . BY APPLE!!!!!!
OK, that's the top line. We did dig a bit deeper to see what we, as photogs, could use.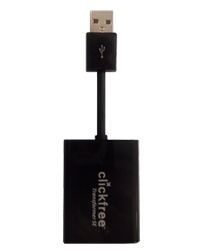 One of our faves was a small dongle transformer from Clickfree. You know how we are always going on about your digital life and you better back it up because all hard drives fail. Not if, when.
Remember those articles?
Well these guys have a product that makes it very easy. What is does is allow you to use any hard drive as a backup system for any or all of your computers. This usb/transformer/ dongle has some software on it that will get put onto any computer your choose.
Plug in your hard drive of choice through the special cable, and an on-screen menu will walk you through a back up system for that computer. Use that same drive on as many computers as you like.
Example: we use 3 computers, and have about 5 external hard drives between them all.
The goal was to have one hard drive that held all photos (or videos) from all computers. If there was ever a file, multi-crash, robbery, whatever, this one drive would hold it all.
That is what you grab running from the house. Of course you make 2 and have one off-site.
This system allows you to do that, and back-ups incrementally. What that means is that if you are good and take this hard drive around at shceduled times, your drive will be always updated with the current files.
And it won't copy duplicates!
We have been doing this manually with no software help, and we won't lie: It is a royal pain.
This system rocks and is well work your consideration. Any hard drive, use it on PC OR MAC, and be safe.
Of course you know we also recco burning your work to archival DVD, in addition.
We know it seems like a lot of extra work. When it was negs, we had them already archived.
Make this item part of your workflow. We are now incorporating it into ours.
There may be a wireless system on the way, but for right now, this'll do perfectly. Clickfree. Check it out.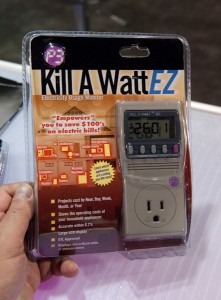 Then we saw a very cool Green tool. As the term "green" will either continue to be embraced and incorporated into our daily lives, or it will become white noise and people will go back to wasteful ways, there is a choice.
The 2 computers screens sit around here filled with materials, the flat screens show the dvd's and the home entertainment center hums along, and we do mean hum, one has to wonder what kind of power this is all taking.
Since all of the monthly utility bills are skyrocketing, how we can cut them down.
Plus, and this is the kicker, how we can make green living a part of our daily lives and really turn the grid down a bit.
This tool, called Kill A Watt, is basically a meter to tell you what kind of juice your appliances are using.
In use or just simply plugged in.
Put in the current cost per kilowatt, based on your bill, and plug the appliances in to the unit, and see what you are using.
We chatted a bit to them and found out you can also plug a power strip in and get a cumulative read.
So when you go to bed, stop using an item, or maybe leave on a business trip, find out how you can save dough and use less energy.
All of us photogs know how much time we spend on our computers, in front of monitors, with lights hot and cold, charging batteries, and of course a little down time in front of the TV.
That's what made this product jump out at us. About $50 USD list for the EZ unit (the one you want) but almost half that at a big box store like a Costco.
Then there was this: make 360 degree product shots easy peasey. Seriously, this will make someones life out there a lot easier.
The Photosimile shadow-free product studio:

Incredibly creative? No. NOt the point. It does allow you to shoot a product and put it online so any one can mouse over it and check it out 360 degrees worth!
Steadicam keeps talking to the consumer market, this time with the Smoothee.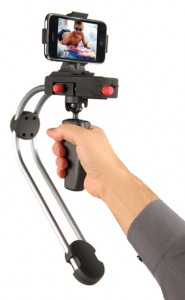 These steadicam system units come with pre-balanced mounts for the Flip Mino and the iPhone with Video.
Not quite photography, but in the Tiffen booth. They were also showing a new LED light that would balance your tungsten daylight color with a twist of a knob, called the Blender.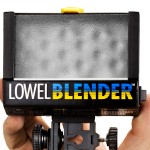 Yes, since it was Vegas, Elvis had to be there.
Especially for his birthday.
And we think that is a Jessica Simpson look-a-like.
Coming up next month is a full bore photographic trade show, called PMA. It will be interesting this year as some major players have pulled out, like Canon. and Leica
There is a lot of talk that since digital imaging is become so meshed with every other piece of technology, the market may have to cut down on specialized product category shows.
That is one of the reasons we went to CES this year. The trend seems to be going that way with perhaps next year a combined show with the usual suspects from PMA attending CES instead.
However, we are really looking forward to looking at photographs instead of gear this week as Photo LA and Art LA come to town.
We are gear monkeys like the rest but there is a point where you have to take in the imagery that is created with the tools.
That is where the mastery and art is.