A photography book for $400,000. Can I Have 2?
And the Fair has left the city…..Short and sweet.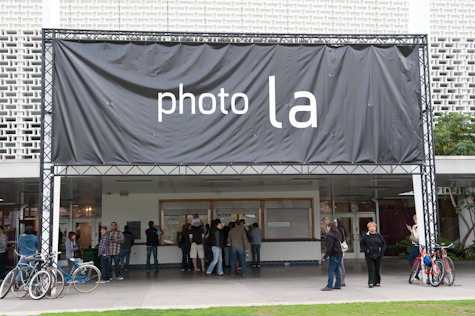 PhotoLA has left the city til next year. A good time had by all, and some new discoveries made.
Like how you can spend $400,000 on a photography book.
21st Editions, long renown for making the highest quality short run, limited edition photography books ( we regularly dream of owning one of their editions with tipped in platinum prints) out did themselves in a new, not sure if you would call it a book, collection perhaps.
We were blown away by the actual, separate plates in this collection, and it truly be best described by their own words: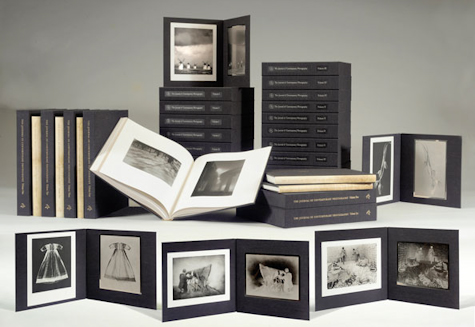 The Journal Plate Set
The first series of books published by 21ST Editions, beginning with our inception in 1998, was our internationally recognized Journal of Contemporary Photography. The six volumes of the Journal were illustrated with hand-pulled photogravure and color planograph images from many of the world's most highly respected contemporary photographers. These images combined with potent criticism and prose from internationally acclaimed writers and poets to form the most robust, sophisticated, and unique forum for new dialogues on the arts and letters of the photographic idiom.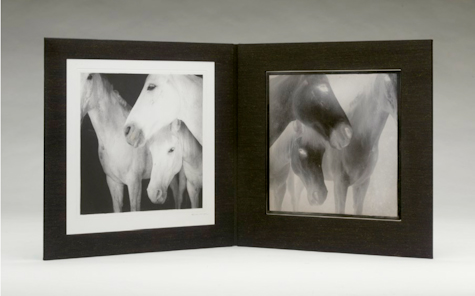 © The Journal of Contemporary Photography: Volume 1, Keith Carter
The Journal Plate Set is a one-of-a-kind, 20 volume set of 74 half inch thick books, each custom bound in elegant black Japanese silk. The set contains 64 photogravure books, each holding one of the plates originally used to print the images in the Journal. These nickel plated copper photogravure plates, each finished to a mirror polish, are bound into the right hand page of each book, with an original signed photogravure from that particular plate bound into the left hand page. These stunning books are supplemented with an additional 10 signed planograph books, the striking color images that also graced the pages of the Journal. Each artist's name is embossed onto fine leather labels on each of the 20 portfolio boxes, on each of the books themselves, and is embossed into the inner liner of each custom portfolio box.
In addition to the 20 volumes of plates and signed images, this unique set includes Deluxe Editions of all six volumes of The Journal of Contemporary Photography, each custom bound in beautiful matching Japanese silk, Moroccan goatskin accents, and striking vellum spines. This one-of-a-kind, oversized (15 × 13.5 inch) set of Deluxe Volumes I–VI includes 74 bound original prints and the signatures of 72 internationally known fine art photographers.
This set took 2 years to create, it has a combined weight of over 350 pounds, and it represents one of the finest, most unique publications ever created by 21ST Editions. As an artwork in and of itself, The Journal Plate Set simultaneously represents the finest attributes of photography, literature, the book arts, and even sculpture. There has never been and will never be another set like it.
$400,000
If you do have the opportunity to see this set in person, do not hesitate. Put the white gloves on and see the incredible beauty of the nickel plated plates, along side the perfectly printed photogravures. When people speak of limited editions, you will be holding the plate used to make the gravure, yet the nickel plating has rendered it useless. It's supreme beauty remains. So the photogravure and the stricken plate side by side, multiplied by the over 10 years of the Journal's production, add up to, you guessed, a $400,000. book set.
we do regret not camping out at their booth and looking at each image.
By the way, here is the Garry Winogrand photograph we mentioned seeing, in an earlier post.
Apparently the cognoscenti were well aware of this image, and we were the uninformed, but no matter. This should be hanging on our walls.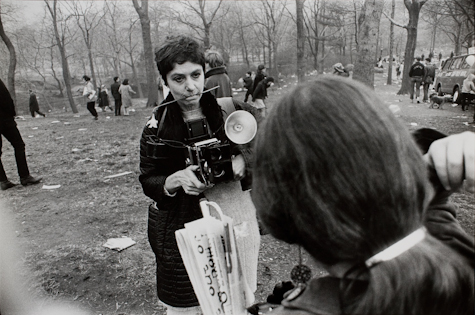 Diane Arbus, Love-In, Central Park, New York City, 1969, by Garry Winogrand,
© The Estate of Garry Winogrand, courtesy Fraenkel Gallery, San Francisco.
As promised, we have made a our list of prime gallery sites that we feel you should visit online:
MR Gallery
Frank Pictures Gallery
Halsted Gallery
Hous Projects
Scott Nichols Gallery
photo-Eye Gallery
Smith Andersen
and of course,
Stephen Cohen Gallery
The gallery owners have assured us hat what we saw in the booth, is online, so we hope you can take a look and see some good work.
Overall, a much smaller show, but we still enjoy the experience and wouldn't miss it.
No real breakout new stars that we saw, like Loretta Lux, of a few years back.
Dealers seem to be concentrating on the true collectors now and leaning towards the classic 50, 60, and 70s work.
Seems to be the sweet spot.
Vintage booksellers were not realy present, and the older classics were staying put in collectors homes.
The market has been pummeled like the rest of the economy, but we saw enough red dots signifying sales, to know there is life in the fine art gallery world.
Just more galleries are sitting out this round.