Do you have enough Flair?
Like the modern classic movie "Office Space
" we've got plenty of photo flair to show our enthusiasm for photography.
Jennifer Aniston's character in that film didn't want to add more flair to her uniform, so she took another road.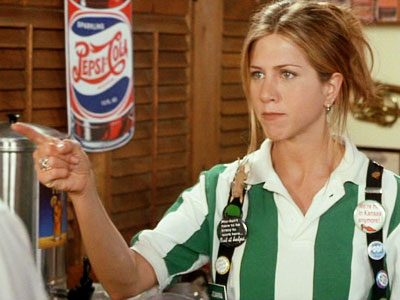 © 20th Century Fox
We have been collecting/been given, a ton of the stuff, flair, through the years.
Nope, not gonna wear them on suspenders or on a vest at the next photo gathering.
That would be creepy in a massive grouping.
How about a single bit of flair?
Maybe your fave camera company logo, or just a small pin, put onto your lapel.
Sends a message, alright.
Sometimes a clever phrase, an image of your fave camera, an eyeball (very popular), a 3rd eye, an event, or a simply "Say Cheese!"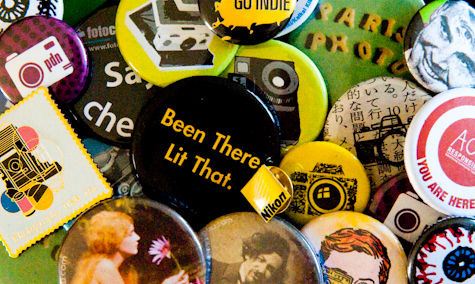 In the 60's, message buttons were all the rage, and hippiedom would not have been complete without some anti establishment notification on your clothing.
Elections through the years, have made campaign buttons de rigueur for the proper announcement of your political predilection.
And now every charitable cause has a ribbon, neatly twisted and pinned on a lapel to ensure your neighbor knows that you are good and just.
Check out any award show involving a celebrity, and depending on the current horrific world event that they can put a magnifier onto, you will notice the plethora of appropriate colored ribbons.
A bold statement of support is made without uttering a word.
Ok, when you are carrying around a big DSLR, there is no question that you are "into" photography.
But when you have a discreet point and shoot, or perhaps (never happen) no camera at all, how people to know where you stand?
C'mon, hasn't someone in your life ever given you a bit of Flair with a photo motif, knowing what your passion was?
Holidays? Birthday? A loved one struggling with a gift idea for you, presents a well made pin, with a bas relief of a camera?
No? They will. At some point.
Well, wear that flair with pride and love. Not 30 pieces because, after all, you don't work at Chotskie's, right?
One will do.
Do you ever wear photo flair?
Let us know by commenting on this article.
This crazy little, Monday in Feb., article.