Henri Cartier-Bresson At MOMA: On first blush
"I prowl the streets all day feeling very strung-up and I'm ready to pounce, determined to trap life, to preserve life in the act of living"
Henri Cartier-Bresson
If the phrase "The Decisive Moment" means anything to you, then the name Henri Cartier-Bresson probably ranks high in your photographic lexicon.
One of the most influential photographers of the last century, his definition of the essence of photography in that moment, created multiple generations of photojournalists and artists still ascribing to that momentary click of the shutter as the, well, decisive moment of the art.
The photographers choice, as the elements coalesce in the frame to create a story.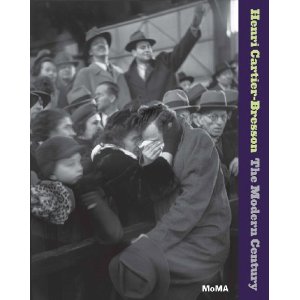 This massive retrospective opening at MOMA on Sunday, April 11, Henri Cartier-Bresson: The Modern Century, is the first exhibit of this magnitude to be mounted since his death in 2004, and the largest exhibit of his work in 30 years in the US.
Drawing from many largely unseen photographs from the Fondation Henri Cartier-Bresson, along with many, although not all, of his iconic images, these almost 300 images will take you on a visual and geographic journey through the famed photographers career.
One thing we found particularly unusual, was a series he did for an annual report in 1960 for a banking firm, Bankers Trust. His moral compass notes are relayed in a descriptor board next to this section.
The collection itself is pretty overwhelming, as room after room, reveal a new chapter in his travels.
Along the walls in certain rooms are the accompanying original magazine articles, where much of the work was originally intended for use.
The curation of the show is brilliant, as you are first given a surprise look at a print actually made by Cartier-Bresson (he stopped printing very early in his photo career) in comparison to a lab print. Historically, it reflects the Euro style for printing, as the lower contrast gives you a softer approach into the image.
From there, some of your faves are on display, giving the fan a comfort zone to lead into the new imagery.
His work in Spain, coming early in the show, proved to be an extremely prolific and iconic visual journey.
The layout of the show allows you to approach his work on 2 sides of the hall and meet in the middle, where the incredible book on the show is laid out on tables or your viewing pleasure.
There are gems all along the way, and the viewer is rewarded with the trek to the absolute back of the show of Henri-Cartier Bressons portraits, mainly of the famous artists of his time.
When asked how long a portrait session would take, he answered "Longer than the dentist,but shorter than the psychoanalyst".
The exhibit itself is like a huge, multi-course fine meal.
You may want to eat it all in one sitting, but pace yourself: this is a meal best eaten in parts and savored.
We definitely recommend multiple visits. Our first walk though yesterday, was overwhelming, yet us gave a chance to pinpoint the areas for the next visit.
And then there is the book of the show, Henri Cartier-Bresson: The Modern Century

MOMA Chief Curator, Department of Photography, Peter Galassi, has created an a amazing, insightful book on Cartier-Bresson, work and life and, with the help of many, put forth an overall assessment of his career deeper than you may have gone before.
The print quality of the book is superb, although you may have many of the images in previous publications, and larger on the page.
But, you will not have a majority of the images in any other form due to the inclusion of the photographs from the Fondation.
Last night we stopped to look at the book and started to get caught up in the writing.
A definite purchase, and perfect for those who cannot make it physically to the show, or can't do multiple visits.

(Hmmmmm…could be a perfect weekly giveaway item.)
Henri Cartier-Bresson: The Modern Century
April 11–June 28, 2010
The Museum of Modern Art
11 West 53 Street New York, NY 10019
(212) 708-9400