Lomography comes to Los Angeles! Gallery/Store/Workshops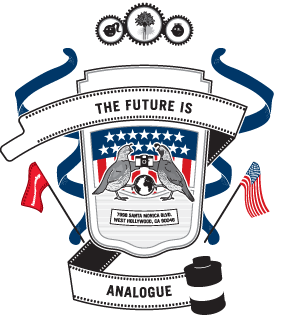 The worldwide, dare we say, cult of Lomography has made a new home in Los Angeles.
Joining the other gallery/stores in 12 locations around the world, the good photogs of the City of Angels cam now hang their hat at the new space on 7998 Santa Monica Blvd.
With every product that you may have seen on their site, actually there right in front of you, the world of analog photo goodness is at your fingertips.
It's the largest facility that they have, complete with displays, hang out areas, 2 floors of store, workshops, etc..
The knowledgeable staff will introduce you to this world of plastic cameras, Russian exclusives, and a general light look at the film world of photography.
One of the best things that they have done for the community is offer 24 hour film processing so you can shoot the film and still do your digital uploads or post processing.
Yeah, we know that for many folks, shooting the plastic cameras was great,but getting the film processed and scanned was a pain.
They made it easy.
AND they have $10. workshops to get introduced or continue your work with film in photography.
It ain't Ansel Adams but is is fun.

Lomography Gallery/Store
7998 Santa Monica Blvd
West Hollywood, CA 90046, USA
shopla@lomography.com
Mon-Sat: 10:30am–9:00pm;
Sun: 11:00am–7:00pm;
phone: 323 301 1414