Photo props delivered hot to your door, in 30 mins or less. Domino's ask for your photos!
We see a lot of photo contests cross our desks, and they all have their theme and merits. Are you looking fro exposure, prizes, a place to put your image?
Maybe you just need some confirmation that someone other than you and your computer screen think there is merit in your photographs.
Whatever the reason, we will soon be listing more of these on our RESOURCE page, so you can decide for yourself.
One that caught our eye, was this special challenge from the folks at Domino's Pizza. Show Us Your Pizza!
Now, our experience in the world of advertising tells us that this is a great for the pizza company to engage the perspective consumer.
They will own the image, if chosen, but what do you care, honestly?
They will use their dollars to promote those images.
Sure they could spend thousands hiring a high end pro, but this way, the general populace gets in on the act and creates an authentic image of the product.
It's what we call crowdsourcing.
pretty smart actually.
And yes, this afternoon, we went to the Domino's site to order our props.
here was the submission: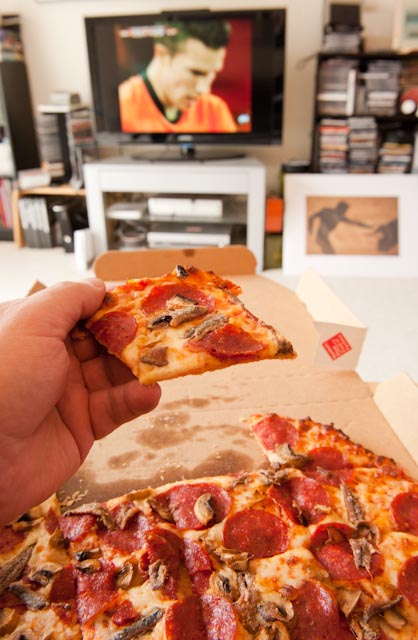 © damon webster
It was a natural for us as the "lunch with…. "series has been posted on Facebook and we have been shooting meals for over 20 years.
That is also how we conceived the Let's Do Lunch! photo contest, which will be happening again, starting in a few months.
Food is a true element in our personal portraits. What we eat, when we eat it, and with whom, speaks volumes about us and our culture.
This Domino's contest is accepting entries til July 26th.
Why not get your props delivered hot for once?