Rencontres d'Arles 2010 – A photographers dream recapped
There is a dream that every fine art photographer has.
To go to the famed city of Arles,France in the summer, and be surrounded by the finest in the world of photography: the finest work, events, talks, people, and celebration of the art.
And for the few who travel to have their work critiqued so they can return home with new insights, it can be the trip of a lifetime.
One of our long time readers, Danielle Voirin, is based in Paris, and had the pleasure of such a trip to the famous LES RENCONTRES D'ARLES, recently, and we are very proud to be able to present some of her thoughts about her trip .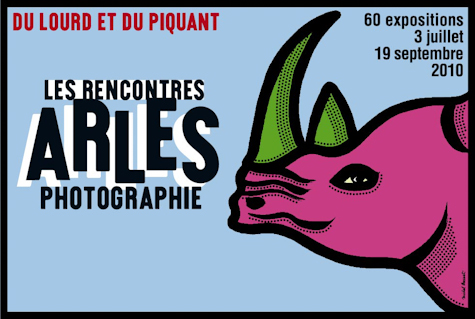 Just back from hot and sticky Arles with a list of new contacts and a head full of images and ideas. 20 curators put on 60 exhibitions for the 2010 Rencontres de la Photo. It was my fourth time going for the opening week but in some ways it felt like the first time. The experience was more positive than it has ever been, in terms of feedback on my work and the great people I had the chance to meet.
The festival started on Sunday the 4th and I arrived on the first train Thursday morning. I decided to subject myself to the portfolio reviews this year and started with three days of 20-minute portfolio review sessions before I could focus on seeing the shows.
The reviews can be intense. Ten people can give you ten completely different opinions with ten very different sets of advice for going forward. I heard one photographer say, in exasperation about her photos, "oh, I just can't LOOK at them anymore." Everyone had given her completely opposing criticism and she didn't know how to make sense of it all.
I was showing three personal projects in three different forms: a book I made with Lulu, a set of 14, black and white, 30x40cm fine art prints, and a set of post-card size pictures I printed on regular paper, with notes scrawled on the front and back, from an ongoing long-term project.
Globally the book and the postcard prints got the best feedback, the most encouragement and incited the most discussion. Despite advice I received before going, the way they were printed was not as important as the content. Trying not to think about the money I spent on those big prints…
There was only one slightly shocking moment. When someone leans forward and says, "can I be frank with you?" brace yourself. His posture followed with, "I think you should never show these photos here again." My eyebrows raised … He felt it brought the other work down, and seemed to come from a completely different part of my brain. Hmm. Something to go over with my therapist perhaps. If he had not responded so well to the other work, this might have hurt. And kidding aside, I'm not alone. Talking with other photogs, I heard similar frustration with hearing that their work is too diverse.
It's a tough call. You have only 20 minutes with someone, you need a tight intelligent edit and 2 or 3 project to show. So you assimilate some of the feedback that makes sense to you and modify your selections for the following reviewers. While waiting for their next meeting, everyone is working on laptops and showing each other their work, getting moral support and exchanging stories.
The book I showed was a test, and is something I really want to get out there in a unique way. As far as self-publishing, one person strongly suggested not doing it. He has watched many photogs spend all their money producing a small run of books, which they then are not able to distribute. Another reviewer was more encouraging about going independent and gave me a list of people to look at for inspiration and ideas, including Stephen Gill, Ryan McGinley and Marcus Schaden. Two other reviewers were ready to buy the book as it is, and asked to please keep in touch. Awesome.
The festival itself seemed a bit more fragmented this year. The last two years had Nan Goldin and Christian Lacroix who each had a dominant theme, but this year the 20 curators broke it down into six themes: Argentina, rock music, analog photography, friends of the LUMA Foundation, passing the baton, and prison life.
With the main festival, the nightly projections, the festival "off" and the independent exhibits, the socializing, aperitif drinking and, if you manage to fit it in, a few hours of sleep here and there, it's a helluva lot to take in. It's the only photo festival I've been to and I love it.
Alors, some highlights…
Vik Muniz's Waste Land documentary was a huge hit. It looks at his collaboration with garbage pickers in Rio di Janeiro's largest waste dump and how the work they did changed their lives.
Friday night, on 12 screens around the old arena there were projections of, I counted, 163 photographers!
My favorite discovery of the night: Eric Dexheimer's series called In Fine.
Black and white, very intimate and delicate images of death that bring you closer than maybe you'd like to be. I almost didn't want to look at anything else after seeing his work.
The first actual exhibit I saw was not photography, but used photography. Léon Ferrari, a 90-year old Argentinean master, was the guest of honor. The most significant and controversial piece in this retrospective, which was censored in Argentina in the 60s, is his La Civilización Occidental y Cristiana (Western Christian Civilisation)— a crucified Christ fixed to an American warplane. The exhibit is in the St Anne Chapel and this piece hangs where the crucifix would normally be.
The collection of photos of Mick Jaggar was fun to look through, though it was missing five images from Annie Liebovitz that hadn't yet arrived. They were featured on the list of thumbnails but missing from the walls.
Dommage.
What I will remember most about Arles 2010 is the Marin Karmitz collection. Surprisingly, I hadn't heard anyone talking about it and so I arrived without expectations. Walking into this old stone church my first thought was, hmm, I've never seen a curator to hide these beautiful old walls with so many constructed ones. But soon I was so absorbed in the beautiful pièce-unique fold-out book of Michael Ackerman's, beautifully lit in a shelf embedded in the wall, that I forgot all about my premature judgment.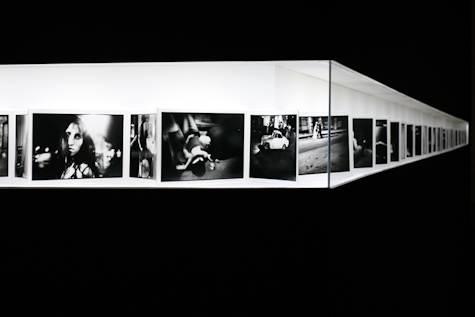 When I was ready to let go of Michael, I turned the corner and saw Antoine d'Agata's work and immediately realized this collection was something very special. Never before have I seen assembled in one place so many photographers who are capable of taking my breath away.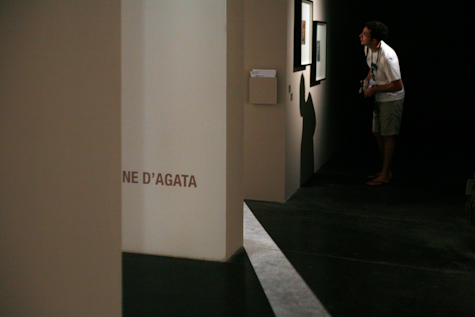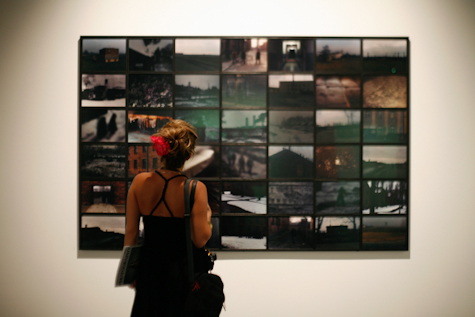 Antoine d'Agata, Oswiecim 2002
Karmitz has collections and one-offs, through which you get a sense of his personality, humanity and strong relationship to cinema. Christer Stromholm, Anders Petersen, Gotthard Schuh, Christian Boltanski, Chris Marker… and a room of diverse pieces including Robert Doisneau, Andreas Feininger, Larry Fink, Daido Moriyama, Brassai, Duane Michals, Lea Crespi, Miroslav Tichy…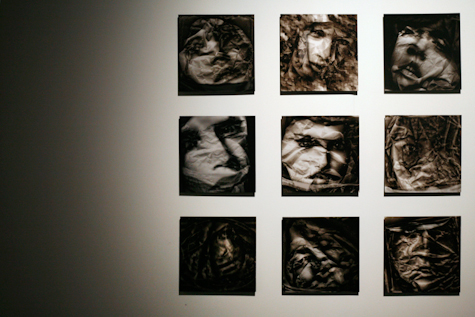 Chris Marker's Crush Art
I've never seen such a unique universe. When I thought I had seen everything, I rounded the last corner and saw Abbas Kiarostami. Wow. I should have guessed. Thankfully this collection exists in book form and they have a credit card machine at the door!
Other highlights: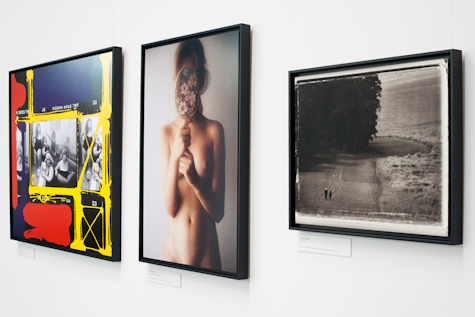 William Klein, David Hamilton and Sarah Moon in the Picto collection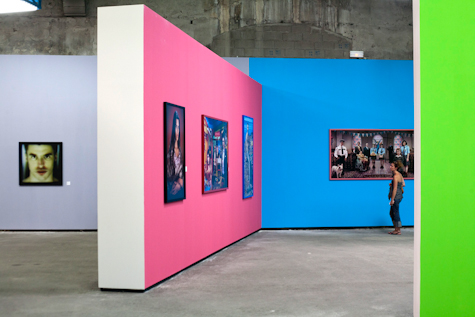 From the Argentina exhibit, Sebastiano Mauri's "Shadow of Doubt" on the left, Marcos Lopez on the right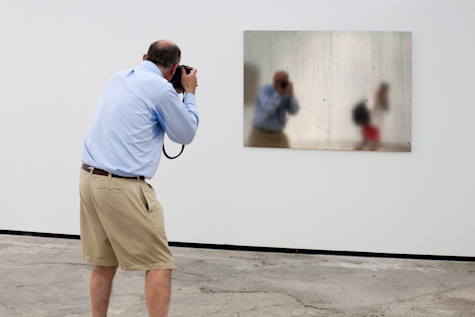 One of the discovery prizewinners, Liz Deschenes' monochromatic work was irresistible to self-portraitists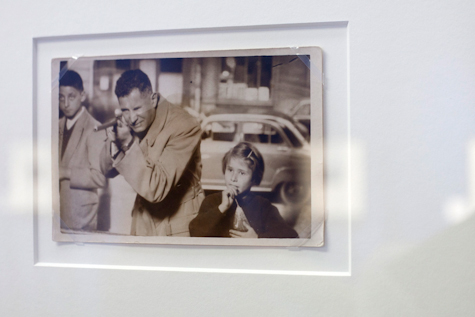 Image from the "Shoot! Existential Photography" exhibit.
A post WWI attraction in amusement parks. When you hit the bull's eye, it triggered a camera that caught you in action. Your prize was a photo of yourself taking aim. The exhibit includes a projection of famous shooters Federico Fellini, François Truffaut, Man Ray and Lee Miller, Henri Cartier-Bresson, Brassaï and Robert Frank.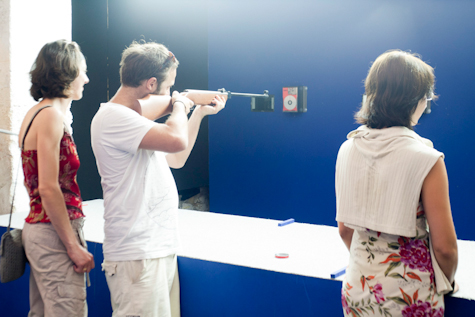 At the end of the exhibit, you can try it yourself.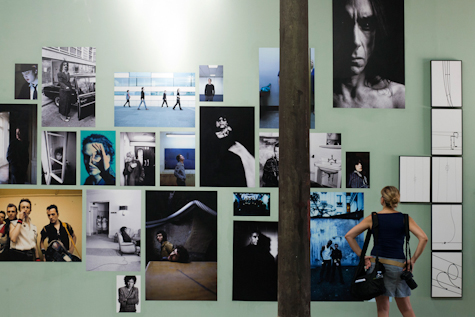 The elaborate hanging of Claude Gassian's portraits of musicians and personal work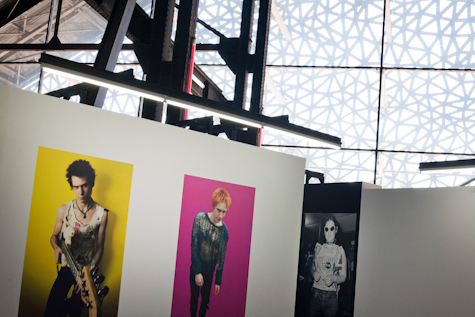 Dennis Morris's images in the "I am a cliché" rock exhibit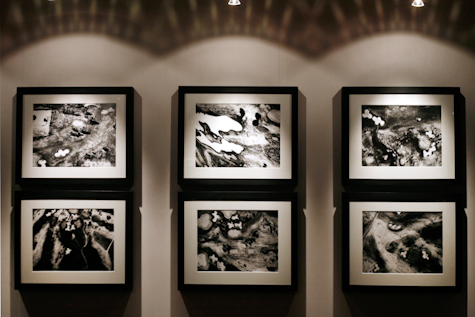 Mario Giacomelli's landscapes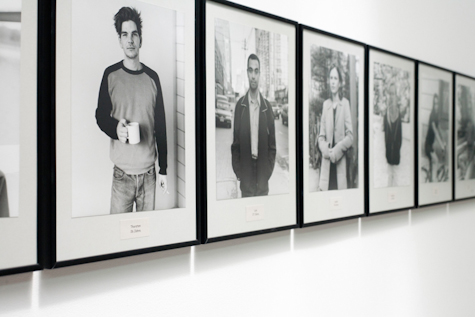 From Hans-Peter Feldmann's "100 Years," photographs of 101 people, one for each year, beginning with an 8-week-old baby and ending with a lady aged one hundred
What I love about Arles it that you can have a portfolio review with someone, then end up at the same dinner table celebrating his birthday because you have friends in common. Frank Horvat can be sitting at the table behind you, Ethan Levitas at the table next to you, Antoine d'Agata across the way talking to another Magnum photographer. You realize the person three seats down is an editor of one of your favorite photo blogs, and the two people in between you and him are passing around copies of their new books while the rumor circulates that Horvat, almost three times our age, is embracing new technology and has made a book for the iPad.
I wish we could trace the paths everyone has taken to get this restaurant in the Place du Forum, in this small town in southern France; how many continents and how many adventures we have had in the last year, to come together on this singular spot on the planet because we use photography to relate to the world, express ourselves and tell stories.

We'd like to thank Ms. Voirin for generously sharing her experiences with us here. Please visit her site and see more of her work and writings.