Weekly Giveaway: Color Me Eggleston
A little bit of an Elmo like headline, but the work of William Eggleston heralded an acceptance of color photography in the fine art world, like no other body of work before.
Currently on exhibit at the Los Angeles County Museum of Art, the book we have for our giveaway this week, has been held up as the initial definitive work by this master photographer.
The original is long out of print, but this new edition is brilliantly reproduced:" The Museum of Modern Art has made new color separations from the original 35 mm slides, producing a facsimile edition in which the color will be freshly responsive to the photographer's intentions."
Living in a world where everyone is deciding on which 3D camera to get, makes it seem like worlds away that black and white was the only truly accepted fine art mode of photography.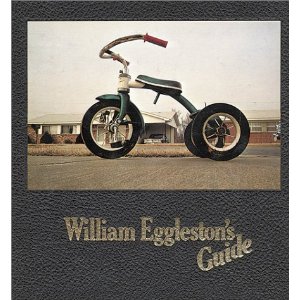 "William Eggleston's Guide
was the first one-man show of color photographs ever presented at The Museum of Modern Art, New York, and the Museum's first publication of color photography. The reception was divided and passionate. The book and show unabashedly forced the art world to deal with color photography, a medium scarcely taken seriously at the time, and with the vernacular content of a body of photographs that could have been but definitely weren't some average American's Instamatic pictures from the family album. These photographs heralded a new mastery of the use of color as an integral element of photographic composition. Bound in a textured cover inset with a photograph of a tricycle and stamped with yearbook-style gold lettering, the Guide contained 48 images edited down from 375 shot between 1969 and 1971 and displayed a deceptively casual, actually super-refined look at the surrounding world. Here are people, landscapes, and odd little moments in and around Eggleston's hometown of Memphis–an anonymous woman in a loudly patterned dress and cat's eye glasses sitting, left leg slightly raised, on an equally loud outdoor sofa; a coal-fired barbecue shooting up flames, framed by a shiny silver tricycle, the curves of a gleaming black car fender, and someone's torso; a tiny, gray-haired lady in a faded, flowered housecoat, standing expectant, and dwarfed in the huge dark doorway of a mint-green room whose only visible furniture is a shaded lamp on an end table. For this edition of William Eggleston's Guide ……[These] pictures are like no one else's. At once ordinary and spectacular, they look like someone's not particularly interesting snapshots until their matter-of-fact beauty and gorgeousness kick in. –Vince Aletti
As pictures, these seem to me perfect. . .collectively a paradigm of a private view. . .described here with clarity, fullness and elegance. –John Szarkowski"
This week in Los Angeles at PhotoLA, William Eggleston will make an appearance, and we can't wait to see this master in person,along with the galleries exhibiting his work for sale.
We probably won't be buying the prints, but the book is a perfect primer on the work.
Speaking of PhotoLA, if you are in Los Angeles this week, through the weekend, the Santa Monica Civic will play host for the 20th Anniversary edition of PhotoLA, the confluence of almost 60 photo dealers, coupled with lectures and book signings throughout the 5 day event.
Sure, we love our gear and the discovery of new tools that help us make images.
We must always remember to look at the work.
Yes, there are images around us continually, however the fine art aspect of our medium of choice may show you something to aspire to from a deeper place.
Not getting all spiritual on you here, but sometimes the appreciation of powerful single image, can inspire your own work, and enhance your life.
Having photographs hanging in the home, is a rich experience that is exemplified by each single image. An art fair like PhotoLA gives you an opportunity to see photographic work you may never see otherwise. Sometimes they come from collections that have been hidden away, only being brought to light to sell at market.
Even if you cannot afford a print, the selection of books is outstanding, and a great time to add to your collection.
OK, back to the giveaway:
Here's how it goes:
• be signed up for the free weekly Newsletter ( to be eligible for this weeks giveaway, you must be signed up by Tuesday eve. 1/11)
• check your inbox on Weds. morning
• details on the giveaway will be in the Newsletter
it's real simple and the winner of the one book we have to giveaway, is chosen by random.org and you have til 11:59 PM on 1/15/11 to enter.
Won't cost you anything. No shipping or handling fees, no donations requirements, not one penny.
It's all free, as our way of saying thanks for your support.