Art Los Angeles Contemporary: and the fair trifecta completes!
The month of January in Los Angeles became a triple art fair extravaganza for the collectors, observers and scene-sters.
The last one in the series,
Art Los Angeles Contemporary, held at the Barker Hangar in Santa Monica, stayed true to it's name, and never blended eras.
So, with all of the contemporary pieces here, we of course were looking for the photographic in all of this.
Strict 2D imagery was not the standard. And on opening night, live performances, suitably framed, gave everyone a good look into the process, which produced still image tableaus for these artists, Jennifer Catron and Paul Outlaw (maybe not his real name)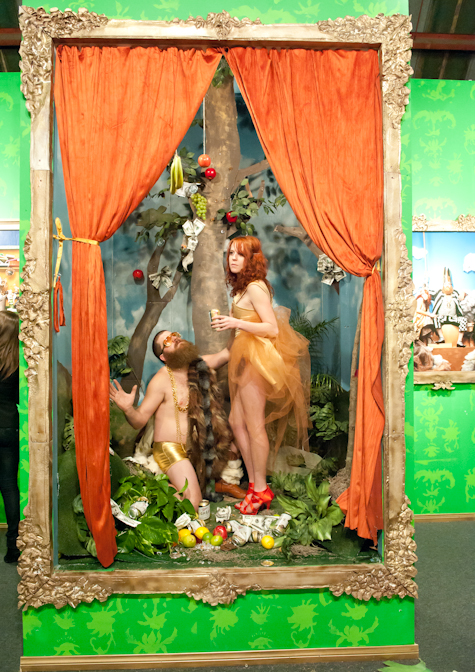 Represented by Allegra LaViola Gallery in New York, the artists wandered about the fair, before posing in the frame. Check out the rest of their photographs here.

Down the lane a piece was this grouping of images, together with props, by artist Lee Materazzi, represented by the Quint Contemporary Art Gallery in La Jolla.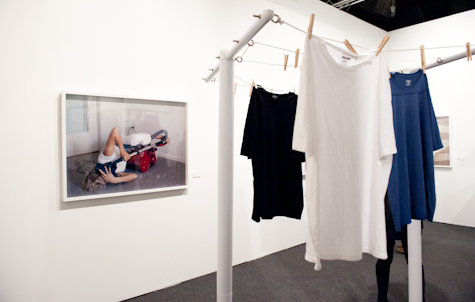 Along with the hanging laundry, a working washing machine is on site, completing a mundane experience, brought to the space.
Were collectors expected to consider the whole piece with accouterments for purchase, or just for the ambiance of the space, we are not sure.
There are many pieces that are very cool to see, although not photographic, and perhaps not PG-13.
You'll have to see those for yourself.
We wish these 3 fairs were combined or at the same time, like Art Basel in Miami, but not this year.
If you are looking for strict photo goodness, AIPAD is next in NYC, although you'll be going with more classic images there.
Make sure you check the events surrounding the galleries, though. There are some great performances,and artists discussions, connected with this fair. Like on Sunday, "In Conversation with Raymond Pettibon" looks like our kinda jam.
Time to hit the galleries and see what's new.

Art Los Angeles Contemporary
The Barker Hangar
3021 Airport Avenue
Santa Monica, CA 90405
Dates & Hours:
Thursday, January 27
First Preview (Invitation Only) 4pm – 6pm
VIP Reception 6pm – 10pm
Friday, January 28 11am – 7pm
Saturday, January 29 11am – 7pm