Weekly Giveaway – The cube root of a camera bag line.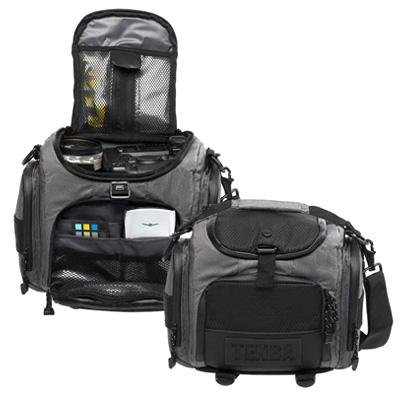 This time we're talking Tenba, and the line is their Shootout series. As the starter in the series, you find plenty of pockets, smoove surfaces, adjustable panels to make you feel like, once packed, you didn't forget anything. As you move up the line, maybe add a body and a lens or 2, but with this puppy you can take all you need for a shooting reccy. Maybe it's just the event bag you were looking for.
And retailing at about $165.00, we are happy to be sending this bag to one of you out there.

You see, we go to a LOT of photo events and there are usually some kind of silent auctions. And we bid. and bid.
And when we win the bid it's to get things to offer up to you folks.
This auction supported the Lucie Foundation, a group near and dear to our heart.
OK, back to the specs:
*Special, weather-sealed zippers keep the elements out
*Tenba's exclusive Covert ClosureTM system features "invisible" flap buckles use them when you don't want to zip the bag fully shut*
*Water-repellant, dobby/diamond ripstop nylon shell an optimum combination of light weight and durability
*Generously cushioned, ergonomically contoured, shoulder-gripping pad makes carrying even a heavily-loaded bag comfortable and secure
*Dual-door side panels (medium/large models only); one for accessories, the other for direct access to inside of case.
The music and host may be a bit funky, but the info is all there.
Shootout: Small Shoulder Bag… SHOOTOUT is a comprehensive collection of backpacks, shoulder bags, waistpacks and accessories designed from the ground up for serious outdoor imaging. Shootout gear is light on your shoulders but heavy on protection, access and features. Light, sleek, ready for action and just about whatever Mother Nature can dish out Shootout Shoulder Bags are available in three sizes, all with great access and organization features, and all with our exclusive, patent-pending Covert Clip backup closure system. Capacity: Digital SLR with mounted mid-range zoom, 2 additional lenses (up to 70-200mm 2.8) or 1 additional lens and a flash, cables, and memory cards. Customizable space for cameras, lenses, laptop (selected models) and everything that goes with them. Maximum protection, with weatherresistant materials and construction, and shock absorbing padding in all the right places. Exclusive WeatherWrap cover (included with selected models) the fastest and easiest auxiliary weather protection system around. Quick Access pockets get you into the bag and at the lens (or other accessory) you need, fast. Expedition-ready harness and belt components for comfort, support and stability when the loads are heavy and the going is tough.
So if you are a current subscriber to the free weekly NEWSLETTER (see upper right hand corner of this very page) you will get an email this Weds. giving you all of the details on how to get this bag. It's a freebie to you.
No shipping, handling or any other charges.
We only have one though, and random.org determines that one winner.
Plus there is some other good photo stuff in the Newsletter, so it's kind of a win-win.
God luck and sign up if you haven't already.