Weekly Giveaway – Packs small, Plays big: about 32 gb big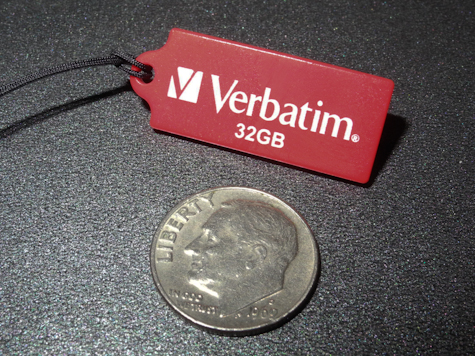 Yep, that is a 32GB flash drive. And a dime.
Soon we'll be using flash drives in all of our desktops and laptops, of course, but these little wonders are helping us move and share materials, like nothing else.
Especially things that fit on a keychain.
This is no doubt, the smallest drive we've seen in this capacity, and we're about to take it on the road.
Being touted as dustproof, waterproof, and damage resistant, these pups are sealed. If you look on the other side, you'll see the connectors are apparently exposed, but the durable coating saves the day.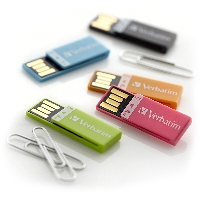 Yep, you can get other sizes: 2,4,8,16 GB
We're going to take ours on a road trip, set on our keychain, and see how it does.
After airports, parties, award shows, and eating out, plenty of things get stuffed into the pockets.
Oh, the official name is the Verbatim TUFF 'N' TINY 32 GB USB 2.0 Flash Drive

If you haven't signed up for the free weekly newsletter ( at the top right hand corner of this page), this item may help you decide to opt in.
We'll see just how durable it is.
This week, we'd like to invite one of you to join us on this test-imonial run.
Here's what we'd like to do:
The weekly giveaway rules will still be the same as to how we pick a winner.
Then we'll ask the winner to test drive it for a week and report back in.
Of course, they get to keep the drive as well.