A main dish of Herb Ritts, with a rich & satisfying side of Portraits of Reknown
Ahhh, the Getty!
They have stepped up their photographic game once again, with this brilliantly curated exhibit of Herb Ritts: LA Style photography and motion work.
This fashion photography master of the last part of the century, gets a full examination from his first portrait, to his magnum opus, fine art images.
Curator Paul Martineau, who also did the Paul Outerbridge show, has another great show to share here.
You are led through the gallery and, as pointed out on our tour, photos line up with their commercial counterparts in the start, as the art and commerce line begin to blend.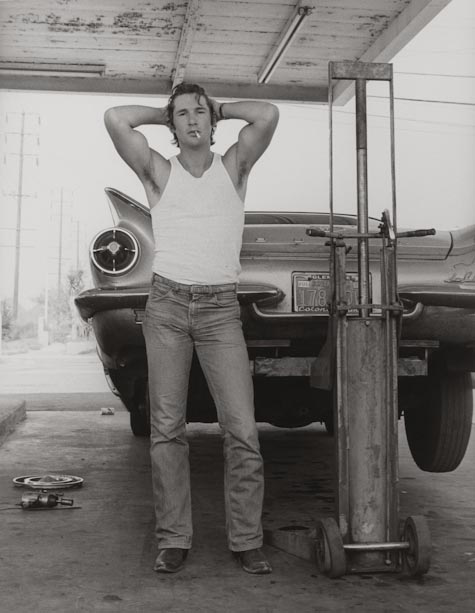 Herb Ritts (American, 1952 – 2002)
Title/Date: Richard Gere, San Bernardino, 1977
Culture: American
Medium: Gelatin silver print
Copyright: © Herb Ritts Foundation
Credit: The J. Paul Getty Museum, Los Angeles, Gift of Herb Ritts Foundation
The photos were chosen, not for the celebrity but for their independent standing as photographic art.
Sure, it may be Madonna, but it would be a great image no matter who it was. OK, fine, maybe we wouldn't have been aware of it.
In what we'll call room #1, we see a transformational image of a man holding 2 tires. Not that the image is transformational to us, but after being assigned to show the man swinging the tires, Herb Ritts chose the image of the man holding the tires at rest.
That became an iconic image of the time, and confirmed to him that his gut was right.
It's always hard fro a commercial artist to stay their own course, when a dollar is in the offing.
The placement of images in this and the other rooms, is intentional and specific, creating viewing areas with bookends. Even photographs used for catalogs are hung together, as if still on the page.
There is also a 16min. reel of his music video and commercial reel set in a darkened room with benches for your seating pleasure.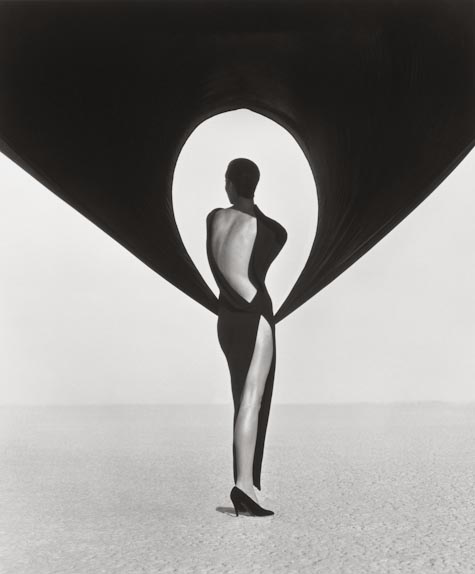 Herb Ritts (American, 1952 – 2002)
Title/Date: Versace Dress, Back View, El Mirage, 1990
Copyright: © Herb Ritts Foundation
Credit: The J. Paul Getty Museum, Los Angeles, Gift of Herb Ritts Foundation
Room #2 was presented to us as a blend of fine art and commercial art, with a puzzle attached: which was which?
Hailed as a successor to Avedon, Penn, and perhaps even Paul Outerbridge, this body of work include the known and not known images from this artist. His contemporary Robert Mapplethorpe, while working in similar categories, went further into the fringes, and veered from a converging path.
Don't miss the audio tour narrated by those who were there, including Richard Gere, Mark McKenna, Matthew Rolston, Tony Ward, and Cindy Crawford, among others.
If you are in LA on 4/12, Curator Paul Martineau will lead you though the show.

Then there is the companion exhibit: Portraits of Renown-photography and the cult of celebrity.
Just as Herb Ritts strived (strove?) to make his subjects unintentional parts of the whole, this show highlights the main ingredient of celebrity, and turns it into an iconic image filled 2 rooms going back from Abraham Lincoln, and the carte-de-visite, to a modern day daguerreotype of Cindy Sherman by Chuck Close (hey, maybe we haven't moved so much)
But you will see Dali collage, Christine Keeler for the history buffs, and one of our favorite images:
Anderson Cooper of CNN fame, photographed as a baby by none other than Diane Arbus.
She was hired by Anderson's mom, Gloria Vanderbilt.
Almost never got published but mom relented.
So pile the friends and family into the car, drive up to the Getty, and have a day of it. One of the best shows we've seen in a long time.
It's free except for the $15. per car charge. (see? that's why we say get a bunch of folks.)