Weekly Giveaway: A high end filter case, with a click. Stills AND video
When we say high end, we're talking most every film stock, grain filter, grads, fulls, etc to give you the range of a full palette of effects.
Which also means creative choice.
There is artistry in the photo post production world and the Tiffen DFX 3.0 set gives you options like you only imagined.
And then some.
At first we were skeptical. So many filter plug-ins out there. We were very happy.
Then we had a chat with our good buddy, Steven Poster, ASC (American Society of Cinematographers). Not only president of local 600, Cinematographers union, but one brilliant visual artist. he knows the real deal.
And Tiffen filters have been supplying and customizing filters for him forever,both for his feature work and stills. We listened.
So what they did was, gathered up all of the needs of any shooter, film and stills, give them all of the grads,film stocks, tints, diffusion,gobos, halos, lens corrections, tints, ND's, and a ton more. put them into one package (or ala carte) and sent it out.
They work like you work.
Simple.
In Photoshop, Lightroom, Aperture, Final Cut, Premiere, Avid, and just as a standalone.
We spent hours going through the sets.
Yes, we know it's a bit small to really study, but it gives an idea of workspace.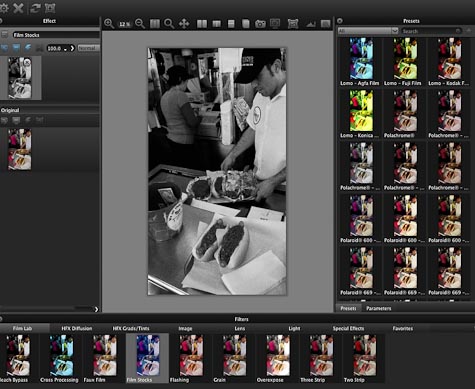 You can kinda see the listing of possibilities on the bottom row , or strip.
So you can then place an effect on, and adjust.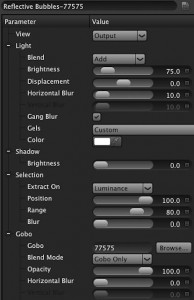 yes, we cut this one down a little. You have a ton of control over the effect.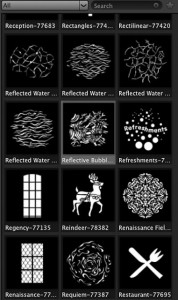 So we decided to take a random one, like a gobo, and change the mood of a simple shot.
You can see that there are all kinds of shapes, both recognizable and just patterned, to give you a "look" onto your image. And this is where you can really explore and try a bunch to see what's right. There are many more not shown here but for an example, we went small.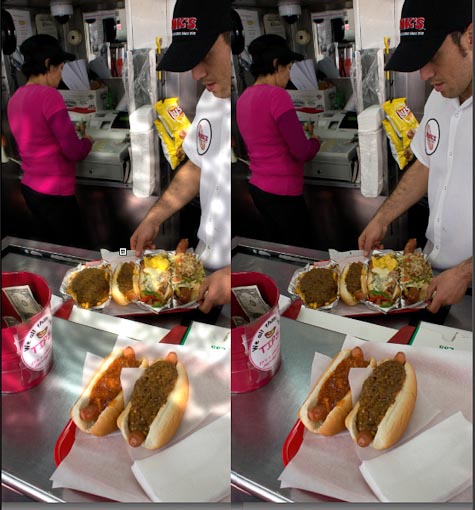 As you can see, the addition of the gobo, gave the image a time of day, and more shape than the flat light it had.
Yes, you can do the side by side comparisons in the program. Or a side to side or top to bottom.
Basically you see what you will get before you commit.
That shot is from Pink's Hot Dogs on La Brea in Hollywood. A classic .
Are you still looking for Kodachrome, for those nice bright colors? It's here.
You need that garish overdone, tobacco filter for a CSI:Miami feel? yep, it's here.
Or use the tools to enhance your vision, and make the image what you wanted it to be.
This is a high quality software from a company that is committed to imaging, and has been in this filter, light shaping business for ever.
By the way, I know we jumped in with a walk through, but the process actually begins in the programs you're familiar with.
Like Lightroom.
Go to Edit In, and you get a choice of how to connect to Tiffen DFX.
We always go with copy. Just to be safe.
And then it's game on.
Sure you can stick with Instagram. But maybe you'll want up your game to this product.
And this week, we are giving away the software.Free. Gratis. No Charge.
Yep.
Details will be in the free weekly Newsletter on Weds.