Weekly Giveaway: Exactitudes – The Unique Qualities of Sameness
"I am he, as you are he, as you are me, and we are all together"
© Lennon-McCartney – I Am The Walrus

The more we try to differentiate ourselves from one another, the more it seems we fit into a group identity.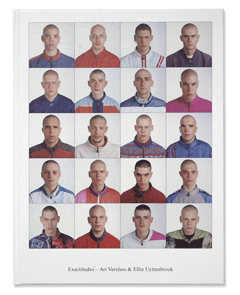 We first encountered this work, Exactitudes
, years back at Paris-Photo, in an art fair booth covered top to bottom with these images of sameness.
Or so it appeared.
Once you got closer, you realized that these were images of separate individuals, who happened to adopt styles of clothing and hair,and yes, attitudes of a much larger group, globally.
By placing the subjects on a common white seamless, the images strip away the environs and examines the persona.
Yes, it's the outward appearance being examined, but how much does that influence behavior?
Would you feel/act different wearing a leather jacket and motorcycle boots as opposed to a boat neck T-shirt, khakis and converse all stars?
This fascination with Individualism get a closer look in this 5th edition of the series by Ari Versluis, and Ellie Uyttenbroek.
Always going out of print, we scooped up some copies for future giveaways. (OK, and one for us!)
If you are subscribed to the free newsletter, you will the details on getting the one copy we have this week, for one of you.
It's pretty simple to get entered into the random giveaway. Usually a simple question about photography. And the answer is right here on the site. We'll even point it out.
So a little engagement can add a sweet book to your collection.