"One of these days I'm gonna get organezized" said Travis Bickle
A classic line from Taxi Driver with Robert DeNiro and Jody Foster.

How organezized are you?
With all of the charging cables, extra batteries, clips, mounts, earbuds, etc. it's tough to keep track of it all and find the stuff when you need it.
After years of using mesh Muji bags, we may have found the better solution:
Cocoon Products Grid-It
.
We first saw these at the Consumer Electronics show in Las Vegas, and was fascinated at the design.
It's essentially a flat board with elastic straps criss-crossing, and rubber threading to help grip.
The layout of the straps has been arrived at through crazy algorithms, designed to determine max efficiency.
We now own about 5 and load them up for certain things.
On this unit we have: jambox, cables, plug extension block with USB charging receptacles, and an emergency radio (you never know)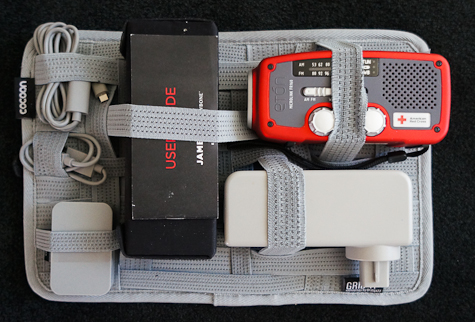 This one has various cables, a battery block, and extra AC adaptor.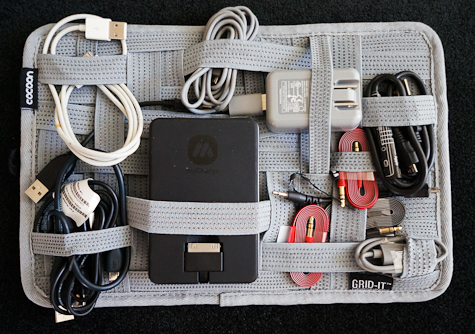 Point is, there are tons of ways to use these and various sizes. We just keep em loaded and ready to through in a bag or backpack.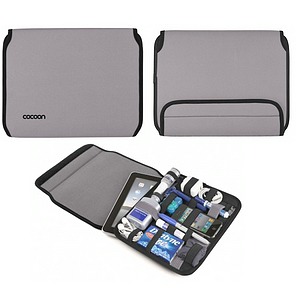 Now they have a system for iPads/Tablets that cover the iPad and has a grid-it panel that gets covered.
This week we're giving away a Cocoon GRID-IT! Wrap 10 for iPad & iPad 2, Black
Grid-It Wrap for iPad. GRID-IT! Wrap 10 For Tabletsthe most versatile organization system available! Neoprene cover protects items inside, while the rubberized woven elastic object retention system is great for gadget organization. Ideal for organizing tablet accessories, not to mention your iPod, iPhone, BlackBerry and other digital devices. Versatile organizer offers endless configurations designed to hold items firmly in place. The back of GRID-IT!&trade even doubles as a mouse pad. Compatible with these popular devices: Apple iPad Apple iPad2 Samsung Galaxy Tab 10.1 Motorola Xoom Acer Iconia Tab A500 HP TouchPad (Tablets and accessories not included). Dimensions: 1.25″L x 11.25″W x 9.25″H Weight: 1.01 lbs.
As you may be showing clients your work on the tablet, you may decide to add gum/mouthwash to the GRID-IT. Be considerate in close quarters.
We have one of these to give away this week, and the details will be in the slight tardy, free newsletter winging it's way to the subscribers inbox, tomorrow. June 1st