And now, please put your hands together for, "Who Shot Rock and Roll"!!!!
It sometimes is just a matter of catching the moment of whipping the hair back and forth, but the photographers of rock and roll usually get a chance for more insight into their subjects.
Behind the scenes, from the pit, backstage, in recording session, etc., the purveyers of the genre know how to be invisible and make the musicians feel completely at ease.
They were so invisible that not many people knew their names, although praised their iconic images.
Photo historian Gail Buckland, after writing 14 books on the subject of photography, turned her attention to rock and roll, and give the photographers their due.
By contacting all of the editors, including those from the magazines that no longer existed (most of em), checking on credit lines, trudging through countless files, she came up with a show.
And you may think that rock and roll shooters, who worked crazy hours in less than ideal conditions, would have pristine and well marked archives, that's a fools paradise.
Heck, we have an issue now with digital file asset management, when a glassine envelope has negs with a number, the matching contact sheet may not always be handy.
After spending 4 1/2 years researching the materials, it was time for Gail Buckland to introduce to the world "Who Shot Rock And Roll? A Photographic History, 1955–Present"
This shot of Tina Turner @ Henry Diltz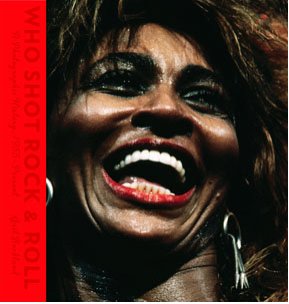 Opening first about 2 years ago at the Brooklyn Museum, this exhibit pays fitting tribute to those that in the music world on a visual basis.
As Buckland writes, "Rock and roll is not a musical genre; it is a communal spirit."
It is now opening at the Annenberg Space for Photography in Los Angeles!
We first saw the exhibit in Brooklyn, along with the catalog/book.
What we particularly like about the book are the stories behind the photos. Or the mindset of the shooters at the time. Yes, it will be a giveaway item, here.
Sure, there are plenty of current players in this field represented like Mark Seliger, but do you know who Don Hunstein is?
Only the photographer of perhaps the most iconic album cover in rock history:
Freewheeling Bob Dylan.
No, seriously.
This exhibit caused us to seek out the rest of the work of many of the folks in here.
After you see the show, get the book

.
The layout is great because there are bite size nuggets of copy to give you an insight. Just enough to tease.
Our only complaint is that they sometimes send you to the back of the book for the last bite of verbiage.
On the way though, you'll catch all of the album covers these artists covered in miniature form.
All in all, this a great collection of rock & rollers captured by some of the unsung photographic heroes, as well as the celebrities in their own rights.
You'll find yourself spending a long time at the show, since it's more than the photographers work: It's the musicians that may have been part of your personal fabric.The photographs give you the insight.
When we asked Gail about the Annenberg Space for Photography as a right venue for the exhibition, she let us know hat the original show designer for the Brooklyn opus was doing this hanging.
you can't ask for better than that.
Plus you get a video made just for the Annenberg with interviews and additional info, and KCRW has teamed up with the Space to do outdoor concerts during the summer to tie in.
The Annneberg has also garnered and excellent reputation for great photo lectures, and this list is a hot one.
check it out:
Who Shot Rock and Roll – IRIS Nights
IRIS NIGHTS LECTURE SERIES:
The Photography Space continues its popular weekly IRIS Nights lecture series. Visitors can hear first-hand from photographers featured in the Who Shot Rock and Roll exhibit, as well as other music industry notables. The IRIS Nights lecture series takes place Thursday evenings in the Photography Space and is free to the public with advance registration. All lectures are on Thursday evenings from 6:30pm-8:00pm. The current schedule is listed below:
June 28 – Gail Buckland
Gail Buckland is an author, educator, consultant, curator and authority on photography. Buckland will speak about the stories and behind the photographs in the exhibit Who Shot Rock and Roll. For four and a half years Buckland traveled around the US, England, France and elsewhere interviewing the photographers who gave Rock and Roll its image. The exhibition and accompanying book are based on Buckland's original research.
July 5 – Baron Wolman
In 1967, a fortuitous meeting with Jann Wenner, the founder of Rolling Stone, resulted in Baron Wolman becoming that publication's first chief photographer. Over 40 years later, his Rolling Stone photographs are now widely exhibited and collected. Wolman will speak about how 1967 changed his life. In photos and words Baron will recount his life in Haight-Ashbery in the "Summer of Love," reminisce about the early days of Rolling Stone, and tell stories behind the many iconic images.
July 12 – Norman Seeff
Norman Seeff served as Art Director at United Artists Records during the early 1970's, where his album cover designs and photography received many Grammy nominations. He has since worked with hundreds of renowned innovators including musicians, film directors, Nobel Laureates, space scientists and engineers. In this lecture, he will use film and video of sessions to illustrate what can be learned by observing the great creators in the act of creation, working at the higher reaches of human potential.
July 19 – Henry Rollins
Henry Rollins has spent over three decades traveling the world performing on stages in over 45 countries and traveling solo to over 35 more. On many of these multi-month journeys, he carries a camera and photographs people and the often challenging conditions they endure. In this presentation, Rollins talks about why he goes to places like North Korea, Sudan, Haiti and Bangladesh to get his images and what happens when he does. He will discuss the power of the still image and how in a world of instant communication, 24/7 media and the resultant blur, the clear image is more important than ever.
July 26 – Roberta Bayley
Roberta Bayley reigns supreme as one of the principal photographers who chronicled the early days of punk rock. On tour in the US and UK with Blondie and the Sex Pistols, in the green room at CBGBs with Elvis Costello and Richard Hell, hanging out in Lower East Side walk-ups with the superstars of Punk, her images are amongst the pre-eminent in its class. Bayley's portraits include images of Iggy Pop, Talking Heads, The Clash, and the Damned. She has shot many debut record covers including by The Ramones Ramones, which was voted in 1991 by Rolling Stone as one of the 100 best album covers of the rock era.
August 2 – Ebet Roberts
Ebet Roberts has been offering candid glimpses of some rock's most iconic performers for 35 years. Ebet will discuss her work, from the emergence of punk rock in the late 1970s through the present, and will offer insights into her club, concert, and studio portraits of everyone from the Sex Pistols to Bob Marley to Madonna to the Rolling Stones. Her work has been used on album and book covers and in many movies. Her photos have been published worldwide and have appeared in a variety of publications, including the New York Times, Rolling Stone, GQ, and People. Her work is in the permanent collection of the Rock and Roll Hall of Fame, Seattle's Experience Music Project and has been shown in numerous galleries and museums.
August 9 – Michael Ochs
Michael Ochs was raised on rock and roll. He managed the career of his brother, noted folksinger Phil Ochs, and later headed the public relations departments at Columbia Records, Shelter Records and ABC Records. In the 60s, Ochs started collecting photographs. He established The Michael Ochs Archives in 1977 and built it into the most comprehensive collection of rock photography in the world. From his collection, Ochs produced six books. With personal stories and rare images, Ochs will take you on a ride through the first three decades of rock photography. While every picture tells a story, the stories behind the pictures are every bit as illuminating.
August 16 – Henry Diltz
Henry Diltz was first known as a musician and member of the Modern Folk Quartet. As Diltz documented his friends in California rock community in the 60s and 70s, he discovered a passion for photography, which turned into occupation. Album covers he shot included names like The Doors; The Eagles; Crosby, Stills, Nash & Young; and James Taylor. He was the official photographer at the Woodstock and Monterey festivals, and his work has appeared in The New York Times, the Los Angeles Times, Life, Rolling Stone, and Billboard.
August 23 – MTV Panel: Penelope Spheeris, Gale Sparrow and Liz Heller
MTV was the biggest thing to happen to music since The Beatles sang, "Yeah, yeah, yeah …" While a photograph captures a single moment to memory, music videos forced the fantasy. Artists such as Madonna, Duran Duran and Michael Jackson were catapulted to an audience of millions in the push of a remote control. MTV hijacked the music business and forced the creation of a new business model with their internal staff and how artists marketed to music fans. Film director Penelope Spheeris, MTV's former Director of Talent and Artist Relations Gale Sparrow and Buzztone CEO Liz Heller, are three from the front lines of those early days who will re-join to tell some of the behind-the-scenes stories that helped create a revolution.
August 30 – Mark Seliger
Mark Seliger started shooting assignments for Rolling Stone in 1987, and became their Chief Photographer in 1992. During his time at Rolling Stone, Seliger shot over 125 covers. In 2002, Seliger moved to Condé Nast, where he is currently under contract. He shoots frequently for Italian Vogue, L'Uomo Vogue and German Vogue. Seliger's photographs have been exhibited in museums and galleries around the world. He has published numerous books and has won countless awards.
September 6 – Ed Colver
Ed Colver is a self-taught photographer who documented the inception of L.A.'s hard core punk scene through his 35mm camera. His images were featured on over 400 record jackets for bands such as Black Flag, the Circle Jerks, Social Distortion, Christian Death, T.S.O.L., Aerosmith, R.E.M. and the Red Hot Chili Peppers. True to the punk ethos, during the 33 years that Colver has been shooting, he's never run an ad, he's never asked for work, he's never had a published phone number and he uses personalized funeral sympathy cards as business cards.
September 13 – Guy Webster
One of the early innovators of rock and roll photography, Guy Webster has spanned the worlds of music, film and politics in his 50-year career. Photographer for the infamous Monterey Pop Concert his images were used for the festival booklet and include concert photos of Janis Joplin, Jimi Hendrix, The Who and many others. His hundreds of album covers have included the Rolling Stones, the Mamas and the Papas, the Beach Boys, the Doors and Simon & Garfunkel.
September 19 – Slideshow Night
An evening presentation of additional rock and roll images from artists not in the exhibit.
September 20 – Lynn Goldsmith
Lynn Goldsmith, a photographer for over 40 years, she has contributed to numerous books and has 11 of her own on varied subjects. With over 100 album covers to her credit, she has been honored by The Rock and Roll Hall of Fame, as well as won numerous prestigious awards. Her images graced the covers of magazines including Rolling Stone, Life, Sports Illustrated, Newsweek, Paris Match, Elle, to name a few. Lynn will present a slideshow that covers three decades of rock and roll. She will talk about how she came to photograph many musical icons as Bob Dylan, Bruce Springsteen, Michael Jackson, as well as share stories behind images.
September 27- Bob Gruen
Bob Gruen has captured the music scene for over forty years in photographs that have gained worldwide recognition. Shortly after John Lennon moved to New York in 1971, Bob became John and Yoko's personal photographer, making photos of their working life as well as private moments. Bob has worked with acts such as Led Zeppelin, The Who, David Bowie, Tina Turner, Elton John, Aerosmith, & Kiss. He toured with emerging punk and new wave bands including the Sex Pistols, Clash, Ramones and Blondie.
October 4 – Jeffrey Scales