Over the shoulder, DSLR holder: Say it with comfort via Custom SLR
The camera strap has been shifting from the 2 lugs on the side of a DSLR to the 1/4 20 screw mount on the bottom of the camera.
Whether you have gone the Spider belt hook, or the Black Rapid cross chest system, the neck and back have been getting some well deserved relief.
Honestly, we resisted the trend at first.
Who wants 10K worth of gear hanging to the side or behind you?
Not in a big city. At an event? Now you're talking.
If you have ever hung 2 cameras from your shoulders for a day, you know what we mean.
When Kickstarter (when of our favorite sites)showed us this new strap system in development,Custom SLR, we were skeptical.
Then surprised.

This system uses a neoprene, wide, split strap with rubberized logos to help keep the strap on your shoulder.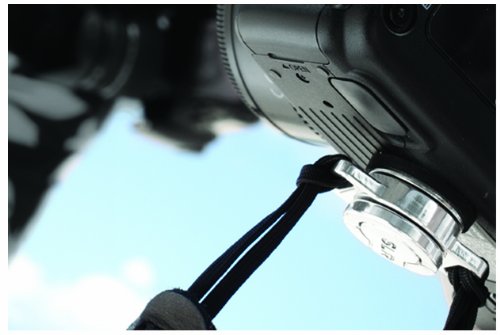 The choices you have to connect the strap to the camera, are either a D-ring rotating connector, or an almost cheeseplate Universal Tripod mount, allowing the use of the ring WITH an Arca-Swiss / Manfrotto quick release plate as part of the unit.
The screw mounts are compatible with the other brands listed above.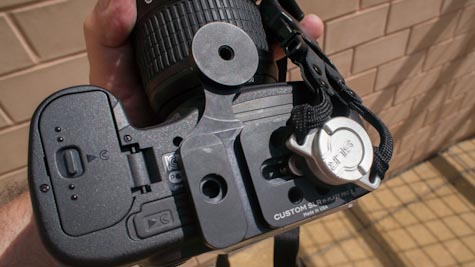 The cheeseplate part is a variety of screw holes that are made to be upgrade compatible for coming additional accessories.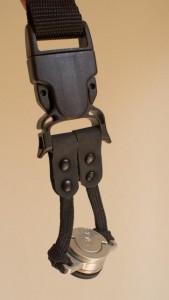 All of the parts were well machined, stitched, and built. Extremely comfortable.
The overall system approach made each piece somewhat easily detachable from the rest. The camera could be separated from the strap, with relative ease of a button push.
In a controlled environment, that's fine.
In a less controlled location, like a city street, a little dodgy.
If you pack your cameras sans lenses, an allowance must be made for the bottom plate.
Makes a tight fit an issue.
You don't need it to use the strap system, but saves you a step on location.
Overall a good product, does what it says it does, and goes almost head to head with the Black Rapid.
Black Rapid is smaller, and has a 2 camera system.
A bit pricier , although the build is worth it. We do like that wide strap for weight distribution
A small point, which should be getting solved, is that a rubber washer used on the screw connector has a tendency to come off.
They know it's an issue and even sell a replacement pack.
We love a well made/designed product and this one gets a 9 out of 10.
Try one on and feel the relief.