Sony Touch Screen: Anyone else have this problem?
The SONY NEX series.
It's become a darling of the serious shooters out there, since not only does have a sweet APS-C sensor, but you can put any number of lenses on there from various manufacturers. And it's relatively compact.
We are partial to the Leica family of lenses to add on. With a focus assist system, you still can get some focus protection on the manual lens.(in manual, your subject is outlined in red, white or yellow, when in focus)
OK, fine. Should all be focusing through the OLED viewfnder. But the focus assist is a pleasure.
Lightweight, versatile, and shoots panoramic. And they keep bringing out new models.
but there is a fly in the ointment.
Now touch screen cameras have no interest for us, but seems like here is an audience for it.
Fair enough.
However after about 5 months, my still-under-warranty NEX 5N, started to get a funny lock on the LCD.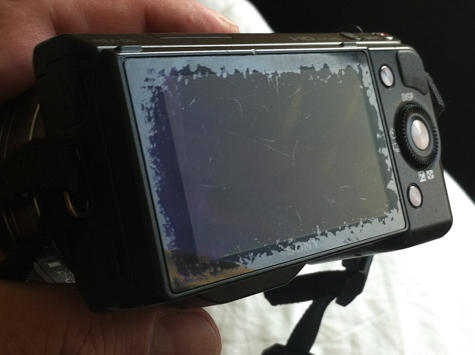 Yeah, you see it.
Took it back to the true Sony store, where they knew exactly what it was.
Seems like natural body oils, like on your fingers or face when you use a viewfinder, seems to discolor the LCD screen.
Yeah.. Finger oil.Touch screen.
Get the irony?
We do this as a public service, in case you've seen the same condition.
There is a happy ending here.

Sony repaired the screen. No charge (except for us to ship it there) They wouldn't tell us what the problem was after repeated questioning.Hmmmmmm..
It was out of our hands for a bit, but came back with nice corporate communications and intact…
We did buy the official Sony LCD screen cover for the $11.00 on Amazon. Not taking chances this time.
So a few points:
* If there is a design flaw, contact the manufacturer immediately
* REGISTER all of your products
* It's not your fault
In the end, we still love this camera. And use the OLED add-on viewfinder.It does shoot 1080P video as well.
You can lighten your load with this system.