Can you hold my iPad ? Crimson can, in a compact, well built stand
The road warrior, or those just challenged for space, are always looking for smallest solution to a big problem.
The problem today? propping up your iPad to a height you can customize and really work with. Sure the cases have solutions, but we find it hard to get to the optimum height.
Enter:Pocket-eAzl™.
This tiny, oragami-like, folding easel, is built like a tank.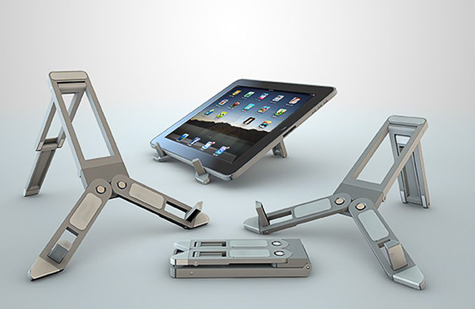 check out the silicon corrugated feet that fold out and help keep your tablet secure. All touch points have that cover. Keeps the stand secure while not leaving a mark. About $40. MSRP
OK, then Crimson went a step further: They added a stage with a standard 1/4″-20 tripod screw for either stabilizing a camera or mounting a small projector, like various PICO models.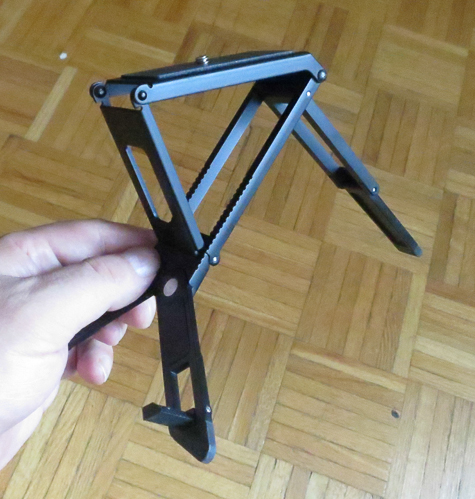 I like this unit for its weight and keeping a camera steady, perhaps for a Go-Pro time lapse.
However, you really only get vertical control and not enough for me. You have to decide if this is enough or throw a Gorillapod in the bag for versatility. And more bulk and weight.
If you feel this can be useful for you, remember you get all the benefits of the smaller unit, plus the tripod stage. $70 MSRP
Who makes this? Crimson AV, who is a leader in the industry for making mounting racks for flats screens.
Yeah, they know how to distribute weight, with little bulk.
Each of these units comes with a little black drawstring case, which I promptly misplaced.
So strong recco on the Pocket eAzl, so-so on the easel with tripod mount.