Photoinduced Holiday Gift Guide 2013: Part 1
Once again, we have put together a list of photo goodies you may want to give, or most likely get this holiday season.
It's a big one, so we're doing it in parts.
We'll make sure to hit all of the price ranges and hopefully interests. All products have been assessed as best possible by actual usage, handling, or reputation.
The way the calendar works this year, retailers have less time to sell, and may just be offering up better deals to make sure they stay in the black this holiday season. Here we go:
Most creative inspiring gift
In general, photo tools help you achieve your vision. I found the Light-Blaster able to inspire creativity.
[youtube id="_0p3bHva-Bo"]
Based on an old concept of using a slide projector to give you a background scene, the update is made for a speedlight.
True you will need a couple of speedlights, and probably a set of pocket wizards or something like that to trigger the lights. Plus put one of your lenses onto the unit
They  do sell various slide backgrounds, but after receiving this unit, I found myself shooting photos to use as backgrounds. Full review will come soon.
Best Reflectors
Profoto Reflectors
[youtube id="6o268KoqDkg"]
We all have some sort of way of bouncing light, but if you want some good control, and have a buddy or assistant to hold em, the Profoto series is the best.
Folding up like the rest, with a stiff edge that folds onto itself, the big deal here are the handle grips. Incredibly well built to last, not only can you hold the reflector at a particular angle, you can fine tune the bounce with a twist of the wrist.
A perfect tool – Get them here for Between $80 and $120.
Must have for the Go-Pro enthusiast
 [youtube id="D7lt9wcnAik"]
And who doesn't have a GoPro?
OK, maybe you will after this holiday season.
If you do, you need a good case to keep it in, plus some accessories.
Fotodiox, a brand name that is finding it's way into more of the products I'm using
has come out with a great accessory: a case with pre-cut places to keep your Go-Pro, plus some new tools that will make it all easier to change out your mounts. It's called the Fotodiox Pro GoTough CamCase Double, and comes in a 1 or 2 camera configuration. Get the 1 camera case with all the fixin's for about $55.
Best deal on hand held camera strap
Sometimes you just get tired of carrying your camera lke a purse, and want to have it in your hands at the ready. Heck, a camera always feels like an extension of me anyway.
Holding the camera by the body is fine, but I knew there had to be a better way.
Honestly, the Nikon version, is not available in this country. Yeah. whaaaat?
So after hitting the stores and checking em all out, the winner was Cotton Carrier, who also makes a pretty cool camera vest.
But I was after the wrist strap.
[youtube id="Sd5AlycQQiA"]
And the current standard camera strap that every photographer loves, is the Black Rapid.
I've shot day after full long day at events like SXSW, and let me tell you, the Black Rapid saved my neck and back by distributing the weight the best way. Heavy glass and DSLR's have a strong pull but the sling style of the Black Rapid, get the job done.
Yes, there are imitators, but get the original, the real deal.
Let's move onto light modifiers for speedlights
There will always be a new one to check out.
I just shot a 3 Day job with the Rogue Softbox using a Flash Bender, and a softbox front piece. Loved it.
And without the softbox piece, I still had a simple bounce card I could shape anyway I wanted.
[youtube id="Ainz3K89kRA"]
Lumiquest is a classic brand that has been around forever.
It also folds flat, and has a variety of shapes and sizes in the product line.
Using a system of velcro and simple folds, these units attach to the speedlight via a strap, secured around the flash head.
[youtube id="3asYFST3nM0″]
Then we get to the Gary Fong LightSphere.
A photographer, teacher, entrepreneur, Gary Fong has created one of the most ubiquitous light modifier systems out there.
Looks like a take-out food container, softens the light like crazy.
The only issue I ever have is the light spill. The people behind you will also get a dose of soft light.
The real workers of you out there will use a bit of black foil or silver foil to block
the back splash of flash
[youtube id="usOvMKqUSbQ"]
About $155 for the entire kit or $44.00 for the basic.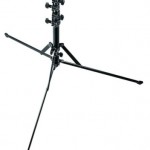 Always a good thing to have are light stands. It may not be as flashy a gift as some of the other items, but a good lightweight, stand, for travel anywhere is worth its short stroke price.
The Manfrotto Nano lightstands fit the bill.
I have 4.
It has a 5/8″ top stud, topped by a 3/8″ thread, which is topped by a removable 1/4″-20 threaded top. Folds to 18.9″, and extends to 6'2″ . A location dream
Camera Bags
Photographers, men/women alike, collect bags. The right one for the right job or situation. No one bag will suffice.
So you would be good getting one as a gift for your favorite shooter: you!
The mirrorless trend is full and in force, so our favorite bag maker, ThinkTank Photo, has come up with a great range of solutions.
Before you say "Hey Damon, there are some other great bag makers out there".
Yes, there are. I just find this company's product to be the best design for the way I work, and the gear I need to carry.
Mirroless Mover 20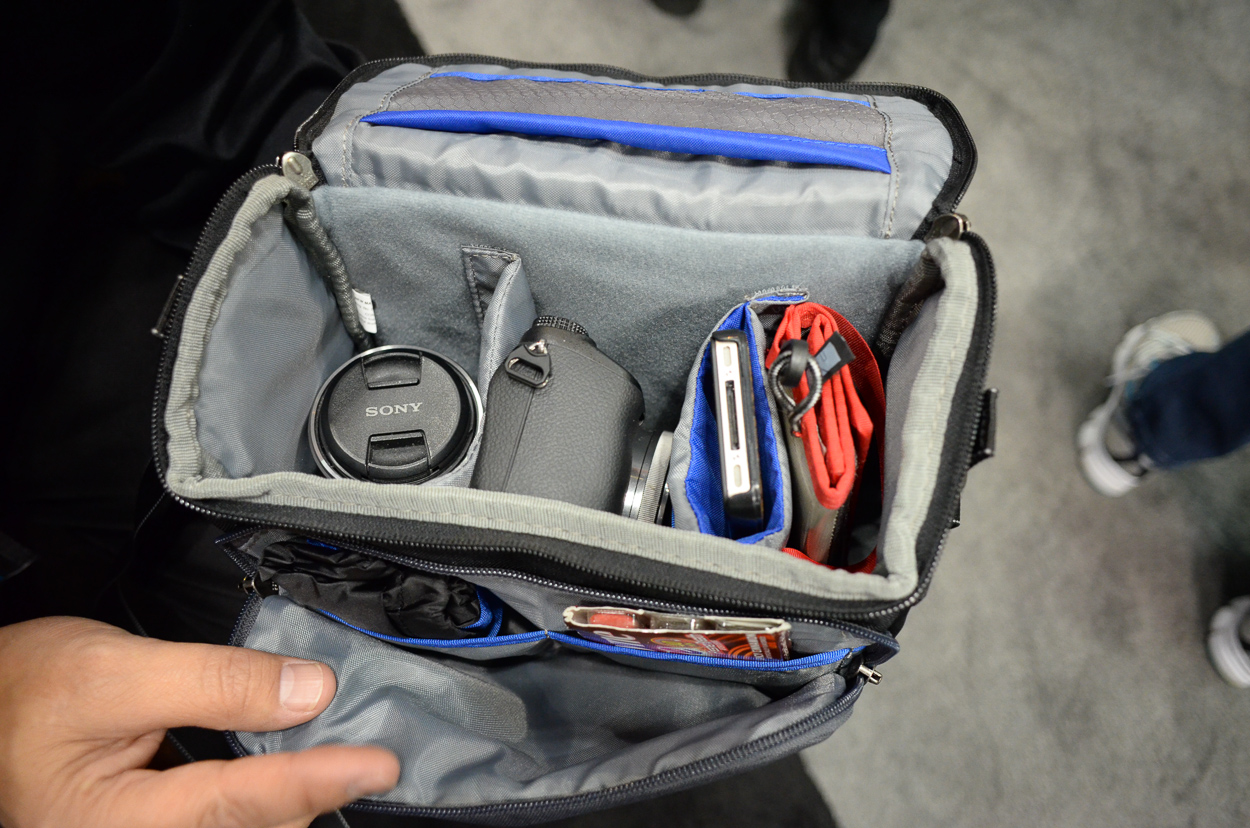 Here you have Mirroless Mover 20 with a Sony NEX 6, extra lens, phone, media wallet, gum, rain cover and plenty of room for whatever you may need.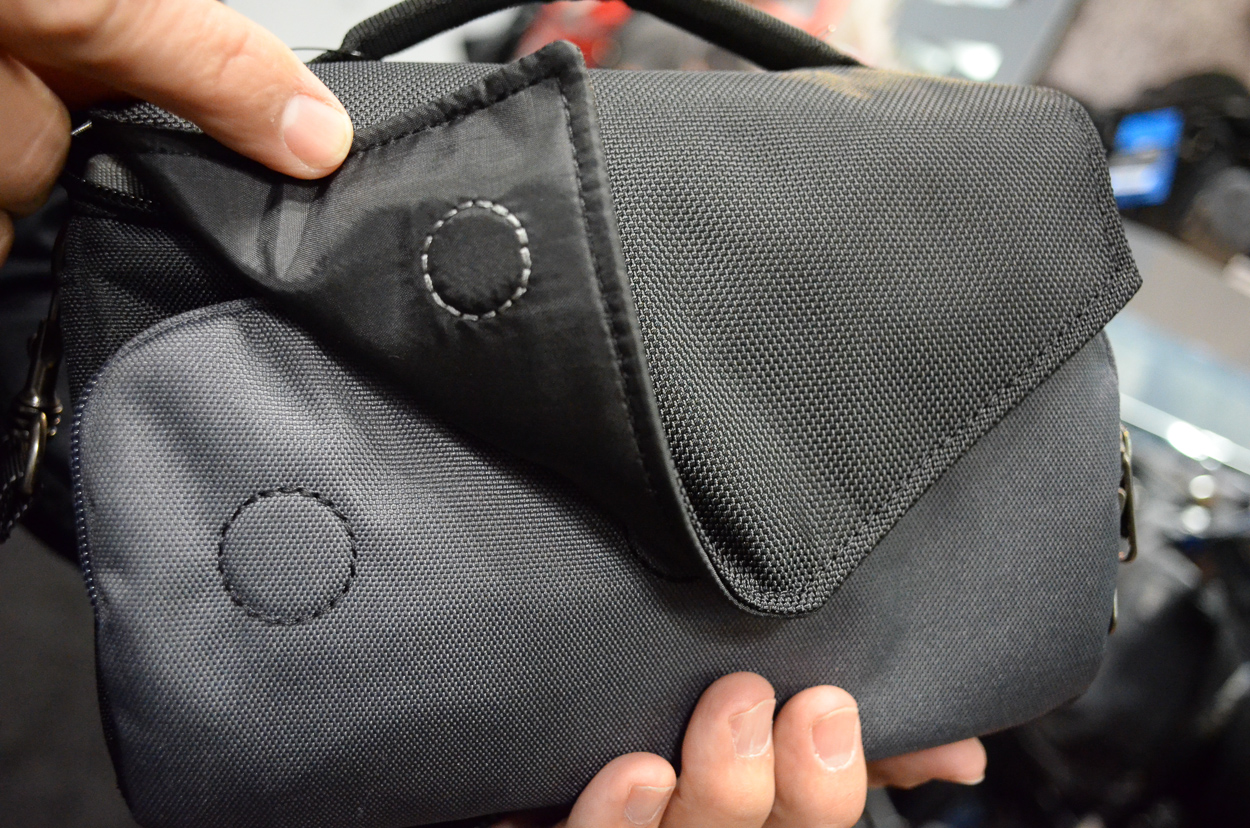 Magnet closures to ensure easy access.
The Airport International
[youtube id="CtrG2Ye3CNs"]
Or for the traveler, the Airport International.
This bag has been with me around the world for 3+ years, stuffed to the gills, and always fits in the overhead. Still in great shape
about $390. well worth it.
The City Walker 20
[youtube id="4GtUABUkTto"]
For banging around town, the cool, lightweight City Walker 20, handles either my mirrorless camera plus just life stuff. Or a 13 in. laptop, camera, papers, water bottle, work supplies, files, etc.. Have also gone down the DLSR road with a crop duster 28-300 lens on it.
You're looking at about $145. for this unit.
Perfect messenger bag style camera bag. Use with or without foam insert for protection.
One last item on Part 1 of the Holiday Gift Guide:
My favorite camera in the jeans, that will shoot RAW and has a nice fast lens.
Plus shoots 1080P.
I do have a camera for each  situation, and the walkaround, no bag version is this Canon.
The reason I'm listing it in this first list is that Amazon usually blows these out during black Friday or Cyber Monday week.
Sells for $400 now.
Even if you get the great deal on the Canon S110, you are doing great.
OK, all for tonight. Watch the vids, see what speaks to you fr yourself or the photog on your gift list.
Tomorrow we'll hit some different categories, both high and low on the budget rank.
But all good stuff.