Robert Frank : Books and Films, 1947-2016
There is an iconography of Robert Frank's work, that is undeniable.
His book, The Americans, was shot in the 1950's by way of a Guggenheim grant, and showed us a side of America that existed, but was not the mainstream imagery. The book changed the look of photography, forever.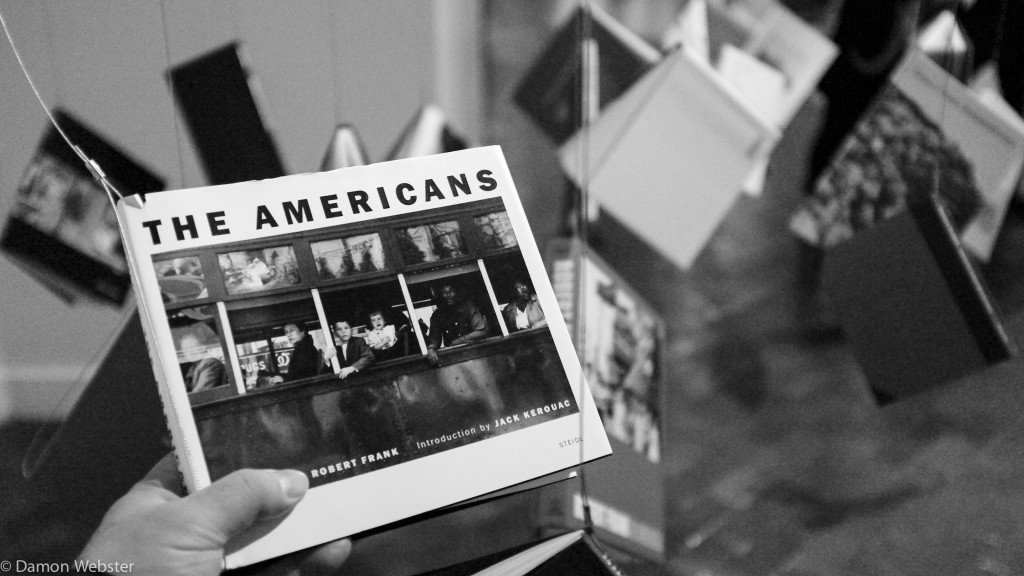 He then put his Leica in the cupboard in 1959, after the enormous success of the book, and turned his eye to film making, working with the poet laureates of the beat generation, and made the movie Pull My Daisy, and began a large list of film projects.
He didn't pick up his still camera again till the 70's, and the combined body of work he has created is enormous.
OK, that is a bit of background.
At the Tisch Arts Building at NYU in NYC, there is currently an exhibit spanning his entire career, and laid out in such a unique manner, that you fall in love with this artist after your first viewing.
For years, the original prints have been tough to exhibit, because they are fragile, and the cost to insure is prohibitive.
The images in this show, selections taken from all of his books, are printed on newsprint, and therefor have little resale value, and will be destroyed after the show. As a matter of fact, they are just attached to the walls with stickpins.
Laid out over 2 floors, you are taken a journey through his life, and the people who have passed through.
Like Jack Kerouac: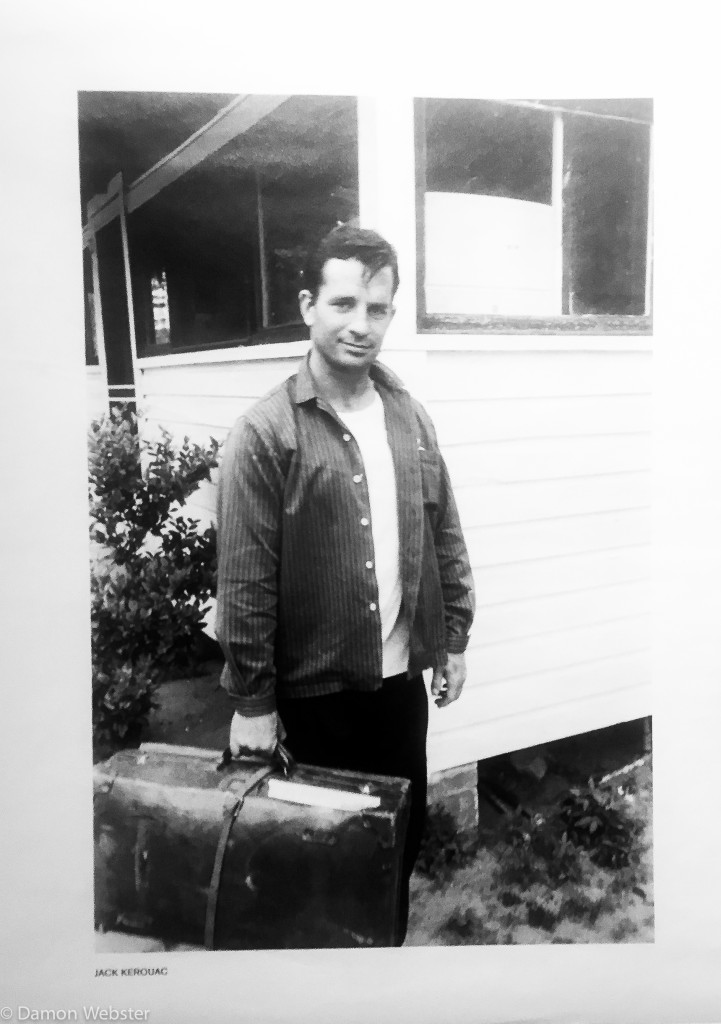 It does weave between personal contexts of people he knows and interacts with, and projects that have caught his attention, and eye.
In the beginning of the show, they have included letters to his parents, which while sharing a side of his passion, also have a feel of what any child might write his parents: thanks for the money!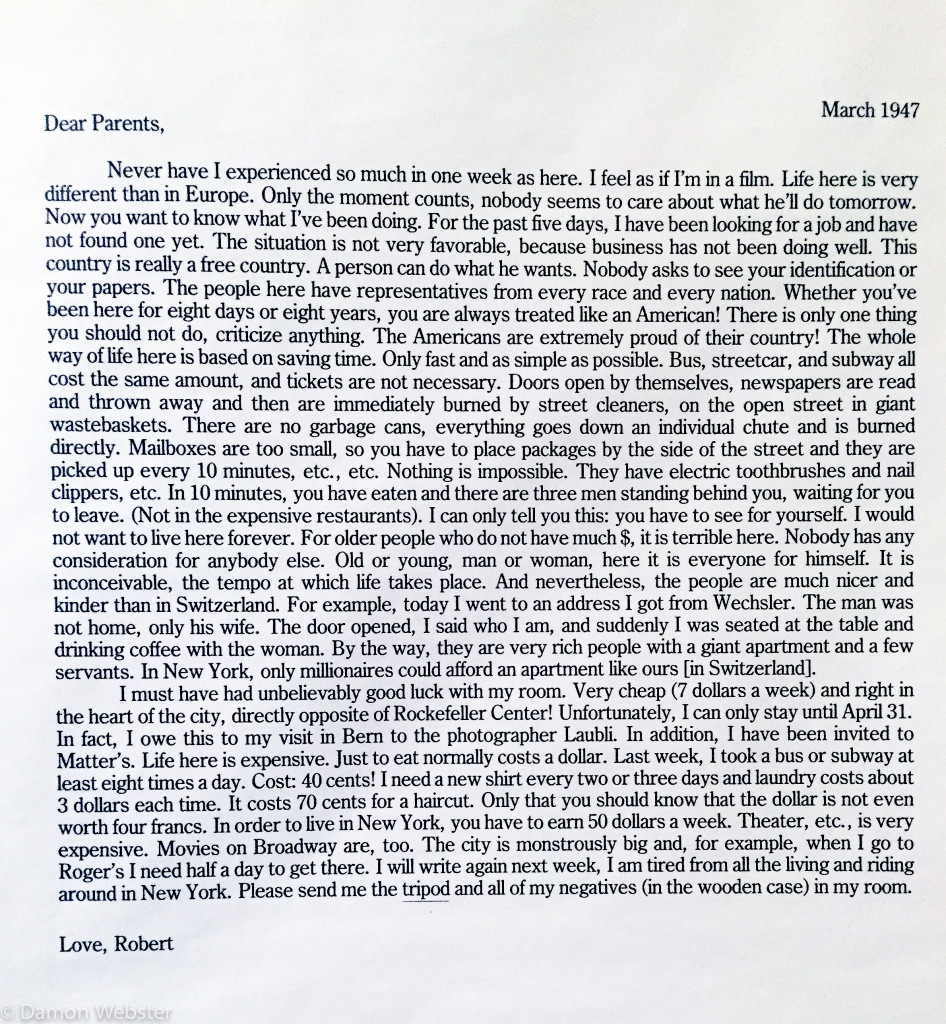 His descriptions of a NYC from a strangers point of view, he's from Zurich, Switzerland, haven't changed much. His photographs of that time are so much more complex that the words in his letters.
Perhaps because it is photography, you can look at it simply and feel the message, or dig deeper to know the message.
The wall are covered with these newsprint photographs, and in a study area (this is NYU after all) sit some of the most iconic images from The Americans.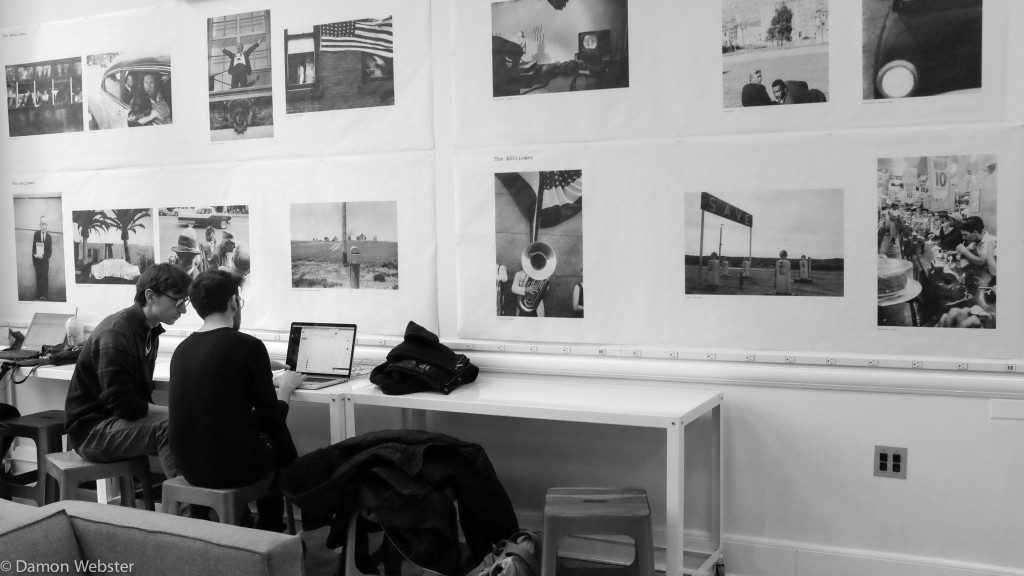 One of my favorite parts, the contact sheets blown up, still with the grease pencil outlines on selected frames. A great look into the editing mind.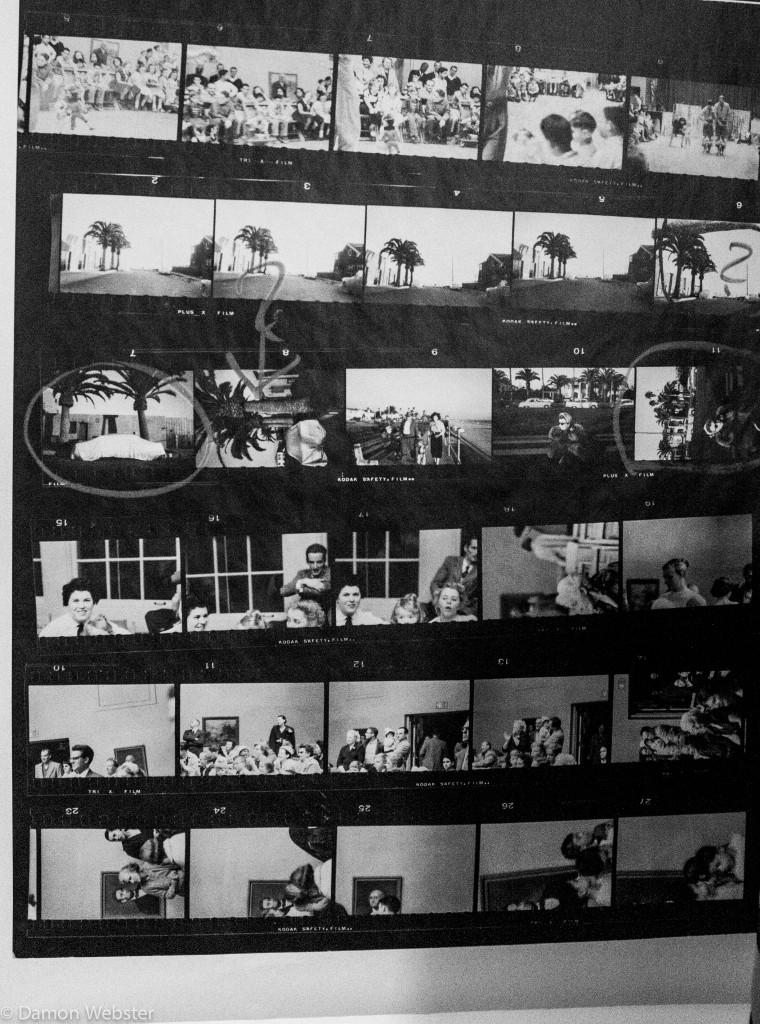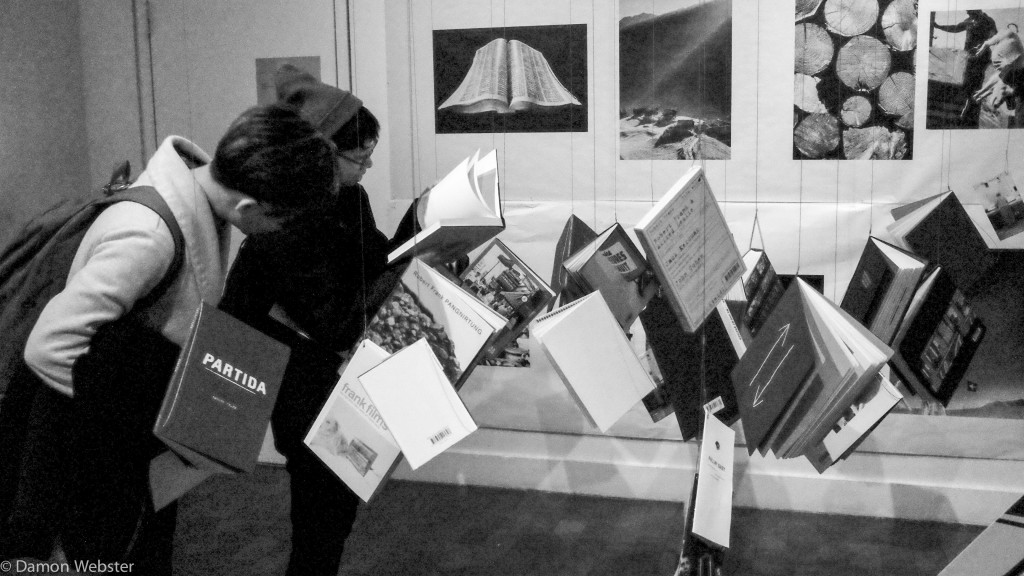 Along with all of these large, unframed photos covering the walls, is a very cool, unique way to display all of his books. They are hung by wire and are "floating" in the space, yet available to visitors to pick up and peruse.
And there are continuos screenings of all his films , so check here for more into on times
With quotes from Robert Frank painted on the walls, the letters, books, films, contact sheets, and classic photography, this is the strongest show in town right now, and has a short run.Only runs till Feb 11.
Go.See.It
And a small note: the Photo and Imaging department sent me back to my college days with this: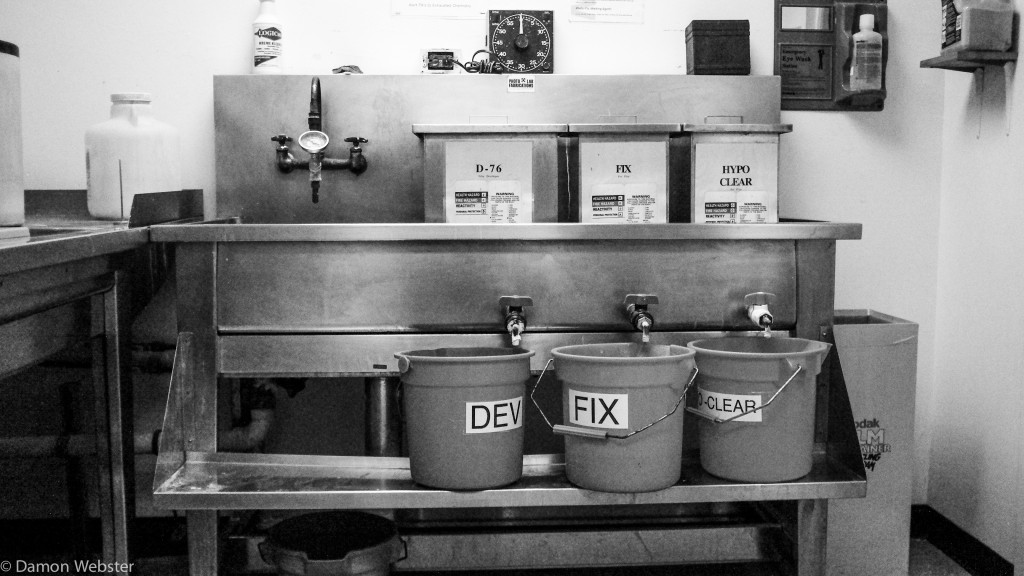 and the chemical smells created a flood of memories that remind me of my late nights, printing away in the darkroom.
This student knows exactly what I'm talking about: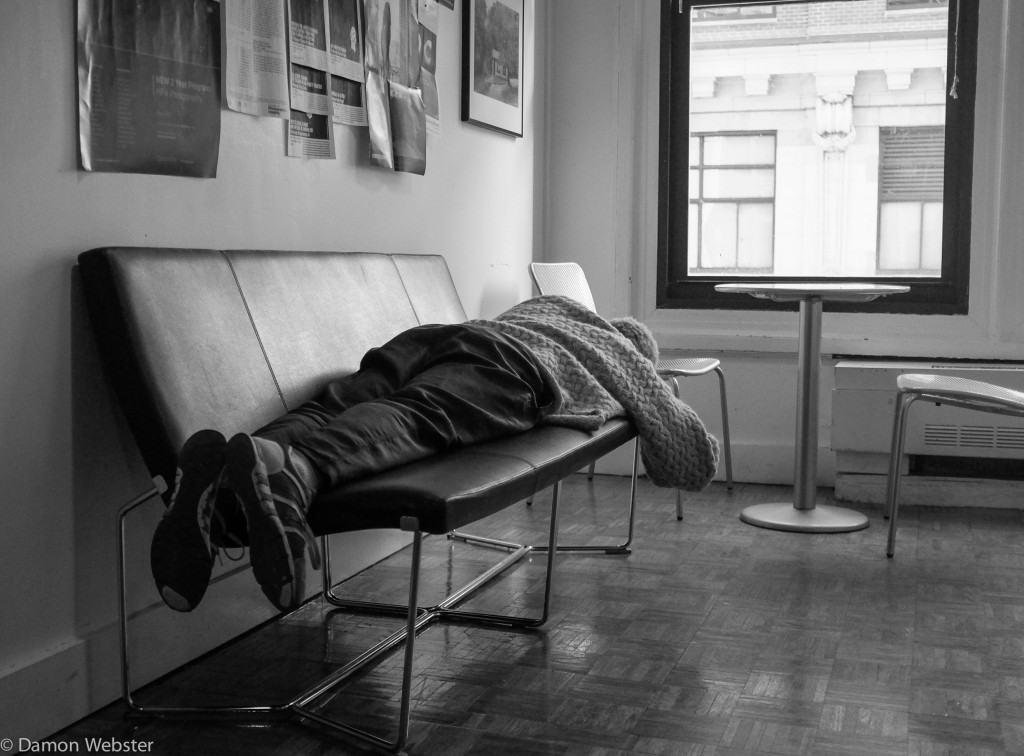 (secret tip: there is a newsprint catalog produced by Steidl, pre-eminent photo book publisher, that sells for $5. Ask to buy one on the 8th floor. Cash only. Best $5 you've ever spent)