Real World Review : i1 Filmmaker Kit – Get Your Color Right!
Oh, sure, you can buy the right cameras, lenses, microphones, grippage, etc., for your video productions
Then you get into post.
Make sure that the video files you are ingesting have been treated to the standards of the industry, from the time you start shooting, to your editing workflow.
You know what they say: GIGO (garbage in, garbage out). How do you make sure that your imaging files are looking right from the beginning?
Pretty simple, actually
The folks at X-Rite ,familiar to you all as making a great color portable color chart for your stills, have come out with a great kit for your video needs, the i1 Filmmaker Kit. With a video color chart and a monitor calibration tool, this needs to be part of your workflow.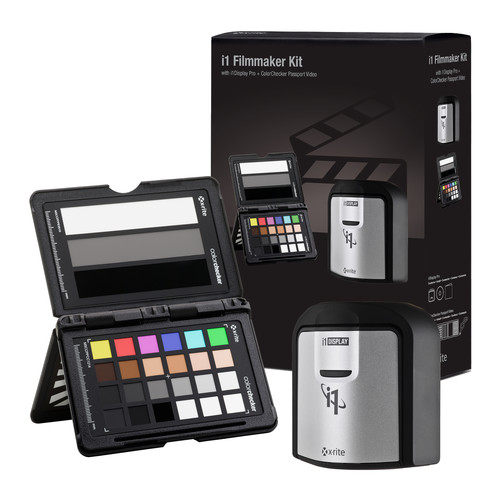 First of all you should get in the habit of shooting a color chart at the start of all of your shoots.
This Color Checker Passport Video tool, is a portable, easy to pack chart.
Just take a shot of it, with the main lighting of your scene, and you will be able to start from a right place when you begin to edit.
Having a standard to start from, makes your creative choices true choices, and not fixes.
Then you get into the monitors you'll be working with. As a point of fact, even with high-end monitors, they shift in color.
To say nothing of the light in the room you are working in. Yep, changing ambient light will affect how you are seeing the video.
What you should do first, and on an ongoing basis, is correct your monitors.
X-Rite has made tools, and software that make it super easy.
The i1 Display Pro is a calibration device that easily hangs over your monitor, and when you start the software, it will lead you by the hand in making sure your monitors are showing a true color.
Here is a great overview on why you should calibrate:
So, here's all you do to calibrate your monitor
install the software
Plug in the USB Display Pro
Adjust the counterweight so the device hangs over the monitor flat, and start the software. It will cycle through all of the colors and tones, and calibrating them to a standard you can choose.
It will then show you a before and after, so it'll be clear what has been adjusted.
Plus it will schedule your next calibration. Just a good thing to make part of your workflow.
And that's it.
Simple, right?
I know it's not the sexy new lens, or trick new bag, or perfect mounting gear.
It may seem like putting a new roof of your house: you need it, but you only see it when you go outside.
Here, you'll see it inside and when you get your video workflow on point.
I've used this type of product for my stills that matter, for years, and this is the perfect tool for the worker.
I have to tell you that I just replaced my monitors. After 8 years of hard work, they died within a week of each other. The biggest color revelation for me was when the new monitor  was placed next to the old. Holy moly, what an extreme difference! This just illustrated to me how much we (I) don't realize when our monitors are out of whack.
Cost is about $300, but the amount of time your will save in your workflow is well worth it.
[counterize]