Photographs of Photographers With Their Iconic Photographs: Tim Mantoani -Behind Photographs
That is kind of the concept behind this beautifully shot series of 20×24 polaroid photographs.
Tim Mantoani has gathered the current biggest names in fine art, photojournalism, commercial, sports, nature, music and everything else, and had them pose with thier most iconic images.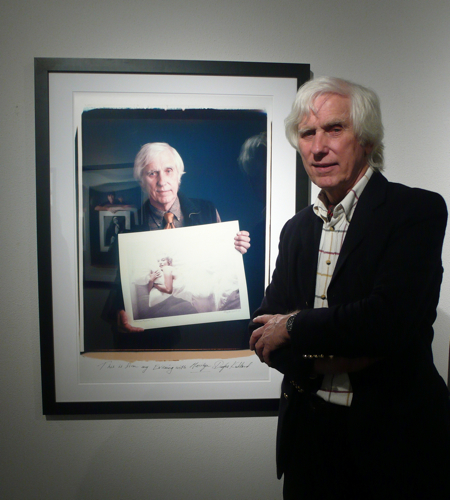 Douglas Kirkland posing with the photo of him with his Marilyn Monroe photograph.
Not only that, each artist has handwritten commentary on that image.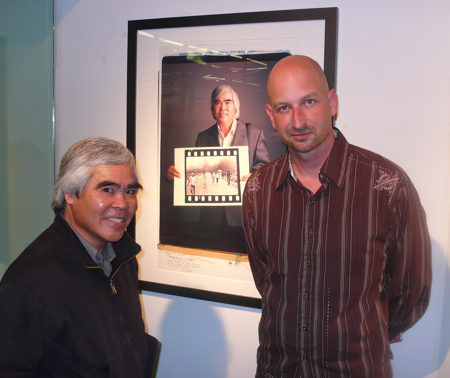 Tim Mantoani and Nick Ut with his iconic image of the young girl fleeing from a village in Vietnam after a napalm attack.
This exhibit currently at the Pacific Design center in Los Angeles, is another part of MOPLA, for April, and runs till April 30th.
At the exhibition space there is also a monitor showing all of the photographers not on the walls but in his files. Of course there will be a book coming. But when????
And Tim told us that he shot video of all of the shoots and with some Q&A with each subject.
We just hope he gets that footage cut soon so all of us can enjoy the experience.
But for now, check out his site for background and more images.
Well done, Tim.
Both exhibits and more are at this address
Pacific Design Center BLUE Building
April 4 – 30
Monday through Thursday
12:00 – 4:00 p.m.
8687 Melrose Avenue
West Hollywood, CA 90069
(entrance on melrose)
And then right next to Tim's show, LA artist Jim McHugh, has a very strong overview of his work including a variety of printing techniques shown off and used to each ones best advantage.
OK, who am I kidding?
Yes, the techniques are interesting, but it's the images that blew us away.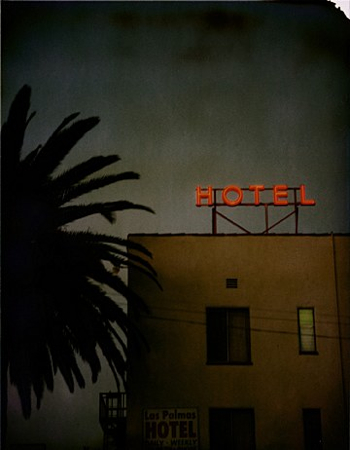 © Jim McHugh
"The Las Palmas Hotel", Ink on Paper, 2005
With a long career photographing some of the artistic geniuses of our time, represented here, it's his approach to those things we take for granted and his explanation of photographing common things in an uncommon manner.
Simplified explanation, but the beauty that he has found in the building parts, towering lit signs, and one of our favorites, steps in Bali, with details to a hidden life, printed in an almost monochromatic palette, and visually explains why big prints exist.
Wander about his website, and you see what we're talking about.
And if you can get to the exhibit, you will get turned onto one of our most rounded, prolific and talented photographers.
Sure, we say our because he's from LA, but he'll be yours, too.
Just take a look.