Pre Gift Guide: Black Friday/Cyber Monday Photo-Video Deals
We all have year end buy targets for what we love, and tools we need. I know some things I usually look for are deals on media cards, SSD drives, bags, maybe some glass, and usually something that may just be for fun, but may spark some new ideas.
As i said, will be adding new Black Friday ads when they come in.
Some pretty sweet camera bags from Peak Design, one of my daily go to bags. From the Messenger to the Sling, these are part of my life. And brand new ones, that are unfortunately not on sale.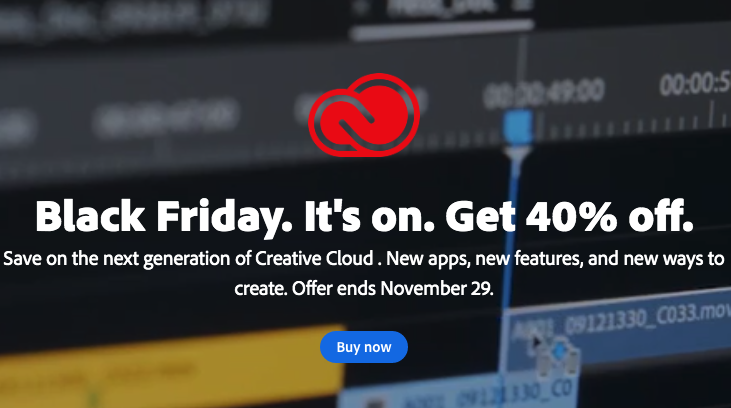 Before going through the multiple days of the annual Holiday Gift Guide, you have a little more time to shop before year end, and just want to share some Black Friday/ Black Week/Cyber Monday links that may be of interest to you.
BTW, this years gift guide will have some real world reviews after using products for a year, and what may be worth your investment.
So……..
First up is a software package you probably use everyday, Adobe Creative Cloud. At a 40% discount til 11/29, you may want jump on this. Honestly ,don't use it all of the apps, but use enough to make it the best investment for your workflow
Then here are some great brands with deals this week:
Lume Cube– small powerful LED lighting system, also has deals today. Good news is that it's also new product, not just clearing old stock.
Adorama– you know, you love em.
B&H Photo/Video – they have the goods as well!
MagMod Light Modifiers – Silicon, magnetically connect, nice soft light
Tether Tools – 2 main things here- all of your tethering needs from stands, tables and cables, and a must have is the Case Relay Power System. 1st stop for all tethering good.
And of course Best Buy, Amazon (have found good deals on card readers, sometimes media cards, hard drive, minor accessories for mobile vlogging), MACSales for, well you know, MAC stuff. And RAID drives, refurbished computers. Sometimes NewEgg for your computing needs as well. Manfrotto, who has been scooping up so many companies, will be having deals on a lot of the brands that they own.
DJI is having a great sale on a few items, although some are discontinued items. Most times, the biggest deals aren't on the latest gear, but this one has ActionCam, which I love, and some Mavic-ness, although the new Mavic-Mini (not on sale) seems to get in under FAA regs, weight wise, so could be useful.
I'll keep adding as I see them, and the holiday gift guides are forthcoming!