Why 2 Phones, Not 2 Phone Numbers
I thought it was a crazy idea: who needs 2 phones? One is working just fine.
Then I realized how it could make sense. Social media for one part. I know, I maybe so late to the party. Years ago at CES, I saw people with 5 phones, and used each to post for specific sponsors and clients. Looked like a nutty proposition. The early days of influencers.
After years of covering CES and other events with DSLRs and full up video cameras, then moving to mirrorless and smaller vid cameras, this year I decided to go with only shooting video on mobile for trade show coverage, and a mirrorless for, well, I had to have that format in my hands. Old habits. And I love the Fuji X-T3!
Here is the rig: Beastgrip, Rode VideoMic NTG, Samsung Note 10+.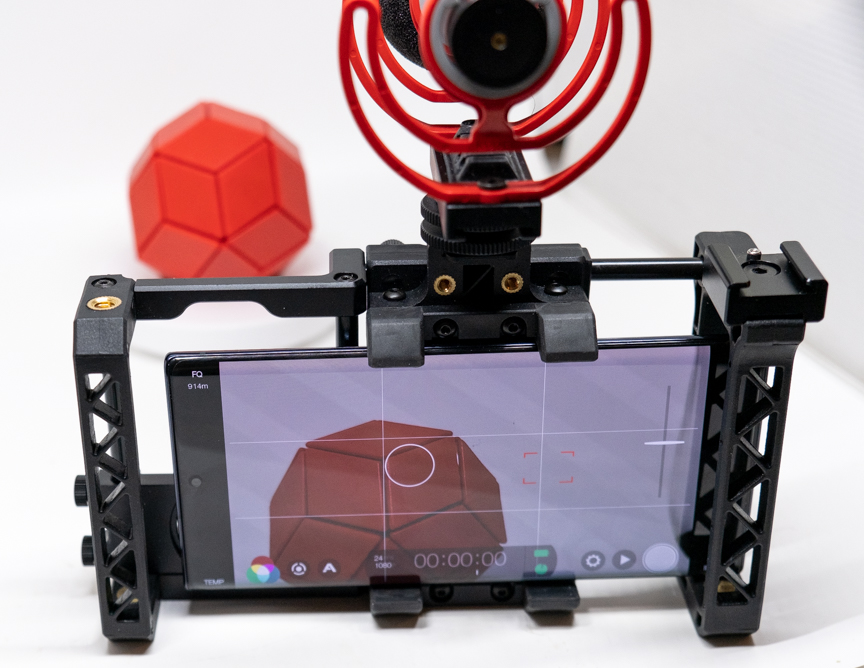 This is why, after looking at many options, is the working set-up.
Of course the main component is the mobile device.
The Samsung Note 10+, has a key feature that keeps getting used – the stylus! They call it the S-Pen, and it is not just a stylus. It has some cool tech inside that allows you to control the phone by BT. 12mg of RAM makes sure you have fast working vids. The size of the screen, the high quality of the image, and the ability to have a removable 1TB micro SD card, all led me to this device. After years of using an iPhone forever, this Note 10+ provided the specific features I needed. (hot tip-since you can add a microSD, no need to but the heavy internal storage model.
A fast backtrack first: After shooting a concert in NYC, I was on a plane to Asia, and needed to do some initial editing. As it's first test, I backed up the files to the Micro SD card and put that card into the Note 10+.
With the advantage of the Adobe Lightroom app loaded, the edit and adjustment process became a breeze, due to the large, beautiful screen, and the all important stylus. Battery life was great, and of course, always carry an extra batt pack to keep working. Once done, the images could be immediately uploaded to my social channels. All from a mobile device.
OK, that was why the initial selection of the Samsung Note 10+. One other small note – I do not use a SIM card, as I depend on wireless. Works like a champ, and yes, I have a second phone.
So this becomes a great editing device, but there is more.
As you can see on the video rig, The large screen is helpful, and the BeastGrip has cold shoes to add things like mics, and lights if you desire. A LumeCube is a great addition, and keeps the footprint small. Honestly, the zoom-mic feature of the Samung Note 10+ is pretty sweet if you don't want to add an external mic. Video quality is outstanding, and the ability to adjust the resolution up to 4K is helpful.
It's the dang stylus that was the huge sell for me. and Samsung announced a new more affordable version of that device coming soon w/stylus. Apple seems to have missed the boat on that, unfortunately.
Here is a sample vid: No extra titles have been added yet, nor the #s. Pretty much straight out of the smartphone, and went right to Instagram. The RAW stuff. Click to view. Down rezzed for posting here.
Why BeastGrip and not a gimbal? Trust me, I thought the gimbal would be the winner, and had put a special cold shoe ring on the DJI Osmo 3 to make that happen. The issue was the mic wires impeded a smooth, unfettered, gimbal move, defeating the purpose of the gimbal to begin with! So gimbal best with phone alone, but not what I was looking for.
The build on BeastGrip is just right, and is customizable. I would like an additional grip part on the left side, but with all of the 1/4-20's (tripod sockets) on this, I'm good for now.
For external audio, there are so many choices. With a mobile device, you have to be a bit more clever in the setup. For CES2020, the newly released Rode VideoMic NTG, was the call. The feature set is crazy good, as a shotgun, with the ability to monitor as you record, and a built in clipping light, all worked out. Another good choice is the Rode Wireless-Go for the lavalier mic choice.
I do reserve the higher end Sanken mics for the bigger video rigs, with Sennheiser AVX wireless system in play.
So back to the initial thought: Having one mobile device dedicated to the video, allows you to go live, capture for later, shoot vertical easily, post with no problem, and ALWAYS BE IN TOUCH ON THE ACTIVE MOBILE DEVICE! And seriously, since a lot of this coverage is social or online, the high quality of the Samsung Note10+ works perfectly.
Yes, we are now seeing more feature, story telling content being shot with mobile devices. A master cinematographer using those tools can create magic. This post is only about event coverage. (or is it?)
Separation of uses, with one phone for calls, and the other device for a full working creation tool.
And with no SIM card, there is no need for additional line charges. Bonus!
Another tool I bring with me now is the LaCie Boss,
This a Swiss Army type of SSD storage, that allows me to transfer, and save files, between multiple devices on the fly. With a built in SD slot and all the cables you may need for transferring materials to and from any device, winner right here. Plus if you have a card reader, your can transfer any card you like! I have the 1TB model and it holds all the video, too!
And yes, it's true that if you make a purchase using the links above, it does help support this site. Thank you in advance!