Weekly Giveaway – It's Brand New And We're Giving Away 10!
Today, a company called Light Crafts, introduced a new online photo editing system, called Aurora.
Now this company also has a product called Light Zone, aimed at the pro and pro-sumer, but this new deal has got some features that will make your social networking life look a little bit better.
o Visual photo editing: The strength of Aurora lies in its intuitive, powerful, visual editor which presents suggested improvements in a what-you-see-is-what-you-get fashion. The unique relight tool essentially "turns on" the light inside the image, creating better, more realistic photos. Users can also straighten, adjust color strength and warmth, crop, zoom and adjust red-eye in a simple, intuitive and visual way.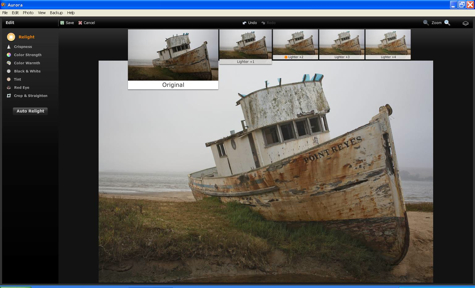 o Organizing and viewing of photos: Aurora allows consumers to easily import photos from their camera or computer, re-arrange and re-name them, then tag and rate favorites for easy viewing and retrieval.
o Sharing and publishing: Aurora enables consumers to email, print, and connect directly to their photo sharing, social networking and accounts from within Aurora making it easy to share select photos online on sites like Flickr and Facebook.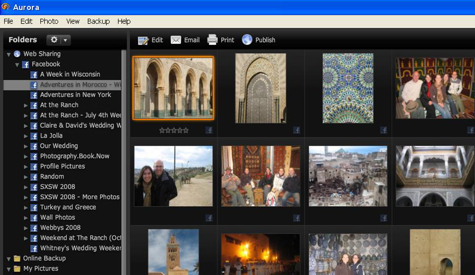 o Online back-up: Photos are one of those truly irreplaceable items. Aurora's optional online back-up service is powered by Amazon.com and stores photos to keep them out of harm's way. Online back-up plans are available for $4.95 per month. Users can simply hit "online back up" from within Aurora to sync directly with their Amazon storage account.
You can log-in to Flickr, Facebook, SmugMug, Picasa and TwentyThree, from within Aurora and link the software to your accounts. You are then able to easily add photos to Flickr or other sites directly from within Aurora. And you can edit your photos on Flickr (or Facebook, etc) from within Aurora. The software and your accounts synchronize with each other. So let's say you have a photo on Flickr. You edit it in Aurora. It automatically updates the image file on Flickr for you.
This part is a very cool feature. Saves you a few steps. And if you want to have a photo post to a different or additional site, they've made it easy.
Now you have to know that this system does NOT deal with RAW files. So you have a good idea when to use it.
Or who you may want to turn on to it.
True, Adobe has a similar product with Photoshop Express, and the ability to fix an image and have it sync with your other sites is a common feature.
Now this is currently only available for PC and when we saw a demo, in a lovely local restaurant, it was on a nice powerful laptop, so your mileage may vary.
However a MAC version is on the way.
Why PC first?
Very simple: as an example, at a recent Epson printer clinic, there were 2 tracks to go to.
Track 1, which was more of a consumer track, had about 85% of the participants were using PC.
Track 2, which was a more pro audience, it was 90% MAC.
So that is why PC first. It's the law of economics
And for you MAC folks, you may have iPhoto, but this gives you a ton more. Plus available on-line storage.

It sells for about $20, USD but we're giving away 10 copies of this in our weekly giveaway. For free.
So if you haven't done it yet, sign up for the weekly NEWSLETTER, and the details will be in there.
We would love to hear what you think of this new deal, especially when we have the winners give it a full test run.
The proof is always in the real world usage.