Panasonic Lumix 5SII : Best for Video, or Stills?
After seeing the Panasonic LUMIX 5SII at CES, finally had a chance to actually put it to a real world review.
Often touted as the best solution to mirrorless video capture, I also wanted to see how it performed as a still camera making it a solid hybrid choice.
Sure, I'll be laying out some of the specs, which you should go through if deciding on a purchase, and these are the first impressions:
Below is the full framee Lumix 5SII and the Lumix 5SIIx. More on the differences later.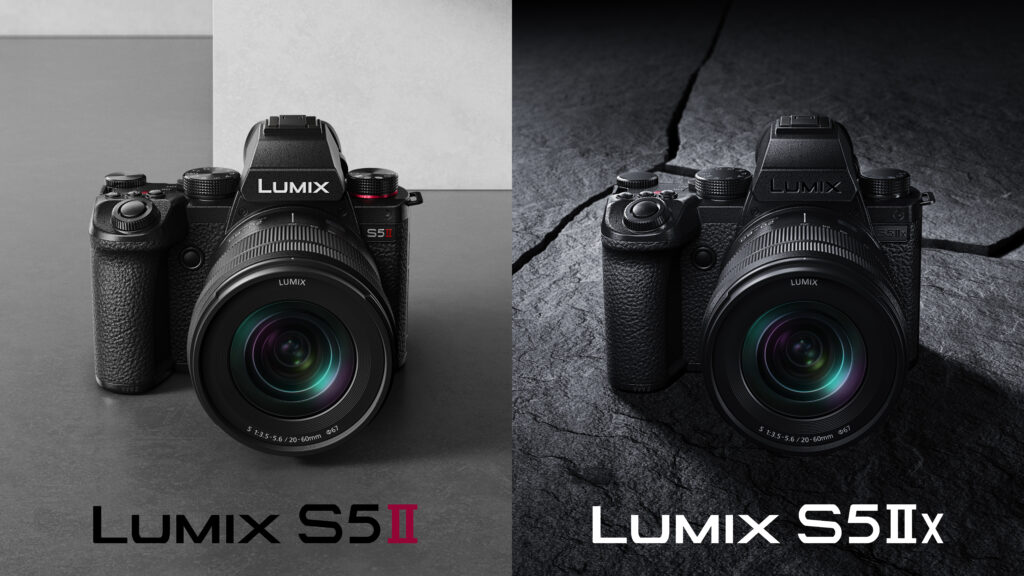 First of all, this camera has a great ergonomics and very solid build, so felt just right in the hands, from the get-go.
The deep grip on the right hand side, gave a sense of security in holding the camera at the ready. The placement of the primary dials and controls are in just the right proximity for adjustments.
Glad they do not have the lugs with a hole for connecting a strap, so my SpiderPro wrist strap attached perfectly! I've tried so many of these, and I swear by the SpiderPro.
If you are familiar with a PSAM dial for exposures, you will feel right at home.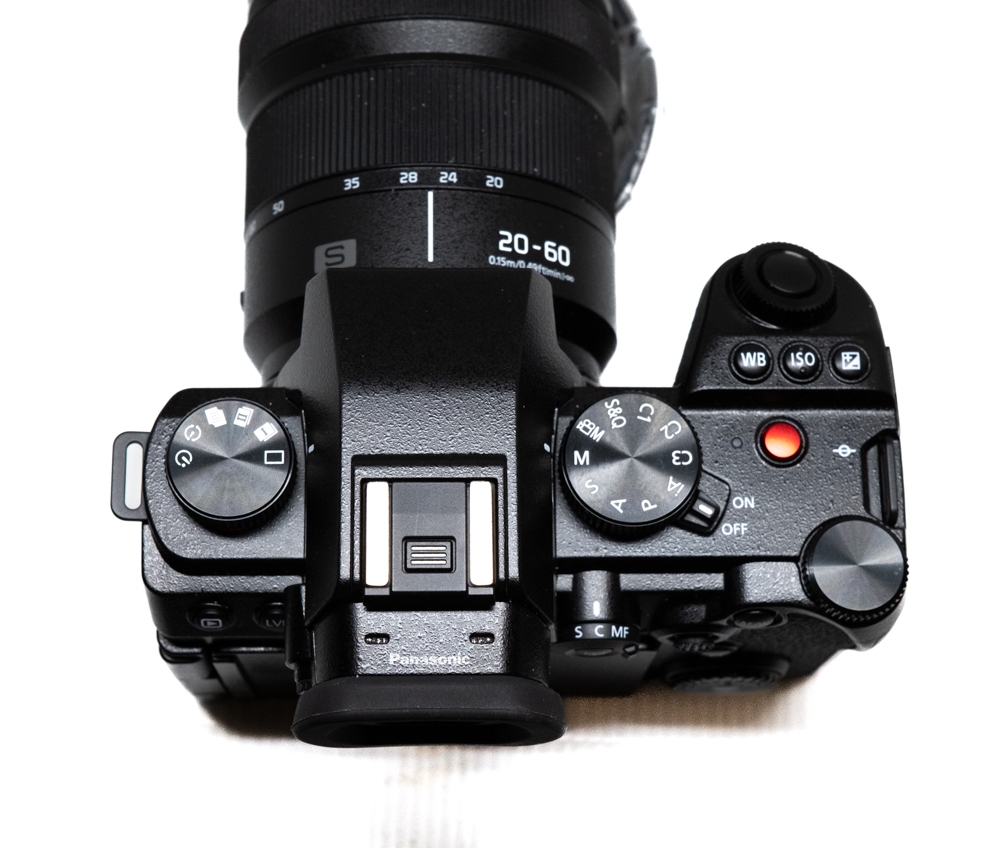 On a still photography walkabout, AF was primo, and coupled with the IBIS, street photography was a breeze.
Honestly, it locked in on selected faces in a crowded street fair,
The phase detect AF was spot on, and let me relax as the crowd milled about to get the right shot.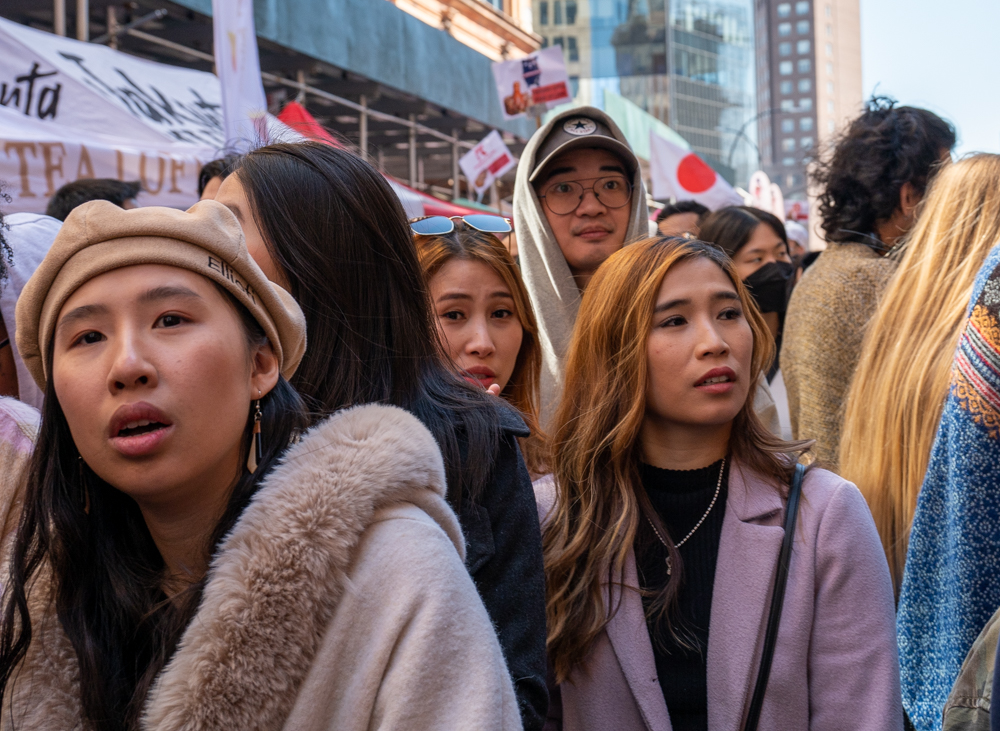 With a hybrid phase-detect AF (PDAF), the focus didn't "breath" and locked on.
The 20-60 lens was tack sharp as well,
As a street photography camera, the Lumix performed spectacularly.
Here is my local pizza joint, with a fast capture. While not a night shot, the light was super low, and the Lumix delivered admirably.

This billboard was street level, but the texture was critical as a test.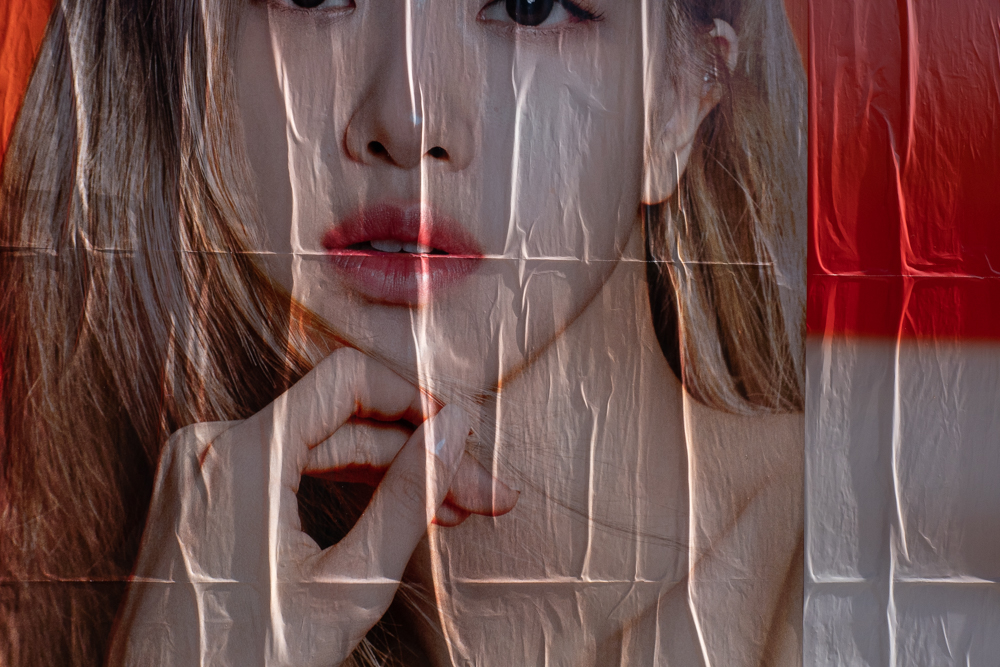 This camera line has been lauded for its video capabilities, and this new unit proves that love for this is justified.
There are no recording time limitations at any resolution.
Panasonic achieved this by adding a small cooling fan in the enlarged EVF hump.
That alone may be a reason to purchase.
Genius!
The lens supplied for the review, the 20-60, had a perfect focal length for video and vlogging, in a 16×9 or a 9×16 format
The camera uses 2 SD media cards, and that was surprise as most brands are switching to a Cfast B option for improved read/write speeds, especially video and for sports.
So Panasonic and Sony are the holdouts committed to the SD format, although on the new Sony, you have a choice of SD or CFast A.
To that point S5IIx does support internal SD card recording up to 600 Mbps in All-Intra (All-I) mode.
The new L2 Engine processes twice as fast as before, I'm told, and the main benefit is that it allows for less rolling shutter distortion.
We all want that.
CMOS has some inherent issues, and this get's closer to the solution.
Like all of us, I do like to customize a camera button operations, and knowing what I'd like it to do and how I shoot, I dig into the menus, and get it set for a real world review.
The menus were easy to get into and adjust, and only a couple of times did I refer back to the manual to adjust.
It may seem like a small thing, but I have tested some other high end mirrorless cameras where the menu choices are so deep and buried, that it makes it impossible to shoot on the run. At one event, even the company reps didn't now how deep to go to make, what I thought was a simple adjustment. I only mention this to let you know, that out of the box, the Lumix 5SII menus are very user friendly.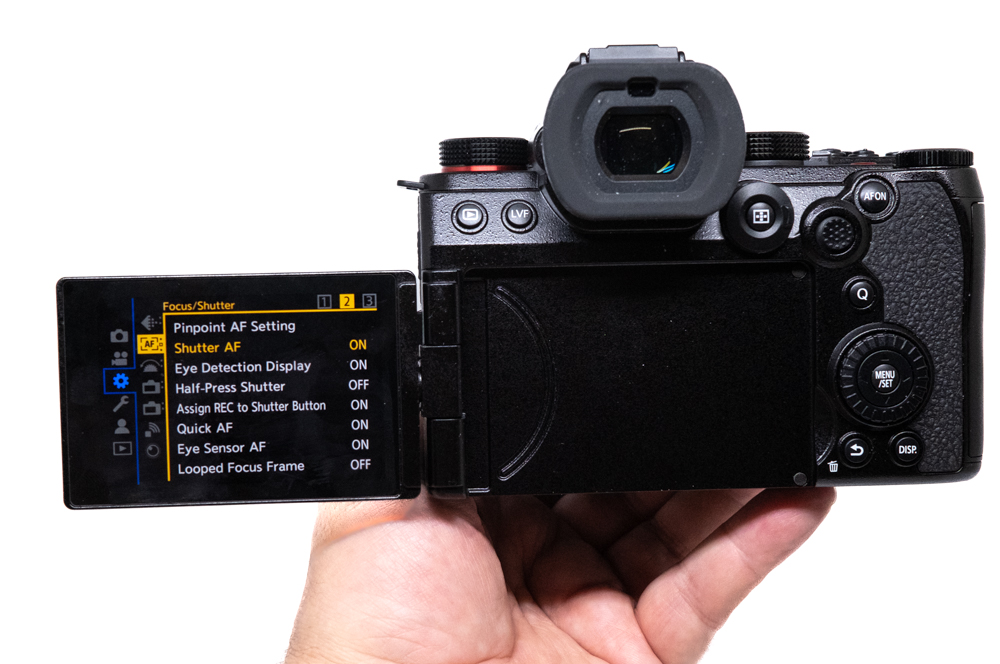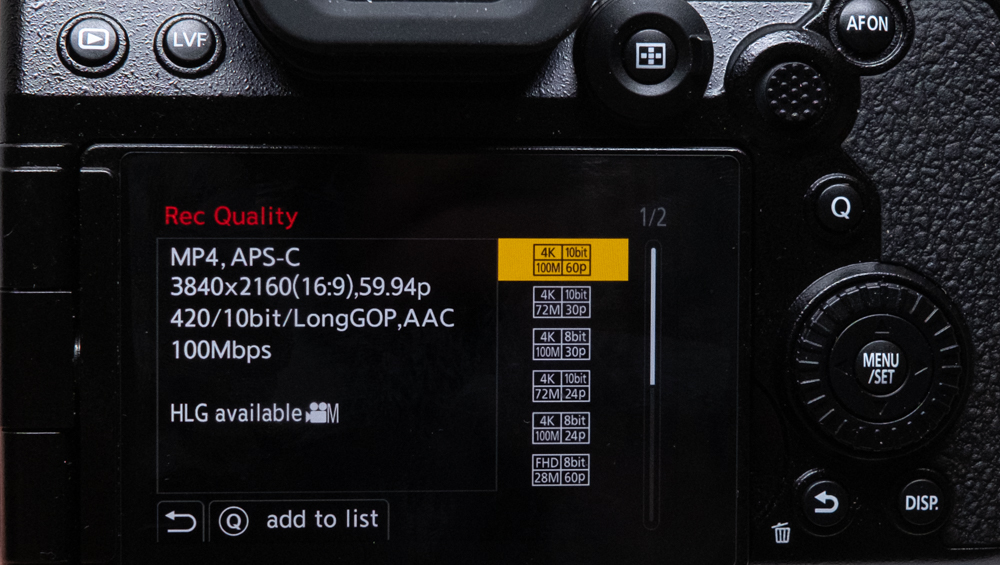 As you can see here, the camera with the 20-60 mm lens is light enough and balanced for an easy vlogging situation. The articulated, or flippy LCD, made vlogging easy. Of course, this camera has built in active IS, so even handheld you are in a better place.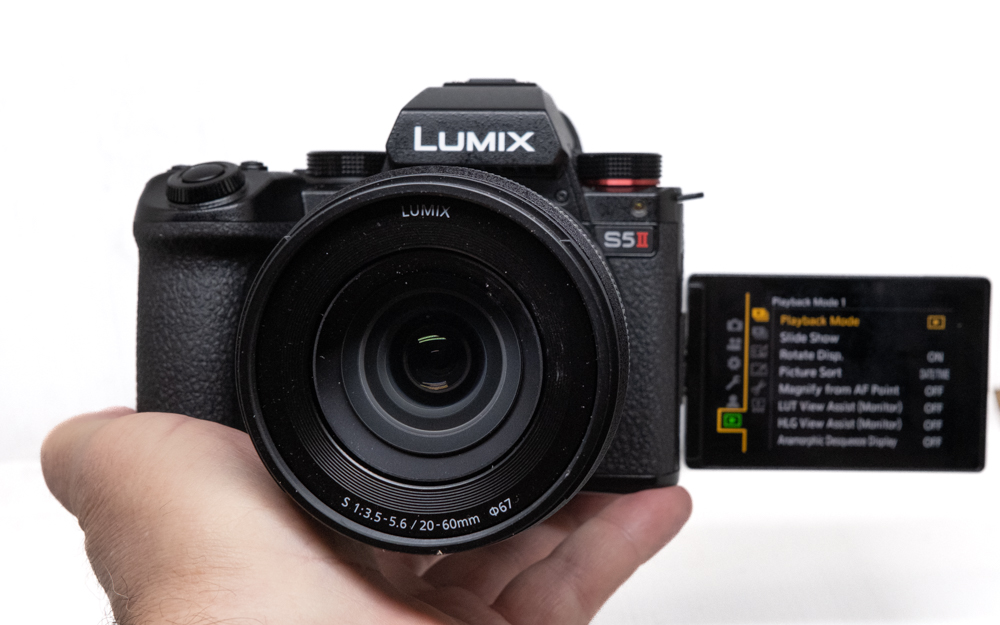 Would need to play more with the color, as vid straight out of camera was a bit off for me, and checking files on a calibrated monitor. I am sure that with a chosen LUT, I would have been in a good place.
To that point, here's another sweet part: you can load in a LUT ( predetermined color correction) on an SD card, use that to capture vid, and color correct IN CAMERA. Saves a ton of time in post, if you need to get the vid out super fast!
Or just save time in the edit bay!
My only issue was battery life. there may be an auto turn-off that I didn't discover, but the drain was real.
Anyone shooting on the street, or in a paid setting would have extra batteries on hand, so may not be as much of an issue.
Honestly, was tempted to make a purchase if I wasn't invested in another system.
I have been shooting with an APS-C line-up, and the full frame files on the Panasonic had me thinking twice.
One thing to note is part of the Panasonic commitment to pro video.
As an example, you know that Netflix has an approved list of cameras that can be used for content they license.
The LUMIX S1H is the first mirrorless cinema camera to join the Netflix Approved camera list.
No, it's not the one I'm speaking about here, but that approval says a lot about the product line. Twice the price, DC-S1HBODY $3,999.99
but depends on your needs, it could be the game changer you need.
Even as a solid B-camera option.
A few specs:
S5IIx will output full-frame 12-bit 5.9K 30p (16:9) ProRes RAW video, along with cropped 12-bit 4K (actually 4,128 x 2,176) and 3.5K (3,536 x 2,656) video at up to 50p externally to an Atomos Ninja V+ HDR monitor-recorder. Both cameras also offer S&Q and HFR recording, letting you capture at high frame rate.
The LUMIX S5IIX is capable of RAW video output and All-Intra, ProRes*1 recording on SSD. It also features wired*2/wireless IP streaming function and USB tethering.
Other than the fully blacked-out body, the S5IIx has some interesting features not found on the S5II. You can record to the USB-C port, much as you can on the GH6 via a recent firmware update. Formats supported include All-I, ProRes 422 HQ and ProRes 422, all in 10-bit. That includes 5.8K (17:9) at up to 25p (1.6Gbps) and C4K (4,096 x 2,160) at 60p with an APS-C crop (1.9Gbps). That will require some kind of rig to mount a USB SSD, but those already exist and aren't very expensive. Check out SmallRig for some well made options expensive.
Now that both versions are available, I'd opt for the S5IIx for the extra $200. More vid capabilities, and after all it is all black!
So to answer the question: is it better for stills or video?
The answer: YES!