Brad Elterman – Like It Was Yesterday
Back in the 70's, the hot culture in Los Angeles was full of music, celebrities, parties, and wannabe's.
Wait….whats different?
OK, not much. However, photographers get to archive and represent for their time. If they are good, they can tell a story of what it was like "back then".
He calls himself a paparazzo, but was he instead, a celebrity photographer ? The connotation today for the paps, is pretty bad, although we all look at their work.
Or was he a chronicler of his time ?
Brad Elterman reminisced with us awhile back and here is some of that video:
And some of his photographs: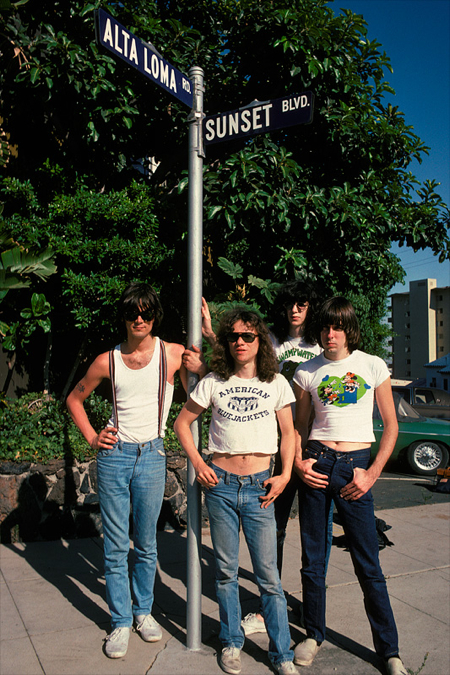 © Brad Elterman
The Ramones on Sunset Boulevard 1978:
"The Ramones were staying at the Sunset Marquis, near the current House of Blues. Their manager Danny Fields let me grab the band from their rooms for this quick shot. I think I promised him a photo for Rock Scene magazine, but the photos were published all over the world. I still see bootleggers trying to sell this image. They look a bit out of place with all the California sunshine, albeit standing in their classic poses."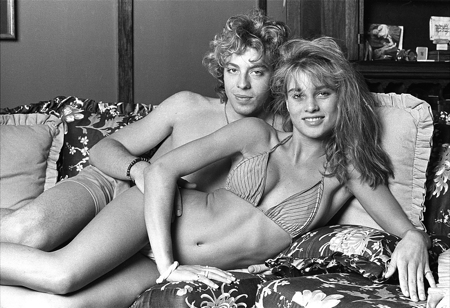 © Brad Elterman
Leif Garrett And Nicolette Sheridan 1980:
"I had been photographing Leif Garrett for years at sessions and concerts all over the place, including Japan. I was home one weekend afternoon when he called me to get to his house. The call was short: "Get over here and bring your camera. I have a new girlfriend." Boy, did he have a new girlfriend! I do not think I ever saw such a beautiful girl. She was Nicolette Adams, who now goes by Nicolette Sheridan. They had just gotten out of the pool and wanted to get dressed for the photos. Get dressed??!! Naw, let's just take the photos. Well, the photos made the cover of magazines all over Europe and were published in "People." The photo still sells today. Nicolette is so hot and enjoyable on "Desperate Housewives." I have not seen Leif in years, but I see Nicolette all the time at my local Starbucks."
The stories behind the photographs are pretty cool, and they are included in his book, available here.
Now here is a funny back story:

Brad has a photo in the exhibit of these 2 party crashers who always got into every hot party and event and no one knew how but there were there.
Now , 30 years later, one of them has unfortunately passed away.
BUT…the other guy is still doing it!!! We saw him at Month Of Photography Events a couple of weeks ago, and were floored!
I'll bet we see him tomorrow night at Brads official opening.
Exhibit runs from May 2nd to June 30, 2009
Equator Books
1103 Abbot Kinney Blvd.
Venice,CA
90291
And if you can't make, take a look at his site. Some photos of those you know, back when they were babies.
Like it was yesterday.