Weekly Giveaway- You want Naked Hollywood or Naked Bugs? It's all 3D to us!
You may have realized by now if you are a regular reader here, that we love 3D.
Remember this article?
All kinds. Stereopticons, Lenticular, Anaglyph, film, still, with special glasses, without special glasses, fried, sauteed, or steamed.
And Hollywood does too.
They know that one of the premium theater experiences that you cannot get at home, yet, is 3D. And they are pumping em out.
Looks great to us.
So this week we are going to give you a choice of 3D freebie.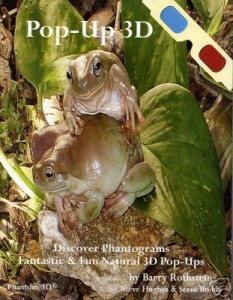 You can go with a very modern version of the 3D photobook, Pop-Up 3D

with excellent photos of bugs and such. Heck, you can almost reach out and touch them.
OR
You can have a volume of photographer/filmmaker/comedian Harold Lloyd's book called Harold Lloyd's Hollywood Nudes in 3D!

n Hollywood Nudes in 3D! a dazzling array of Hollywood starlets, including Marilyn Monroe, Bettie Page, Dixie Evans, and Tura Satana, come to life in all of their enticing loveliness.
Book cover shot after the jump, plus instruction on entering the giveaway-


check this description:
"Harold Lloyd, star of such classic silent films as Safety Last and The Freshman, shot more than 300,000 photographs with a 3D camera. Many of the photos were of young women who dreamed of making it big in Hollywood. Here–for the first time ever in book form–are 200 of Lloyd's most lavish, luscious, and ludicrous pictures of Hollywood nudes posed against some of the most dramatic and creative backgrounds imaginable. Approximately 75 are reproduced in tantalizing 3D, and can be viewed with the aid of the special "Harold Lloyd-style" anaglyph glasses included with the book.
These are excellent photographs, the models are pretty, shot with care and a sense of story and playfulness. If you are a pin-up fan you will certainly enjoy this book."
Ah, the world of 3D can be a crazy one.
Both books come with special glasses and each will, no doubt, be a book you'll want to leave out. Depending on your household. That's why we're offering a choice. You know your household better than we do.
Rest assured that the nudes are fairly tame, and the stories behind them very..um..unusual.
We have both.
So how do you roll?
Just let us know which you prefer, if you are the winner this week.
And exactly HOW can you win one of these for free?
Oh, it's easy.
First- sign up for the NEWSLETTER
Second – When it arrives on Weds, at 9:00 AM PST into your email, follow the directions in the NEWSLETTER.
Third – Just have the special word in the subject line and be the correct number response, and you win.
Easy, right?
And if you are a 3D fan, you have to check out this site. Everything you can imagine plus the tools and instructions on making your own 3D images.