Real World Review – Lowepro Toploader Pro 75
The real world this camera bag lives in and our would are, honestly 2 different things.

What we mean is that Lowepro, who is truly the leader in outdoor, backpacking camera bags, and has been for many years, has produced a bag that lives best on the trail, in our opinion.
Lowepro Toploader Pro 75 AW

Lets go through some of the key points here:
* It holds a full size DSLR, with a solid lens on it (24-70 2.8 w/lens hood attached, or 80-200 2.8 without lens hood attached)- no battery grip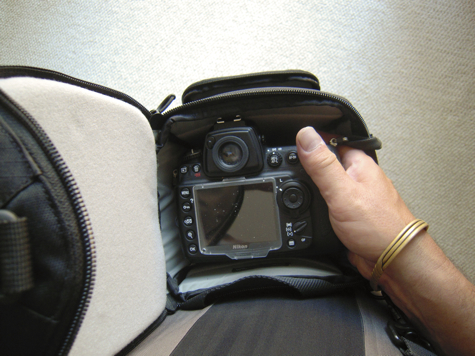 * convenient CF card holder in lid, which can also hold extra batts, or perhaps a compass or small flat GPS unit
* zipped side pouch for maps, notepad, etc.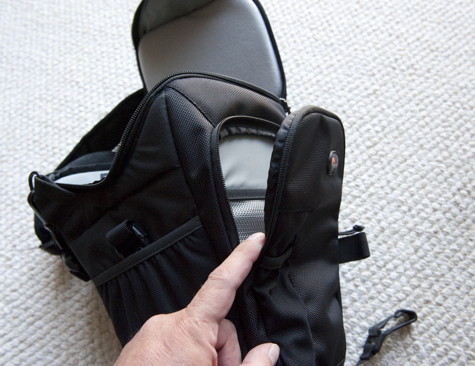 * expandable elasticized pouch for whatever you may need to stuff in there.
* zipper loops so, even with a glove, you can open all parts easily
* the lid opens out from your body, allowing smooth access to your camera
* The shoulder and mid body strapping secure the bag to your body very comfortably
* strong, padded, perforated, side panel that goes against your body for extra comfort
* rain cover tucked neatly into an near invisible pocket
The bag is very well crafted and the details make it a high quality choice for the hiking photographer.
As we always insist on doing a real world review, we took the bag for a walk. Not in the forest, but in the concrete jungle.
After a 90 min. walk the bag stayed close to the body, without getting in the way of natural movement or climbing stairs.
The DSLR was easily accessible and went back in smoothly , with no fumbling or bits getting in the way.
The body strapping was pretty easy to set, and adjust for max comfort.
The conclusion: for the hiker who wants to travel light, keep the gear simple, and have their camera at the ready on a moments notice, this is a great choice.You may even consider it as an addition to your backpack filled with life goods, keeping your camera in it's own place.
We feel it's that comfortable.
In the city, this is not our first choice, nor is it intended for that market. Yes, it offers great protection for the camera, but we either go more stealth in the city, or right out in the open with camera at the ready, almost like an appendage on our shoulder.
Which it totally is.
Here is a video showing the bag, including how it straps onto your body, plus some other items in the Lowepro line: