Real World Review – Road Trip! Hard Drives to go
We do a fair bit of road time, and nothing says lovin like setting up a mini edit suite in your hotel room.
Mmmmmmm…
Nobody upgrades their laptops that often, so the speed with which you work with assets will vary.
One of the major tools we carry on the road are hard drives. Usually 3.
1 for the Time Machine general back up of the whole unit, 1 for backup of the materials gathered while on the road, and the most important 1 for us, is the working drive.
This unit should be fast (7200 RPM), have multiple choice input/export ports ( firewire 400/800, USB 2, eSATA) and some way to keep the darn thing cool.
That 7200 rpm spin is what will keep you working fast; don't even think about editing large files or vid on the 5400 rpm-you'll be emptying the mini-bar faster than ever with frustration.
And the fast spin is what causes heat. So much so, that the 3 drives we looked at, heat became a large factor in the review.
Here is what we looked at: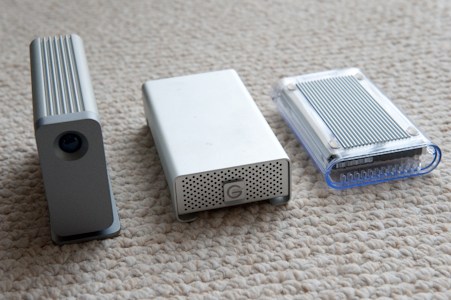 LaCie Little Big Disk Quadra, 16mb cache, 1.4 lbs, bus powered for all but eSATA, fanless, but heat sinks all around the body.
G-Technology: G-Raid Mini weighing in at 1.15 lbs, all of the same ports for input/export, plus a sleek leather case which also holds a cable. This unit has a built in fan to keep things cool. (the current G-Raid now has eSATA)
And the OWC Mercury On-The-Go Pro, which you can customize which ports you like. A cool clear housing for the hard drive, similar port options except no eSATA. Stripped down unit and priced that way. Also comes with a leather case that holds the drive and cables. A heat sink located on the bottom is your heat management. the lightest of the bunch at about 11 oz.
The ports on each: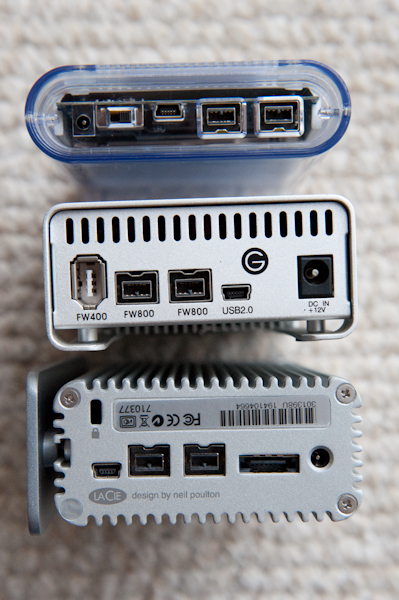 The current G-Raid now has eSATA. the 3 units were tested with firewire 800, bus powered (no AC)
On a performance basis we actually found there was not a lot of difference in speed. Ingesting RAW or video had negligible time differences. On the video editing side, it was also similar.
That's the good news on the speed of these drives.
Remember; once your material is filed, you will need to access this data for all of your photoshop or Final Cut Pro, so that is where the rubber meets the road on the faster drives. Unless you like spinning rainbow wheels.
When we are on the road, at the end of a long day, speed is what we need. In the CF cards, in the hard drive, in the computer processor.
We have to sleep sometime.
Here are the differences we found that made us choose our fave-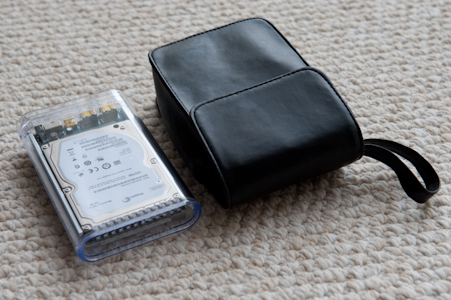 The OWC, while a 500gb fast drive, did exactly what we we wanted in a hard drive, and the price was incredible. Only $199.00
The big issue was the heat: the heat sinks, while raised off of a table surface, absorbed the heat, if you happened to touch them, ouchie-mama!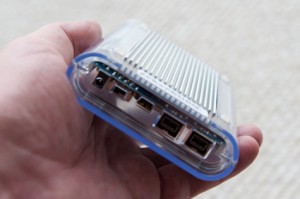 So working on a plane was out. Even placing it on a table surface we were nervous about the heat and what could happen.
In fairness they just introduced a newer version, which hopefully has higher raised feet, but still….not a traveler for us.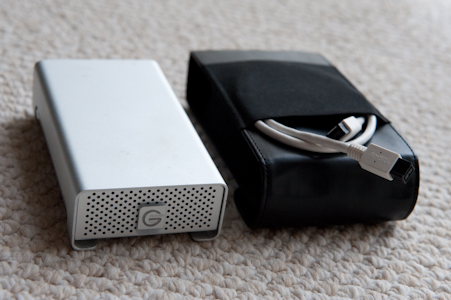 Then came our standby: the G-Raid mini 500gb.
We have many of this companies hard drives, and have been happy with the service.
A very sleek enclosure, the built in fan kept things cool, and the leather case had that extra fit and finish. We have edited with this all over the place.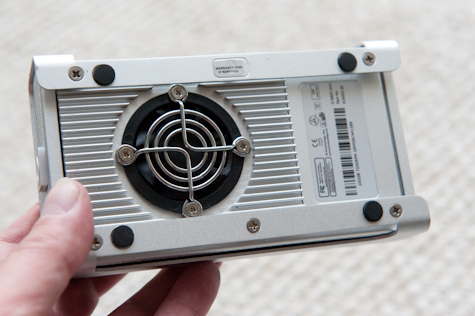 And you pay for all of that: about 50% more to $300.00
The 3rd is the Lacie Little Big Disk Quadra.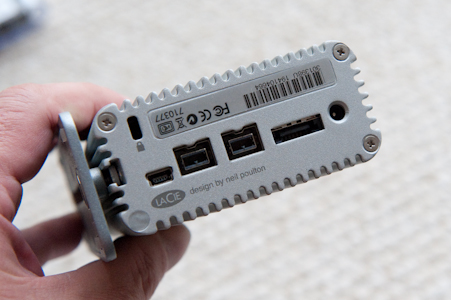 Here is where we got a hybrid solution.
Heat sinks on 3 sides of the unit. A stand to keep it vertical. No fan, no case. We had this baby on for 10 hours working. Didn't get hot.
Downside? The unit ONLY comes in a 1T configuration for $450.
Yeah, we know. Why can't it just be Apples to Apples. Like cameras.
oh, wait….cameras NEVER compare straight across.
You may wondering at this point if we have a recco.
First check your wallet. Then check your method of use. Hard Drive costs are coming down. Like crazy.
How much material do you generate on the road will determine the size of the drive you need.
The heat on the OWC, unfortunately, took it out of the running for us.
And this company makes some awesome goods. Memory, internal hard drives, and office based external drives. All good.
The G-Raid has been in our bag on a number of trips, but it's a pricey deal.
The Lacie seems to have it going on right now. yes, it's a bit more, but if your are using your laptop and keeping your files portable, this pup has the right capacity, size and heat dissipation.
All have a 3 year warranty on the drive itself, not on your materials. When it fails, your files are not covered.
And all of the companies are quite honest about MTBF – mean time between failures.
It's not a matter of if, it's a matter of when.
So be careful out there and back up your digital life.
You can get great large capacity hard drives out there on the market for much less, with speed and reliability, making that back-up less expensive. Those are the ones that stay put in your office.
This was just about the needs of working traveler
And Daniel, you are right: film never crashes.