And right before Santa hits the road…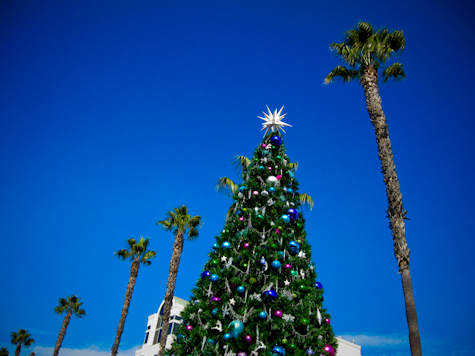 Santa Monica Promendade © Damon Webster
We wish all of you a safe and happy Christmas (yes, we said the word).
You may be spending your last day in the office today, or maybe you're getting that 1:00 PM close tomorrow , but whatever you're doing, we wish you all the best.
Our big wheels will keep on turning, (sure, Proud Mary keeps on burning) and through the next couple of weeks, we'll be bringing you some Real World Reviews on software and gear, and a year end/decade end, wrap up on things. So if you are near a computer, stick with us, and we'll try to keep you informed, entertained, and well, part of the photoinduced community.
One of the things that we particularly love about this time of year, is being able to catch up with friends, and break some bread.
Have a meal and see what's been going on.
All of that does kinda start in the beginning of Dec., and around now, people start to scatter, but not everyone.
Here is a shot of a lunch with a longtime dear friend. After not seeing each other for close to a year, the holiday season mellowed us both and it was time to share some lunch and catch up.
It's not about what the food is, but what the situation is.
The mid-day meal has a more finite time frame than a dinner, and let's you have a concentrated visit of hopefully, good things.
Each meal is a photo op for us, and a journal of sorts.
Not a "Dear Diary" moment, nor a Top Chef foodie competition, but a way to remember breaking bread with someone you care about.
We hope you get a chance to do some of that this holiday, and honestly throughout the year.
Yes, we have a photo contest based around this and the concept is derived from our personal experience.
We know the experience is not unique, and is shared by many of you.
Hopefully, you'll share it with us via the contest. And, bonus time, others who may not be able to afford lunch, will be able to eat.
20% of your entry fee is donated to the grand prize winners community food bank.
Today we'd also like to add one more giveaway, right here on the site.
Our favorite book: The Family of Man, a collection of photographs from over 256 photographers around the world, interpreting the commonality of the human condition.
The most well attended photo exhibition, ever, this book is the catalog of that watershed event. We think it should be in everyone's library.
It is our pleasure to send a copy to one of you.
Email us at damonw@photoinduced.com, put Family of Man in the subject line, and add a shipping address, please.
The first email in, gets the book.
As always, we'll ship it anywhere in the world.
( we have a winner and the book has been shipped. Hope you all had a good holiday!)
Enjoy these holidays, and for those of you who will remain on the grid, we'll see you online through the end of the year.
(OK, we'll take a movie break here and there.)