Weekly Giveaway – A moveable feast of light
In this case, you provide the feast of light, we'll help you move it!
It's all about how you shape the light.
Plenty of Speedlights will give you the raw output you need , but that light can be pretty gross just pouring out of the top of those things.
You need to shape it, diffuse, or bounce it.
There are endless tools available to do all of this, and everyone has their favorites.
Whenever we get ready to pack our gear for a shoot, all of the goods are laid out and the spaces provided for each part in the camera bag of choice, are reevaluated for the needed gear.
Each item must provide solid service for the precious space it occupies.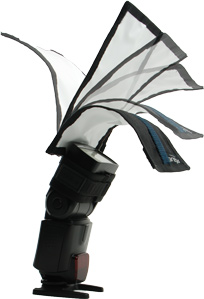 One of our current faves is the Expoimaging Rogue FlashBender Kit
, which has 3 sizes in the kit, and folds flat.
That is one of the big keys here.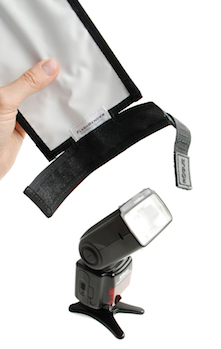 A stretchy, velcro strap wraps around your speedlight head and then stiff wires inside the Flashbender allow you to shape and position the light from your speedlight.
Simple, well made, and it works.
Can't ask for much more than that.
Sure, we all use a variety of tools for this part of the shoot, but right now, this is fitting perfectly into our traveling bag.
We gave away another one of these a couple of months ago, and now we'll send out another size to one reader, the Rogue FlashBender Bounce Card
This size is exactly what it says: a bounce card. Bend the unit as you like and it'll stay in position. Plus you get a black fabric attachment, if the desire is to shield the subject from the light.
Oh yeah, sometimes it's all about taking away the light.
This week we have one of these to give away and if you're interested in having a go at being the one with the lucky entry, just remember, you must be subscribed to the free weekly Newsletter, which has all of the details.
Every Weds. morning PST, this will arrive in your inbox with late breaking photo news, some extra discounts on products for you, and the details on entering the giveaway.
Pretty darn simple, really.
And we're determined to send out only the most useful, informative and/or entertaining photo products free to you each week.
We won't get all Kumbaya on ya, but we appreciate the extra support via the Newsletter and feel there should be some recognition of that support. Don't you?
Cool?
By the way, if you have been itching to get your hands on some new updated gear, come on over to PhotoPlus Expo in NYC. at the Javits Center.
Plus it's not all gear.
With speakers like Joe McNally, Chase Jarvis, Vince Laforet, Joyce Tenneson, and a ton more, all in 3 days you really can't find a another well rounded event like this anywhere.
Newsletter Subscribers got a special sign in code last week, so they could attend the expo fro free. We'll send it out again on Weds. and hopefully it's still applicable.
Now the seminars are an extra cost, so check the list on the site and see what's good for you